In what only can be described as a media blitz of major proportions, Dendreon (NASDAQ:DNDN) yesterday mounted a three-pronged advertising campaign using cable television, the Internet, and print media.
Importantly, Dendreon's direct-to-consumer (DTC) advertisement for television hit Bloomberg and CNN's HLN networks early Thursday morning, in time to catch businessmen and others preparing for their workday. The ad, which can be viewed here (upper right-hand corner) sends the vital message that Provenge can help 'jump start' a man's immune system to fight his prostate cancer.
If you look closely at the Provenge site (here and here), and if you've visited the Provenge Web pages in the past, then you know the site has been significantly redesigned. One change, importantly, is the manner in which patient stories now are being told. I'm particularly partial to the two videos found here about my friend, Todd Seals, who initially was denied Provenge by his insurer, which used Marie Huber's so-called immunodepletion theory (sic) as the excuse for denying him Provenge in March, 2012. Using technical material that refuted the immunodepletion theory, including material from the CMS MEDCAP meeting minutes, Dr. Carl A. Olsson's review of Huber, et al.'s work in AUA News for March, 2012, and other material from the scientific and medical literature, Seals filed an official complaint with his state's medical insurance commissioner. The issue was resolved in Todd's favor, and he was infused in May, 2012. You can see for yourself how he's doing by watching the videos.
In addition to these initiatives, the company expanded its presence in the print media, with, among other things, more ads in targeted newspapers across the country (source: personal communication, Wall Street analyst, Thursday, March 7, 2013).
Conclusions
In a move many considered long overdue, Dendreon, yesterday, moved aggressively to reach out to patients with a coordinated three-pronged DTC advertising campaign that exploits television, the Internet, and print media. We should get an objective indication how successful this campaign has been when the results of 2Q13 are announced at the end of July, 2013. Certainly, something is needed to 'jump start' the company's revenues toward the magic $100 million per quarter cashflow breakeven point!
Technical Analysis
The Daily chart, courtesy StockChart.com, shows the stock breaking above the 50-day moving average on the news that the company has begun to reach out aggressively to prostate cancer patients. The Relative Strength is rising, and the MACD is just about to turn positive.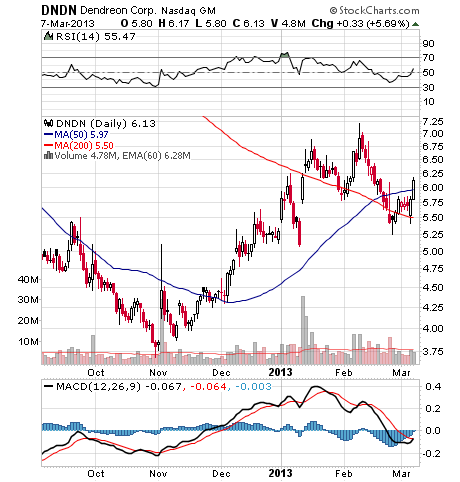 As to the Weekly data, the average price remains just under the 50-week moving average. The Relative Strength and MACD are neutral.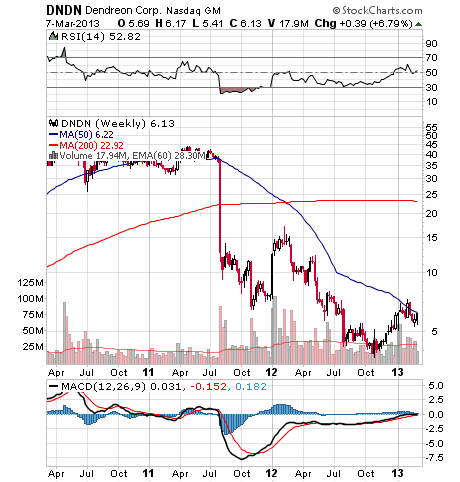 Disclosure: I am long DNDN. I wrote this article myself, and it expresses my own opinions. I am not receiving compensation for it (other than from Seeking Alpha). I have no business relationship with any company whose stock is mentioned in this article.
Additional disclosure: I am long DNDN and the May 2013 $3 PUTs. I am not a registered investment advisor and do not provide specific investment advice. The information contained herein is for informational purposes only. Nothing in this article should be taken as a solicitation to purchase or sell securities. Before buying or selling any stock you should do your own research and reach your own conclusion. It is up to investors to make the correct decision after necessary research. Investing includes risks, including loss of principal.