Biotech stocks have been some of the best performing stocks on Wall Street over the past 5 years and those trends have continued over the past year and in 2013. The Nasdaq Biotech ETF (NASDAQ:IBB) is up 32% over the past year while the NYSE Arca Biotech ETF (NYSEARCA:FBT) has put in a move of close to 37%. Compare that to the S&P 500's measly returns of 15% and it is easy to see why Mr. Market gets excited about biotech stocks.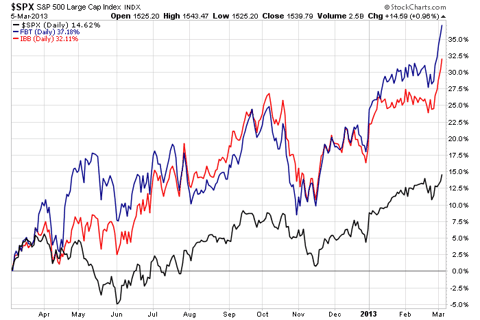 Investors aren't the only ones putting money to work in biotech. Others joining in on the biotech action include large biotech companies looking to expand their molecule holdings and investment assets. In fact, on February 6, Elan (NYSE:ELN) announced a multi-billion transaction with Biogen Idec (NASDAQ:BIIB) where Elan sold its share of Tysabri to Biogen for an upfront payment of $3.25 billion plus royalties. The part that has the market excited is the fact that Elan said that a portion of the $3.25 billion will be invested into a variety of business assets. From a portfolio point of view, these assets will, characteristically, diversify Elan from a product, science/clinical, therapeutic, and geographic point of view. In other words, Elan is looking to make acquisitions, amongst other opportunities. Further, Elan has already spoken to several companies about potential deals, Chief Executive Kelly Martin told Reuters. "You can do a lot of things with $3 billion, you can buy companies, molecules, you can partner, you can share risk..." Martin said.
In another transaction in the space, Sanofi (NYSE:SNY) said that it plans to buy more stock of Regeneron (NASDAQ:REGN) and as a consequence, some analysts began speculating that this could be a precursor to Sanofi acquiring the whole company. Without further ado, here are four biotechs that may begin to see more interest in their shares due to the aftermentioned reasons:
Chelsea Therapeutics (NASDAQ:CHTP) is a biopharmaceutical development company that acquires and develops innovative products for the treatment of a variety of human diseases, including central nervous system disorders. Chelsea is currently pursuing FDA approval in the U.S. for Northera (droxidopa), a novel, late-stage, orally-active therapeutic agent for the treatment of symptomatic neurogenic orthostatic hypotension in patients with primary autonomic failure.
Just last month, CHTP's announcement of an update from the FDA sent its shares up 150%. Even with the jump in the stock's price, it has more room to run as analysts peg the stock's target at $4.50 vs. a current share price of $1.77.
In the release, the company announced that it received written guidance from the Director of the Office of New Drugs at the FDA stating that Study 306B has the potential to serve as the basis for a resubmission of a Northera (droxidopa) New Drug Application (NDA) for the treatment of symptomatic neurogenic orthostatic hypotension (NOH). The release also contained information on important dates for the company coming up in the balance of 2013 that may serve as catalysts for the shares. First, the company plans to file a resubmission of the Northera NDA in the late second quarter. If accepted, the company's application will be subject to a 6-month review period, which means a decision on the application will most likely come at the end of the year.
Amarantus BioScience (OTCQB:AMBS) is an interesting name whose story has been generating a buzz in 2013. The company's main product in development is MANF, a highly potent, neurotrophic factor currently in pre-clinical development for the treatment of several apoptosis-related disorders. It is one of the four main protein therapies currently in testing for Parkinson's along with GDNF, Neurturin, and NGF. MANF's discovery protocols, utilizing their proprietary PhenoGuard Protein Discovery Engine, were designed to identify a molecule that would be highly selective for dopamine producing neurons of the Substantia Nigra.
Amarantus' chances with MANF just received a boost after Phytopharm, a UK company, failed in its attempt to develop a successful treatment for Parkinson's. Phytopharm's strategy for Parkinson's was a small molecule used in an attempt to reinvigorate the dead cells and raise the protein levels. To that effect, it obviously didn't succeed but it did narrow down the options available for Parkinson's. The other two methods currently in development to cure Parkinson's are gene and protein therapy, as mentioned above. Amarantus owns rights for both. A gene therapy for Parkinson's is currently in development by Ceregene, a private company, and results from the company's Phase 2b study for Parkinson's are expected in early 2013. Looking forward, that data should help provide some clarity in the gene versus protein therapy battle and serve as a catalyst for Amarantus shares once results come out and headlines start swirling.
The market size for Parkinson's disease is estimated to be $5 billion a year. Taking that fact into consideration in combination with MANF's potential in Parkinson's disease, makes the stock attractive. MANF and the other neurotrophic factors have several advantages over what is currently available on the market. They help regenerate cells, protect current cells, and prevent further worsening of the Parkinson's condition. The current treatments for Parkinson's just cover up the symptoms. In addition to the fact that you can only do that for so long before the underlying cells continue to fail, they also lead to side effects as it is nearly impossible to provide the right dosage required.
Amarantus is a micro-cap stock and many micro-cap stocks tend to be new and have no proven track record. Some of these companies have no assets or operations. Others have products and services that are still in development or have yet to be tested in the market.
Peregrine Pharma (NASDAQ:PPHM) is a biopharmaceutical company with a portfolio of innovative monoclonal antibodies in clinical trials focused on the treatment and diagnosis of cancer. The company is pursuing multiple clinical programs in cancer with its lead product candidate bavituximab and novel brain cancer agent Cotara. Peregrine also has in-house cGMP manufacturing capabilities through its wholly-owned subsidiary Avid Bioservices, which provides development and biomanufacturing services for both Peregrine and outside customers
After reaching $2.40 a share in early January, PPHM has dropped back down to the $1.30 range where it was at the turn of the new year. The catalyst for the drop has been PPHM's announcement of disappointing results from its Phase II trial for bavituximab for pancreatic cancer. Despite the drop, analysts are optimistic on the shares, slapping a target of $4.50 on the shares. Comparing that to its current price of $1.40, the shares look attractive.
Elan and others looking for M&A opportunities may pay particular attention to PPHM as the company has been mentioned as a takeover target. Also, the investment community's mood continues to be positive on the Peregrine story as the company is scheduled to present at three investor conferences in March.
Merrimack Pharmaceuticals (NASDAQ:MACK) is a biopharmaceutical company discovering, developing and preparing to commercialize innovative medicines paired with companion diagnostics for the treatment of serious diseases, with an initial focus on cancer. Merrimack applies Network Biology, its proprietary systems biology-based approach to biomedical research, throughout the research and development process. Merrimack currently has six targeted therapeutic oncology candidates in clinical development.
There is a lot of interest in Merrimack's lead drug candidate, MM-398 for pancreatic cancer, that may soon begin translating into a higher stock price. That is because if MM-398 for pancreatic cancer is successful, it could mean a big windfall for the company. The current available options for pancreatic cancer are limited in effectiveness and the market size is large. In fact, according to Transparency Market Research, the global pancreatic cancer drug market is projected to reach $1.2 billion by 2015. Analysts seem to agree with their $12 target on the stock that is currently at $6.50.
Here are the latest details on MM-398 for pancreatic cancer: The company has initiated a pivotal Phase 3 clinical trial of MM-398 for the treatment of patients with metastatic pancreatic cancer who have previously failed treatment with gemcitabine. The trial, called NAPOLI-1 (NAnoliPOsomaL Irinotecan), is a global, randomized, open label Phase 3 study. NAPOLI-1 calls for a total enrollment of 405 patients equally randomized across the three arms: MM-398 as a monotherapy and MM-398 in combination with 5-FU/LV compared with the shared control arm of 5-FU/LV. The FDA has granted MM-398 the orphan drug designation for the treatment of pancreatic cancer.
Disclosure: I have no positions in any stocks mentioned, and no plans to initiate any positions within the next 72 hours. I wrote this article myself, and it expresses my own opinions. I am not receiving compensation for it (other than from Seeking Alpha). I have no business relationship with any company whose stock is mentioned in this article.