As the father of modern fundamental analysis, Columbia Professor Benjamin Graham outlined in the "Securities Analysis" (with David Dodd) and "The Intelligent Investor," the valuation of a corporation begins with its intrinsic value: the value of the company as it is determined by the value of its asset, management, and prospects, most notably, the stream of earnings it is expected to generate-the source of cash flow, retained earnings, and dividends that enhance shareholder value.
Graham emphasized that a company's intrinsic value may or may not be equal to its market value: the value Mr. Market -- to use the metaphor -- assigns to the company on a trading day, especially at times when Mr. Market decides with emotions rather than reason. A euphoric Mr. Market, for instance, may be valuing a company well above its intrinsic value, while a fearful Mr. Market may be valuing the same company way below its intrinsic value. What is the case with Ciena's (NASDAQ:CIEN) stock, which delivered a pleasant earnings surprise Thursday morning?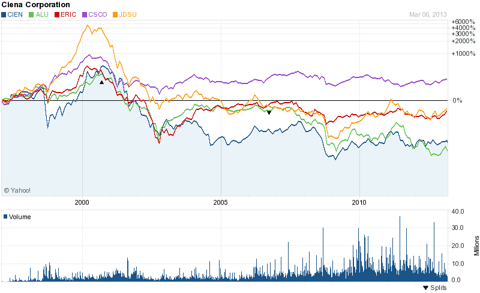 Mr. Market is fearful, as the stock's market value is below the company's enterprise value by close to 20 percent. What does it mean for investors? That the stock is undervalued, as investors may still be haunted by the memories of the early 2000s, when the stock collapsed as the dotcom and the telecom equipment bubble burst. Nevertheless, Ciena Corporation is the only company among networking stocks that trade well below its enterprise value. Cisco Systems (NASDAQ:CSCO), for instance, is trading close to 25 percent above its enterprise value, JDS Uniphase (JDSU) close to 20 percent, and Alcatel-Lucent (ALU) close to 5 percent.
| | | | | |
| --- | --- | --- | --- | --- |
| Company | Ciena Corporation | JDS Uniphase | Cisco Systems | Alcatel-Lucent |
| Forward PE | 21.25 | 17.10 | 10.37 | 49 |
| Operating Margin | -3.93% | -1.10% | 22.68 | -3.39 |
| Qtrly Revenue Growth (yoy) | -3.93% | 4.90 | 5 | -1.30 |
| Qtrly Earnings Growth (yoy) | 2.20% | -- | 44 | - |
| Enterprise Value | $2.24B | $2.84B | $80.98B | $3.16B |
| Market Value | $1.73B | $3.58B | $116.66 | $3.36B |
A few words of caution: Ciena's financials continue to remain weak. That's why I'm skeptical about jumping into the stock at this point. Besides, network gear makers are sensitive to business and technology cycles that make revenues and earnings growth highly unpredictable. Hype should never be a substitute for due diligence.
Disclosure: I have no positions in any stocks mentioned, and no plans to initiate any positions within the next 72 hours. I wrote this article myself, and it expresses my own opinions. I am not receiving compensation for it (other than from Seeking Alpha). I have no business relationship with any company whose stock is mentioned in this article.