The good news this morning for commodity investors is that Goldman Sachs is overweight commodities for the next three months per their latest forecast. Bloomberg had an excellent piece highlighting this with some good quotes from the analyst, which can be found here. We too have turned bullish on the commodities believing that they need to rise if this rally is for real but the equities have thus far not really pulled back for us to add to exposure. We may need to simply move into the least 'over valued' names as a way to choose the lesser of two evils.
Chart of the Day:
Natural gas has been rallying, but can it break through the $3.60 level? That will be the next test...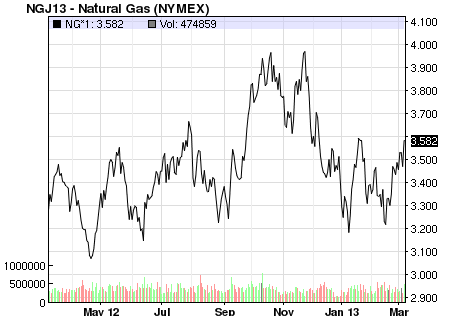 Chart courtesy of Nasdaq.com.
Commodity prices this morning are as follows:
Gold: $1577.30/ounce, up by $2.20/ounce
Silver: $28.775/ounce, down by $0.033/ounce
Oil: $91.62/barrel, up by $0.06/barrel
RBOB Gas: $3.1373/gallon, up by $0.014/gallon
Natural Gas: $3.591/MMbtu, up by $0.009/MMbtu
Oil & Natural Gas
We wanted to bring up a name from the past this morning as Kodiak Oil & Gas (NYSE:KOG) caught our eye earlier this week. Volume has been creeping up along with the share price and as the shares broke through the $9/share level we took notice. Yesterday the rally continued as the company participated in the general and commodity market rallies. We have buying power on the sidelines and this weekend we are going to create a trading list with some entry points to discuss over the next few weeks and long-time readers know we have had success together with Kodiak over the years. So long as this can stay above $9/share we are bullish, but it might need a little help from oil in order to do this.
We discussed our desire to purchase shares of Diamondback Energy (NASDAQ:FANG) last week and how we wanted to accomplish this on a pullback of some sort. Well, pullback averted and the shares have continued to climb with shares moving above the $24/share level and setting new 52-week and all-time highs yesterday. Many probably wonder why we spend so much time discussing a company that is sub $1 billion in market capitalization terms and trades fewer than 200k shares/day, but honestly these are the situations where the money is to be made - buying names before the mainstream does - and from what we have seen this is a name that will work its way into developing a following in the future.
We continue to get fresh egg on our faces and emails each day that PDC Energy (NASDAQ:PDCE) continues higher and sets these new 52-week and all-time highs (the stock hit $50/share yesterday for those who missed it). It is honestly embarrassing to have been so right on something and then so wrong. At times it is easy to get carried away with valuation and whether your investments have gotten ahead of themselves and when a correction may or may not take place. We have admitted our folly here before, but in hindsight a rule on long-term investments and not trading them would have served us well.
We may need to update our rules to take this into account and it would be something along the lines of if the investment is not near the predetermined selling point, then do not sell b/c it is ahead of itself simply hold and buy no more. Heck, even buying puts would have been a smarter play at this point! Options can serve as insurance and insurance does serve a purpose if one can get it for the right price.
Talk about super bullish, this chart pretty much says it all...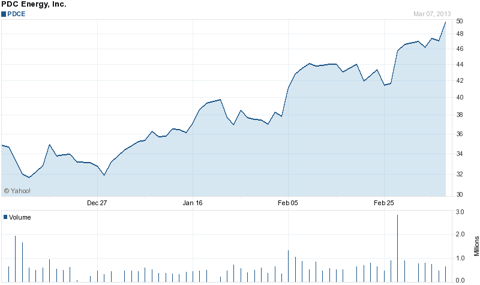 Chart courtesy of Yahoo Finance.
Readers know that we are bullish of all things Utica, and that includes Chesapeake Energy (NYSE:CHK) - although we would stress that our conviction here is certainly not on the same level as those with more of a focus or "pure-play" status there. The latest quarter was not all that bad and the company continues to progress towards their goals, but we do want to warn investors that a lot of the supposed hidden value here is in the assets which they are selling and if the realized prices for these assets going forward is going to be lower than we previously expected, then there is less value to be realized and that upward band of the price range suddenly begins to compress until production begins to flow. We like the cutbacks the company has done and yesterday's resignation of V. Burns Harris from the Board of Directors (see press release here) and the election of the former President and CEO of Pride International, Louis A. Raspino, continues the trend we have seen lately of the company cleaning house. It seems that a foundation is being put into place to transform Chesapeake into a cash flow generator, but now the concern shifts towards whether they have the balance sheet strength to pull it off. We think so, but recognize there are probably a few more bumps in the road on the way and that is where we would recommend making the buys.
Coal & Iron Ore
Following up a note we wrote earlier this week, it seems that Cliffs Natural Resources (NYSE:CLF) has averted the cliff that awaited them had they fallen below their current support level thanks to their participation in the latest general and commodity market rallies. Shares have edged back up to $24.86/share which gives investors some breathing room for the time being, but Cliffs is now in that category of stocks which will get nailed on any type of pullback that is either subsector or market related. Investors do not play games when managing risk in high beta stocks.
Disclosure: I have no positions in any stocks mentioned, and no plans to initiate any positions within the next 72 hours. I wrote this article myself, and it expresses my own opinions. I am not receiving compensation for it (other than from Seeking Alpha). I have no business relationship with any company whose stock is mentioned in this article.