There is no doubt that at current prices, Apple (NASDAQ:AAPL) is one of the cheaper growth stocks out there. However, after reaching its all-time high last September, the stock has been in a tailspin, declining about 40%. The focus of this article will be to explain why I think Apple offers good value, why I think its share price has declined and how Apple may be able to reverse this downward trend.
When Apple reported earnings in January 2013, it generated massive amounts of revenues and profits, with revenue of $54.5B and a net profit of about $13.1B. EPS came in at $13.87, while gross margins 38.6%. However, the market did not react positively to these numbers and promptly sold off Apple to the tune of 10%. Since then, Apple's stock has continued its decline. As of this writing, Apple is trading for $428, only about 2% above its 52-week low of $421.
This decline in share price has caused Apple's stock to now trade at very attractive valuations. For example, Apple's current TTM P/E of 9.76 is at a 5-year low.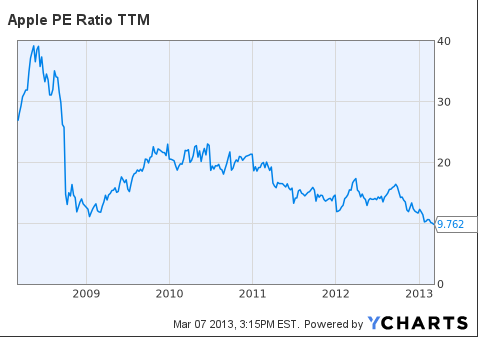 This low TTM P/E is quite stunning, especially considering that Apple has consistently been able to increase both its revenues and earnings. Since 2008, Apple has increased revenue per share by over 430% and EPS by over 800%.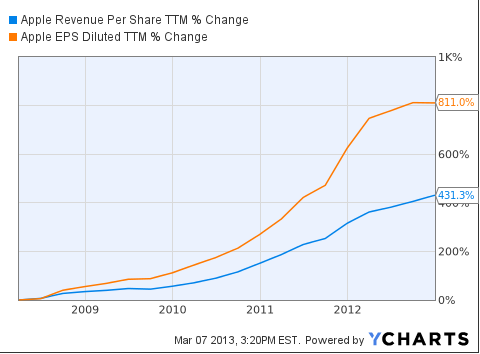 In addition to its massive revenues and earnings, Apple also has a rather large cash hoard. As of December 29, 2012, Apple had over $16.1B in cash and cash equivalents, $23.7B in short-term marketable securities, and $97.2B in long-term marketable securities. This totals to an impressive $137B in highly liquid assets.
Lastly, let us not forget that Apple started paying a dividend in 2012. While it is currently small, at only $2.65 per quarter, it has the potential to grow. The dividend at current prices gives Apple a 2.45% dividend yield, and represented only 20% of net income as of December 29, 2012.
Next, let us look at some of the reasons why Apple's share price may be declining:
While Apple did beat its own estimates for the December 2012 quarter, some analysts were looking for a even bigger beat. This earnings disappointment was the primary cause of the price drop in January from about $500 to $450. However, this does not explain the recent price decline, nor the price decline coming into the quarter. However, there is another reason that I believe Apple's stock is falling: competition.
For several years, Apple's iPhone dominated the smartphone market. The iPhone, with its healthy profit margins, allowed Apple's profits to soar, as it quickly became "mainstream" status symbol. However, Apple eventually faced it first serious competitor in the high-end smartphone market: Samsung (OTC:SSNLF). In 2012, Samsung introduced the Galaxy S3, which was arguably the best smartphone introduced last year. By comparison, Apple's iPhone 5 was seen only as a "slight" upgrade to the iPhone 4S.
Indeed, long before Samsung came out with the Galaxy S3, Apple had already ceded much of the low-end smartphone market to lower priced Androids. As of January 2013, Apple's market share of the U.S. smartphone platform was 37.8%, compared to Android's 52.3%. Android phones have also recently overtaken the iPhone, and now account for a larger share of smartphone web traffic. Considering that the iPhone accounts for the majority of Apple's revenue and profit, this trend is worrisome.
What can Apple do to boost its share price?
Well, the one thing Apple could do that would immediately send its stock soaring would be to announce a new revolutionary product, such as the iPad, iPhone, and iPod. While we have heard rumors about an iWatch and iTV, investors should not pin their hopes on them. Rather, Apple has some easier, even mundane options available:
Develop a 4.3-inch screen (or larger) iPhone
While this is not breaking news, it needs repeating: the iPhone's screen is currently too small. One of the main reasons for the success of the Galaxy S3 is its large screen. However, the next generation iPhone will most likely be very similar to the current iPhone 5, and therefore have the smaller 4.0-inch screen.
Earnings surprise
Apple's fiscal Q2 2013 guidance was fairly weak. However, if the company were able to post blowout numbers next quartet then maybe the stock will get a lift.
Attract value and/or income investors with a larger quarterly dividend
It is very hard to portray Apple as an income option with its current low yield. Apple can easily double its dividend and still payout less than 50% of its EPS. Apple should seriously consider a meaningful dividend increase. This option is in my opinion, the easiest and most likely method of increasing and/or maintaining the current stock price.
A one-time special dividend and/or preferred stock
Apple has a large amount of cash sitting on its books. Why not issue a large special dividend? In my opinion, this is remote possibility, considering Apple's response to David Einhorn's preferred stock suggestion.
Issue debt to buy back stock
Why pay taxes to repatriate cash if you can issue bonds at record low interests rates instead? Intel (NASDAQ:INTC) has recently raised cash to buy back stock, so why can't Apple? While Apple currently does not have any long-term debt, and therefore does not have a credit rating, I am nearly certain that if Apple chose to issue debt, that it would receive a AAA rating.
Conclusion
At current prices, is Apple a good long-term investment? I would say absolutely yes. However, I must temper this by mentioning that I do not see any near-term upside catalysts for the stock. Barring any major news, I believe Apple will continue to linger at or near its 52-week low until it reports earnings in April.
Disclosure: I am long AAPL, INTC. I wrote this article myself, and it expresses my own opinions. I am not receiving compensation for it (other than from Seeking Alpha). I have no business relationship with any company whose stock is mentioned in this article.