I've always liked stocks that grow at double-digit rates, and who doesn't? In this article, we will be looking at TJX Companies (NYSE:TJX), the leading off-price retailer in apparel and home fashions.
With over 2900 stores, TJX takes the 125th place in the Fortune 500 list. In December 2012, TJX bought sierratradingpost.com, an online retailer, for $200 million.
In this article, I will be looking at TJX's revenue, net income, dividends, EPS, assets and liabilities and valuation. I will then determine if TJX is a good stock to buy at today's prices.
TJX's revenue has increased from $18.6 billion in 2008 to $25.9 billion in 2013, giving it an annual growth rate of 6.77%.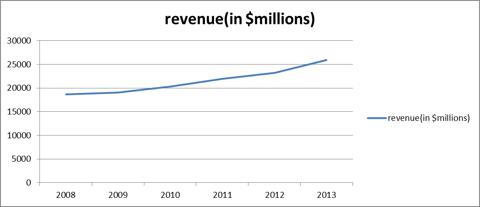 This is the kind of steady revenue growth I like to see in a company. What's more important, however, is the growth in profit margin (which is net income divided by revenue).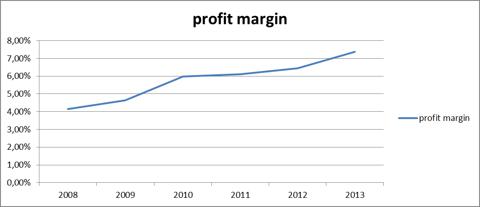 As we can see from the graph above, in 2008, TJX was getting about 4 cents in net income for every dollar in revenue. In the most recent year, however, its profit margin was already at 7.4%. The increase in profit margin and revenue has led a net income of $1.91 billion in 2013, which is well over double the $772 million that was earned in 2008. TJX's annual net income growth rate is at an amazing 19.82%.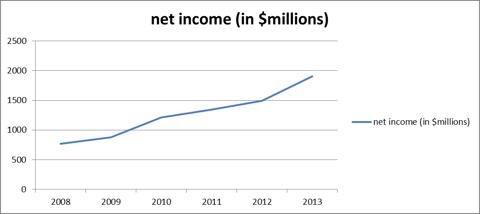 Since FY2010, TJX hasn't had any short-term debt, and it has increased its amount of cash and cash equivalents from $733 million in 2008 to $1.8 billion in 2012. This will allow it to continue increasing its dividend and buy back more shares.
The current ratio, which is current assets divided by current liabilities, has been at a healthy 1.5 average over the last five years, indicating a good financial health.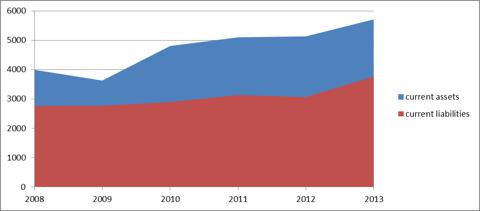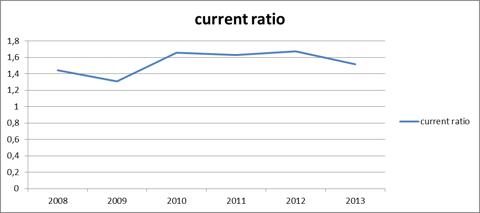 TJX recently announced it would increase its dividend by 26% to $0.145 per quarter, which at its current price of $44.62 gives it an annual dividend yield of 1.3%. While this is in no way a high-dividend yielder, I do like the rate of growth in the dividend, and if held for a long time, this stock might get you a nice yield on cost.
Also, TJX buys back a large amount of its own stock each year, showing investors it is confident in its ability to grow. The picture below is from TJX s website.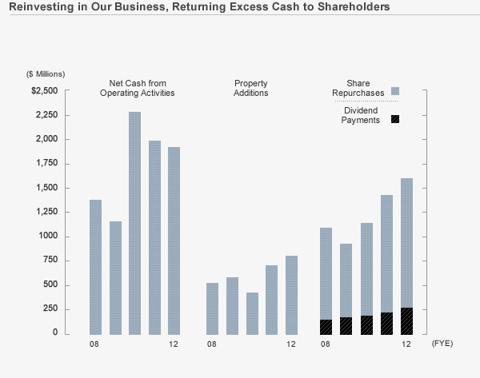 All things considered, I think TJX is an amazing company with a lot of growth opportunities. However, the price at which we buy a stock is of great influence on our returns. Let's look at TJX's valuation.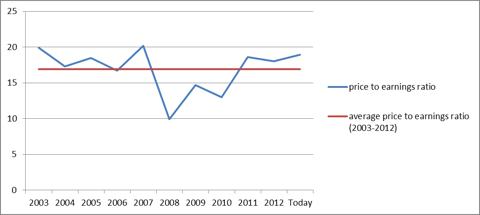 At its current price-to-earnings ratio of 18.9, TJX is slightly above its 10-year average P/E ratio. The industry average is almost the same as TJX's P/E, at 19.0.
I think TJX would be a good company to own at current valuations. Its dividend is low, but steadily growing, and the constant share buybacks will push its price up higher in coming years.
What's your view on TJX? Please comment below!
Disclosure: I have no positions in any stocks mentioned, but may initiate a long position in TJX over the next 72 hours. I wrote this article myself, and it expresses my own opinions. I am not receiving compensation for it (other than from Seeking Alpha). I have no business relationship with any company whose stock is mentioned in this article.