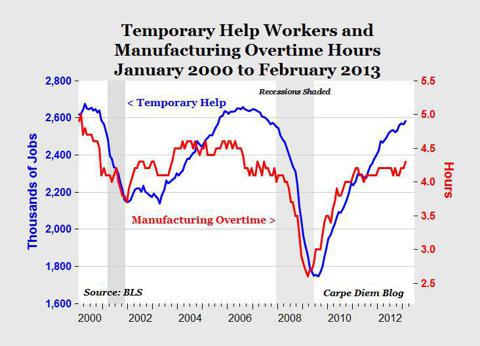 From today's Employment Report (pdf) from the BLS:
1. Employment in temporary help services grew by 16,100 jobs in February, bringing the total number of temporary and contract workers to 2.58 million last month, the highest level since August 2007 (see blue line in chart above). As a leading indicator of overall U.S. labor market demand, the ongoing positive trend in temporary hiring is a sign that the labor market is gradually improving and suggests an increased pace of broader-based hiring for workers going forward in 2013. It's also likely that many employees who initially get hired on a temporary basis will be offered employment on a full-time permanent basis as the economy improves.
2. Overtime hours for the manufacturing sector, at an average of 4.4 hours per week, reached a 4-1/2 year high in February, the highest level of manufacturing overtime hours since June 2007 (see chart above).
The chart above shows that both temporary employment and manufacturing overtime hours are back to their pre-recession levels, and back to levels that are historically consistent with economic expansions.
3. Manufacturing employment increased by 14,000 jobs in February, bringing the total number of new manufacturing jobs created since 2010 to 506,000 – the largest 38-month increase in U.S. factory jobs since 1996.
4. Construction employment increased by 48,000 in February, which was the largest monthly gain in construction jobs since February 2006, and means that homebuilders and home remodelers were hiring last month at a pace of 2,400 new workers every business day. Of the 246,000 total private jobs added in February, almost one of every five of those jobs were in the construction sector.
5. Oil and gas extraction employment increased last month to 193,00, the highest number of oil and gas jobs in the U.S. since November 1988, more than 24 years ago.
Bottom Line: The labor market continues to gradually improve, as the private sector added more than two millions jobs over the last 12 months, bringing private employment to the highest level since October 2008, and bringing the jobless rate to the lowest level since December 2008, more than four years ago. Strong gains in temporary help staffing point to an increased pace of broader-based hiring this year and an improving labor market. The construction, manufacturing, and energy sectors continue to lead the U.S. economy in job growth, and are the "crown jewels of the otherwise disappointing economic recovery," to paraphrase Robert Samuelson. Overall, this is one of the best jobs reports in years.
Related: In a new, thought-proving article at New Geography, Joel Kotkin writes, "The real winners of the global economy have turned out to be not the creative types or the data junkies, but the material boys: countries, states and companies that have perfected the art of physical production in agriculture, energy and, remarkably, manufacturing." And construction, energy, and manufacturing are at the forefront of the U.S. recovery…..