One of the largest oil and gas companies in the US, Occidental Petroleum (NYSE:OXY), has a relatively mature market cap of $65 B, yet is still small enough to support meaningful growth. The company has very strong fundamentals including a diverse asset portfolio, solid balance sheet, and a pleasing dividend policy, which is a fabulous bonus. With respect to the stock's underperformance over the past year relative to peers, OXY seems ripe for the picking.
Basic Overview:
Production Growth and Assets:
OXY is focused on growing liquids production. In 2012, oil production grew by over 10% while NGL's grew 10%, offset by a decline in natural gas. In total for 2012, liquids accounted for about 70% of total production on a volume basis, while liquids accounted for 72% of proved reserves.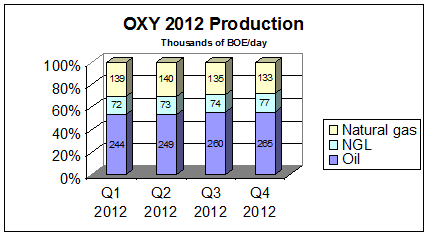 Management expects to devote 46% of capital spending on US-based oil and gas, as well as an impressive 9% on US midstream projects, an increase from just 4% in 2012, indicating a nearly 2x increase on this segment.
In November of 2012, OXY partnered with Magellan Midstream Partners (NYSE:MMP) to build the BridgeTex Pipeline, which will transport Permian Basin crude oil from Colorado City, Texas, to the Houston Gulf Coast area. The BridgeTex Pipeline will transport up to 300,000 barrels of oil/day, which will allow access to a large network of pipe and refining in the Gulf area. The BridgeTex Pipeline project includes construction of the following energy infrastructure:
400 miles of 20-inch pipeline from Colorado City to Magellan's terminal in East Houston.
2.6 million barrels of crude oil storage.
Nearly 50 miles of 2 foot pipeline between East Houston and Texas City.
The BridgeTex Pipeline is expected to be completed mid 2014, subject to necessary permitting. This pipe is a relatively small project for OXY, however, I feel it will complement OXY's plan to further develop its Permian Basin assets, which will account for 31% of 2013's estimated $6.2 B in domestic spending. OXY is currently the largest oil producer in the Permian, with 16% net share of total production, and ~1.7 mm net acres.
Cost Reductions Will Enhance Bottom Line:
OXY expects to reduce costs and therefore enhance returns on production. At the Credit Suisse 2013 Energy Summit, the company expects to reduce production costs by at least 6% for 2013, to a goal of $14/barrel. Slide # 8 best illustrates this point: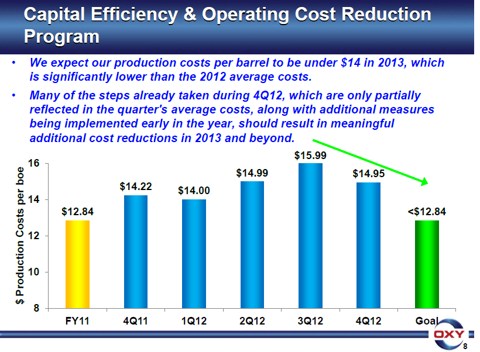 These cost savings should greatly enhance margins rather immediately, as OXY has stated most of the cost savings measures have already been implemented. Stephanie Link, co-portfolio manager of Jim Cramer's Action Alerts Plus, recognized these cost improvements as a key tailwind for the company and the primary basis for her bullish opinion of OXY, in a recent interview.
Further, Link initiated OXY share purchases in the mid-to-high 80s, about 5% above the current price/share, indicating a solid buy opportunity at the moment based on Link's buy point.
S&P Capital expects $7.47 EPS in 2013 and $7.90 in 2014, led by 70%+ liquids production. Their NAV of $103/share indicates a 20% discount to NAV at current levels, while shares trade at 6.5x 2013's cash flow forecast, and just 13% from 52-week lows.
Management is shareholder friendly:
In February 2012, the quarterly dividend was raised a whopping 17% to $0.54 per share. Since 2002, the dividend has been raised every year, indicating free cash flow strength. In 2012, OXY invested $.7 B in share buybacks, while delivering $1.6 B in dividends for shareholders, totaling a return of $2.3B to shareholders. Over the past 10 years, OXY's compound annual dividend growth rate is 15.8%, a statistic I feel has gone unnoticed by this company.
Summary:
OXY is a relatively mature stock with a pristine balance sheet and reasonable valuation, yet still can achieve meaningful growth due to a renewed focus in the Permian Basin, as well as efficiency implementations. As a bonus to geographically diversified assets, the company is focused on liquids production, boosting midstream projects, as well as its small yet complementary chemicals business. With no refining business and a very solid, growing 3% yield, the company seems capable of warding off market volatility while still satisfying growth. If you are looking for a relatively safe oil and gas stock with a solid dividend, this is it.
Disclosure: I have no positions in any stocks mentioned, but may initiate a long position in OXY over the next 72 hours. I wrote this article myself, and it expresses my own opinions. I am not receiving compensation for it (other than from Seeking Alpha). I have no business relationship with any company whose stock is mentioned in this article.