Two biotech stocks that have had large stock price declines, and have upcoming catalysts that could see similar stock price appreciation, are Dynavax Technologies Corporation, (NASDAQ:DVAX) and Catalyst Pharmaceutical Partners Inc. (NASDAQ:CPRX).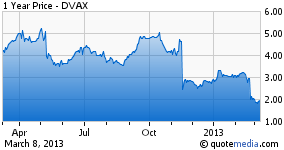 Dynavax, a clinical-stage biopharmaceutical company, discovers and develops novel products to prevent and treat infectious and inflammatory diseases. Two weeks ago Dynavax announced that it received a Complete Response Letter (CRL) from the U.S. Food and Drug Administration (FDA or Agency) regarding its Biologic License Application (BLA) for HEPLISAV, an investigational adult hepatitis B vaccine. In the CRL, the FDA specified that the indication in adults 18-70 years of age cannot be approved without further evaluation of safety in this broad age group. The FDA also continued to express concern that novel adjuvants may cause rare autoimmune events. However, the Agency indicated its willingness to continue discussions regarding a more restricted use of HEPLISAV. Dynavax plans to discuss the CRL with the FDA to identify the most expeditious path to approval for HEPLISAV, particularly in adults who may receive the greatest benefit from HEPLISAV.
As with all bad news when there is a glimmer of hope, as there is here with the FDA news, there is the potential for price appreciation. The company will meet with the FDA within the next six weeks, and with the wiggle room given could still obtain approval for the drug. Now that the shock and awe of the news has worn off, investors that missed the earlier move higher should consider buying. A look at the Dynavax chart shows a potential trend change starting. A break above $2 should set the stage for a move to the 20-day EMA, and above that the 50-day moving average at $2.85. It should be noted that after the initial FDA news last November, the stock gained 50% over the following two months. With the potential for a limited approval from the FDA in the next two months possible, the stock should see a similar rebound.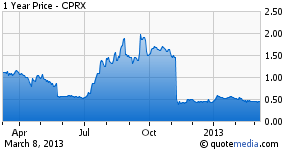 Catalyst was a high flying stock last summer, tripling in price before crashing down on bad trial data news. As we have highlighted in our other articles, biotech stocks that drop on bad news can offer rich upside rewards for investors who buy after the drops have occurred. As is often the case, renewed hope appears or other drugs in the pipeline come to the forefront. The latter is the case with CPRX.
CPRX is a specialty pharmaceutical company focused on in-licensing, developing and commercializing novel prescription drugs to treat rare (orphan) neurological diseases and disorders, including Lambert-Eaton Myasthenic Syndrome (LEMS), infantile spasms, and Tourette's disorder. Catalyst's lead candidate, Firdapse™ for the treatment of LEMS, is currently undergoing testing in a global, multi-center, pivotal phase III trial. Catalyst is also developing a potentially safer and more potent vigabatrin analog (designated CPP-115 by Catalyst) to treat infantile spasms, and epilepsy, as well as other neurological conditions associated with reduced GABAergic signaling, like post-traumatic stress disorder, Tourette's disorder, and movement disorders associated with the treatment of Parkinson's Disease.
On October 31, 2012, Catalyst announced the in-licensing of Firdapse™ from BioMarin Pharmaceuticals, Inc. (NASDAQ:BMRN). Firdapse™ has been granted orphan drug designation by the FDA for the treatment of LEMS, a rare, debilitating and sometimes fatal autoimmune disease with the primary symptoms of muscle weakness. It has also received orphan designation and has been approved for marketing in the European Union for the treatment of LEMS. Catalyst believes Firdapse can achieve peak annual revenues from sales in the United States of approximately $100 million. In its last update to shareholders, the company announced that its 1st milestone was by the end of Q1 to "Report Firdapse Data Monitoring Committee meeting results". There are only three weeks left in the quarter, so news on its lead Phase III drug could come at any day.
A look at the CPRX chart shows a three month consolidation in the 50c area. A break above this 50 day moving average on volume could see the stock make a move on its 200-day moving average at 90c.
When biotech stocks have upcoming catalysts, as both DVAX and CPRX do, there can be nice price appreciation for investors . DVAX has already proven it can rally after bad news, having done it previously. CPRX has morphed into a new biotech company with a Phase III drug that most investors are unaware of. With the market hitting all time highs, speculative money is now searching for a place to invest. Consider these two stocks with upcoming catalysts.
Disclosure: I am long CPRX. I wrote this article myself, and it expresses my own opinions. I am not receiving compensation for it (other than from Seeking Alpha). I have no business relationship with any company whose stock is mentioned in this article.