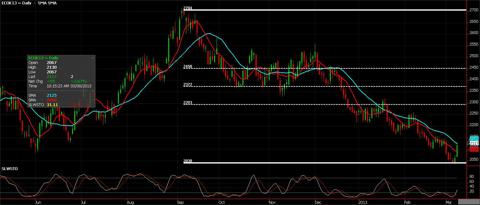 YTD cocoa prices are off just better than 6%, but high to low, prices have collapsed, trading lower by better than 20% from their highs last fall. It is premature to draw a line in the sand at 2050, but it appears that we are finding buying interest this week. In the last 2 days, prices have leaped 4% and as of this post, they are trading at their 20 day MA -- identified by the light blue line. This pivot point has served as resistance now for several months, so to see consecutive closes above that level would be progress. I like the idea of scaling into bullish trade in July.
I have pointed out in past commentaries the inverse relationship with cocoa to the U.S. dollar. The fact that the greenback is appreciating today, breaking out to fresh 6 month highs and cocoa is still well bid, perhaps there is a divergence in this correlation. Let's see if the dollar can back off in the coming weeks if the relationship re-emerges. A move back to the 38.2% Fibonacci level represents a gain of 8.5%, and I see that as viable over the life of the July contract.
Top producers of cocoa in the Ivory Coast and Ghana are both out of the market at the moment, but are likely to need to sell in the next few weeks, limiting the scope for a major rally, in my opinion. Just maybe the expectation of future sales has been factored into the market with the most recent decline. I do not see futures moving much beyond 2300/2350, with origin selling from higher levels. We would need to see an increase in demand, which is improbable, a supply crunch brought about by crop damage or civil unrest... both of which are possible, but unpredictable. View this as a trade as opposed to the start of a bull market, in my opinion. Always remember, commodities do not move up or down in a straight line.
Risk Disclaimer: The opinions contained herein are for general information only and not tailored to any specific investor's needs or investment goals. Any opinions expressed in this article are as of the date indicated. Trading futures, options, and Forex involves substantial risk of loss and is not suitable for all investors. Past performance is not necessarily indicative of future results.
Disclosure: I have no positions in any stocks mentioned, and no plans to initiate any positions within the next 72 hours. I wrote this article myself, and it expresses my own opinions. I am not receiving compensation for it. I have no business relationship with any company whose stock is mentioned in this article.