Purpose
This will be a real-time comparison between a small stock portfolio (mostly based on dividend-growth investing, or DGI) and an S&P 500 index fund. The purpose is to then compare 1-year results on the basis of: total return and income received. $10,000 is the starting amount for each portfolio. Securities will assume to have been purchased at the closing of February 28, 2013. March 1st, 2014 will be the comparison date. Reminder, this is not an actual portfolio, but we shall pretend that it is. In addition, I own several of the individual stocks listed, so I do have some actual skin in the game.
A secondary purpose of this exercise is to be a teaching tool. A friend of mine is not familiar with individual stock selection (of any method). I am hopeful that publishing this on Seeking Alpha will prove fruitful for the both of us.
Assumptions - Index Portfolio
-Use Vanguard's S&P500 index fund, VOO.
-The portfolio will have dividends reinvested at the date of payment.
-No trading is expecting to occur.
Assumptions - Stock Portfolio
-All dividends will be directly reinvested (or DRIPPED) at the date of payment. Ex-Div date is ignored due to Feb 28th starting date.
-A set quota of 7 C-corp stocks. No REITS, LLC's, or LP's.
-Although the ideal holding period is forever, each stock may be sold if it is deemed warranted. Reasons for selling include: a cut of the dividend, a change in the business, or an overvalued stock. If a stock is sold, it must be replaced in full by another stock during the same trading day. If a stock is replaced, a trading fee of $20 must be applied.
-Initial trading fees and all taxes are ignored.
Starting Portfolios
The starting portfolios are as follows: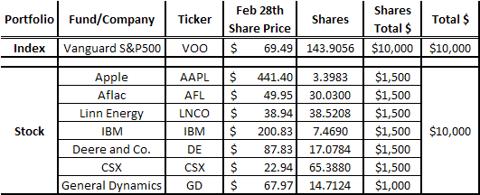 Click to enlarge
VOO is the index fund. The stocks chosen are: Apple (NASDAQ:AAPL), Aflac (NYSE:AFL), Linn Energy (LNCO), IBM (NYSE:IBM), Deere (NYSE:DE), CSX (NYSE:CSX), and General Dynamics (NYSE:GD).
Stock Selection Justification
In large part, I am a dividend-growth investor with an emphasis on the fundamentals. Therefore, I like buying shareholder-focused companies at attractive prices. Increasing dividends over many years indicate profitability, wisdom and shareholder friendliness by the company. However, due to the fact that this exercise is set to last for only one year, I decided to focus more on the "value" aspect instead of "dividend growth" in regards to stock selection. That is, it is my hope that these companies were purchased at a large discount to their intrinsic value and it is also my hope that they return to their intrinsic value or higher within one year. I am not a market timer, so I cannot say that these companies will change at all due to market forces. I realize that I'm setting myself up for a large beat down, but I plan on learning from my mistakes along the way.
I also hope that this exercise will extend itself past one year, as one year of data is just the starting point of any real comparison regarding the stock market.
The following table shows a few metrics as to why I selected the stocks I did. In regards to valuation, Morningstar rates each stock as a 3 or 4 star stock, which represents small and large undervaluation, respectively. I currently do not have a subscription to FASTGRAPHS, but I've recently seen several of these stocks charted by others, and they seem to be in value or in undervalued territory.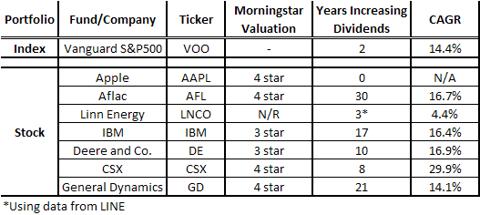 Click to enlarge
Note that the index fund, VOO, was created in the 3rd quarter of 2010. Only 2 years of dividend data could be pulled.
I'd like to thank Robert Allan Schwartz and his website in helping to calculate some of the CAGR's. His website can be found here.
Since I'm a fan of dividend growth, I've also shown the years of dividend growth and their CAGR over that time. Apple is not a dividend-growth stock, but I selected it for its deep discount to intrinsic value (in my eyes).
Selected data is also showed for LINE, since LNCO has only been available for 1 year. LNCO is the C-corp version of LINE without the K-1 hassle. I selected it as I believe it has a good chance of having a good total return due to its recent buy of Barry Petroleum and high dividend yield.
The stock portfolio is planned on being fairly passive. The goal is to limit trading as much as possible, however, due diligence and keeping a watchful eye is required. As always, monitor your investments, even the index funds. I'll plan on updating this at the end of each month. Enjoy.
Reminder: I am not advocating the buying or selling of any securities mentioned in this article. Please perform your own research.
Disclosure: I am long AAPL, AFL, LNCO, DE, GD. I wrote this article myself, and it expresses my own opinions. I am not receiving compensation for it (other than from Seeking Alpha). I have no business relationship with any company whose stock is mentioned in this article.