In business it doesn't pay to take chances. If you have a successful business model, conventional wisdom says don't rock the boat. As a former boss once told me, "Just keep doing what you are doing and if it ain't broke, don't try and fix it." Successful businesses are focused on refining their product, making it bigger, or smaller, or faster, or more powerful. But in the end it's all about sustaining that product and maintaining market share and margins. Rule No. 1: Don't kill the Goose That Lays The Golden Egg.
Lately, Amazon.com (NASDAQ:AMZN) has not only killed that goose, but is offering it up for sale online in digital format. Waaaaaay back in 1994 the company sold its first hard copy (were there any other kind in 1994?) book online. Within five years the company was one of the largest book retailers in the world, competing directly with Barnes & Noble (NYSE:BKS) and Borders (remember them?), the traditional leaders of brick and mortar book retailers. By the end of 2006 Amazon.com had eclipsed Borders in sales and a year later, in 2007 it surpassed Barnes and Noble as well.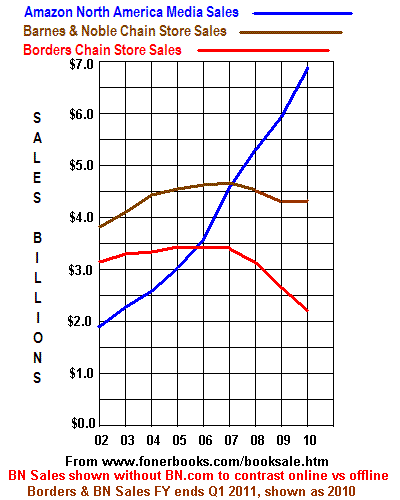 It Wasn't Exactly Broke (yet) But They Fixed It Anyway
Although Amazon.com had also branched out and was offering many thousands of other items for sale online, books were always its main profit driver. The sales model of online ordering coupled with physical delivery of books was clearly successful. As the new dominant leader in book sales, it would have been easy for the company to just keep doing what it was doing and focus on how to do more of it, only better, faster and cheaper than the competition. However, rather than be satisfied with that model, it changed everything and introduced online content delivery through a new e-reader they dubbed the Kindle. At the time, the concept of an e-reader was unproven with the customer base and was considered by some as nothing more than a holiday sales gimmick. However, the Kindle and later its newer tablet computer version, the Kindle Fire, have clearly been an unprecedented success for the company.
In fact, as illustrated in the chart below, e-books sold through Kindle quickly overtook the sales of physical books at Amazon.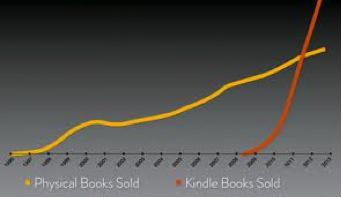 While it may seem counter-intuitive and cannibalistic to offer a device that threatens your core physical book business, Kindle has turned out to be a huge revenue engine for Amazon.com and is the reason it remains the industry's dominant book retailer - regardless of format.
Still Room to Grow
In a recently published study by The Association of American Publishers and the Book Industry Study Group (here) it is estimated that in 2011 eBook sales still represented only about 14% of the total book sales in the U.S. This is up 5% from 2010 and is estimated to increase by 16% for 2012. The explosion in eBook popularity and the disparity between selection and sell-through rates for book retailers has led to a decline in the traditional brick and mortar bookstore. Still, there are over $15 billion in annual physical books sold each year and each one of those books is a sale that Amazon.com is positioned to capture through Kindle and eBooks.
Utilization
Use of the device continues to improve and, as measured by digital downloads, has increased every year since the Kindle was introduced. At first, most analysts assumed that early purchasers of the Kindle would be passionate readers and that as the more casual readers purchased the device, post-Kindle purchases per device would decline. Surprisingly, that has not been the case.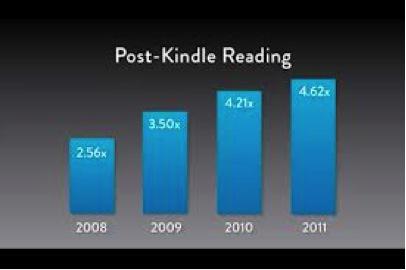 What does all this mean to Amazon.com? It means that Kindle makes Amazon.com a LOT of money, but not on the device itself. Amazon.com Chief Executive Jeff Bezos confirmed in an interview with the BBC (here) last year that the company makes no profit on the Kindle device itself, instead counting on the digital sales associated with using that device to power the profit engine. This strategy of providing the device at cost, or in come cases as a loss leader, and counting on future sales of content to drive profitability is not unique to Amazon.com, but it has its critics nevertheless.
While eBooks are the main item purchased on Kindle, Amazon also sells digital downloads of movies and music, both of which have similar margins as books (about 20% based on an average of agency and principal take rates). When compared with margins of 35% - to 40% reported by rivals like Apple (NASDAQ:AAPL), 20% might seem a bit thin, but remember, the company is in the business of selling books and 20% is solidly in line with margins on traditional physical book sales.
Enough About the Kindle - Let's Talk About The Stock Price.
For investors, all this is just so much noise if it doesn't translate into higher share prices going forward. So let's talk about that.
Kindle and its ecosystem are just an example of how Amazon.com continues to invest in its business, expand its product line, and transition from physical inventory to digital media. It is estimated that the Kindle franchise, including hardware and digital sales, represent 10%-12% of total revenue for Amazon.com Perhaps just as important as the revenue it generates, Kindle and its ecosystem also position the company to be the dominant eBook seller for some time to come and as pointed out earlier, that's a huge market with a lot of profit potential.
If Amazon.com can maintain its leadership position as the dominant eBook seller, then it is not unreasonable to expect a Compound Annual Growth Rate (OTCPK:CAGR) of 20-25%. In fact, for Q1 2013, the company provided guidance in the same range.
Therefore, for 2013, I estimate revenue of approximately $75 billion (a 23% increase over 2012), and EBITDA of $4.6 billion. Using a 32.5x EV/EBITDA Discounted Cash Flow (DCF) model, (11% WACC w/5% growth) I project a 12-month target price of $375/share. This valuation implies 38% upside potential from the current share price.
Of course nothing is for certain. Apple continues to be a serious competitive threat, seeking its own, larger share of the digital distribution market, but the popular Kindle franchise should help offset any encroachment as Amazon.com continues to penetrate into international markets, innovate new technologies, and grow its core business.
Disclosure: I am long AAPL. I wrote this article myself, and it expresses my own opinions. I am not receiving compensation for it (other than from Seeking Alpha). I have no business relationship with any company whose stock is mentioned in this article.