Despite the Dow Jones Industrial Average hitting all-time highs and the S&P 500 nearing all-time highs, there are four reasons why I am somewhat cautious right now.
1. VIX
Currently, as shown by the chart below, the VIX is trading at very low levels. In the past a VIX at current levels -- below 13 -- has signaled, quite reliably I might add, a short-term market top.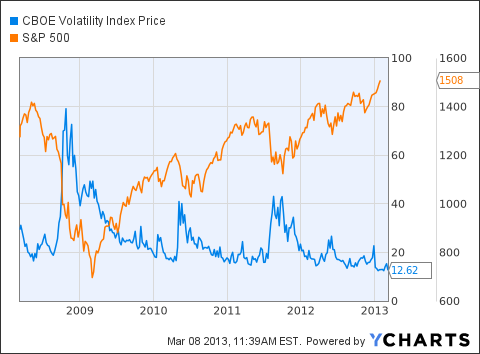 2. Commodity Weakness
As shown by the chart below, important commodity markets such as copper, oil, gold, and silver have not done well of late despite the move in stocks. This is concerning for a variety of reasons. Commodities have been a leading indicator for stocks since 2009 as global monetary easing has led to higher commodity prices. Essentially, the same argument has been used to make the bull case for equities and explain record stock prices despite a sluggish economy. If monetary policy is not strong enough to support commodities, how will it continue to support equities?
In addition to raising concerns about the power of monetary policy to increase asset values, the recent weakness in commodities also suggests that global economic growth is weakening, not getting stronger. This view from the commodity markets appears to be at odds with the bullish outlook currently being expressed by equities.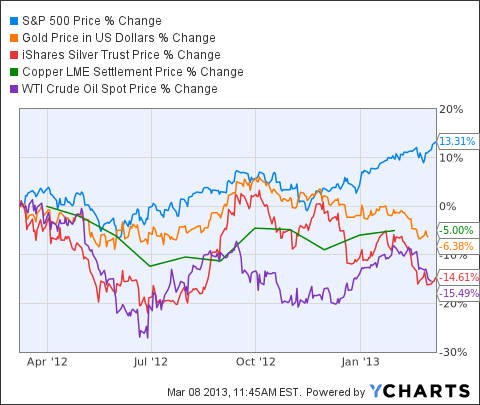 3. Market Leadership
As shown by the chart below it is worth noting that some of the strongest stocks, and those helping to push the stock market to all-time highs, are non-cyclical defensive names such as Johnson & Johnson (NYSE:JNJ). At the same time, stocks that have significant exposure to the economy, such as U.S. Steel (NYSE:X), have not participated in the stock market rally.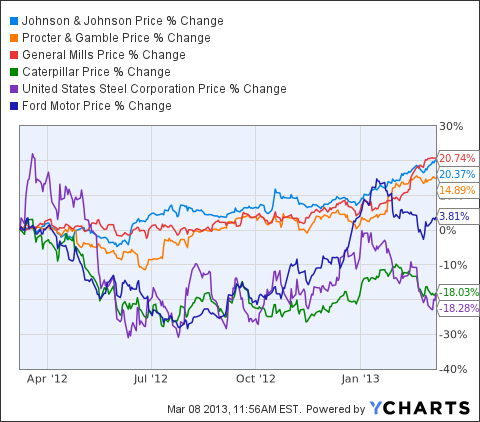 4. Job Report Reaction
Despite a significantly stronger-than-expected jobs report, the stock market has failed to make a major move higher. The lack of reaction to positive news could indicate that the market rally is getting tired and that a lot of good news has already been priced in. Some might argue that the report was too strong as to put the prospect of earlier-than-expected tightening by the Fed on the table. However, the fact that gold has not moved sharply lower following the announcement makes this thesis difficult to prove.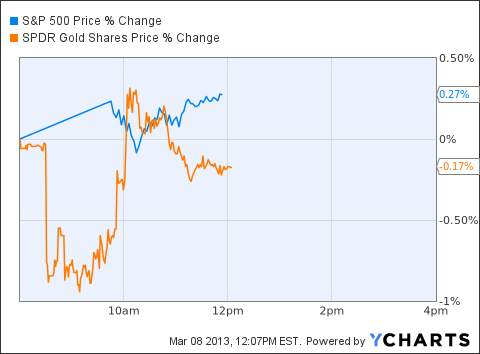 Conclusion
No, this is not a recommendation that investors start aggressively selling stocks. Warren Buffett has said:
In the 20th century, the United States endured two world wars and other traumatic and expensive military conflicts; the Depression; a dozen or so recessions and financial panics; oil shocks; a flu epidemic; and the resignation of a disgraced president. Yet the Dow rose from 66 to 11,497.
However, the combination of these indicators does mean that a significant move lower in equities is a real possibility. One move that investors can make is, as I previously discussed, to buy protection in the form of put options. One development that would make me less cautious and more optimistic would be a change in market leadership from defensive-oriented names, such as General Mills (NYSE:GIS), to more economic sensitive names such as Ford (NYSE:F). Also, strength in the commodity markets would make me more confident in equities.
Disclosure: I have no positions in any stocks mentioned, and no plans to initiate any positions within the next 72 hours. I wrote this article myself, and it expresses my own opinions. I am not receiving compensation for it (other than from Seeking Alpha). I have no business relationship with any company whose stock is mentioned in this article.