On Thursday, Immersion Corporation (NASDAQ:IMMR) announced it had entered into a new multi-year agreement with Samsung (OTC:SSNLF) which also includes a patent license covering Samsung's prior and future use of Basic Haptics.
On the news, the stock jumped about 30%. This is the second time in a relatively short period of time that Immersion's shares reacted positively to news related to Basic Haptic agreements: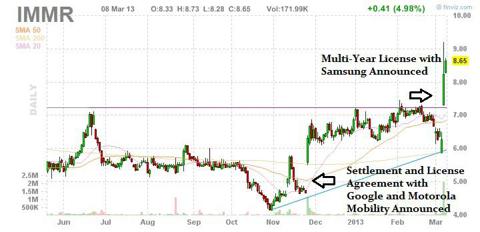 Chart from FINVIZ
As forecasted in our Seeking Alpha PRO article "Immersion Corporation: Profiting From The Touch Screen Revolution," the expansion of Immersion's partnership with Samsung acted as a great catalyst to its stock price.
Some background to the new agreement
Samsung was Immersion's very first cell phone licensee back in 2004, and later expanded its agreement with the company to include digital music players, cameras and other devices.
Haptics has always been an important differentiator for the Korean company's mobile offering, a key element built into most of its high-end devices, as we can understand by examining how Samsung's designer Minhyouk Lee described the company's creative process when laying the foundations for the Galaxy range: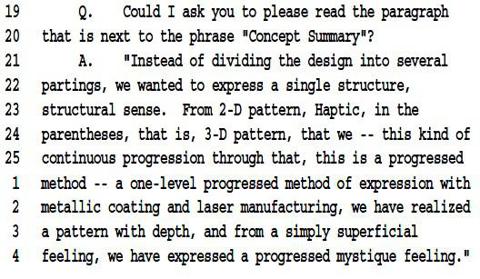 Quotes taken from Mr. Lee's deposition in court during the recent Apple-Samsung litigation.
As we know, Samsung has become the leading Android producer in the world. Google's (NASDAQ:GOOG) Android OS is unique for vibration control, as it provides native support and offers more vibration options than, for example, Apple's (NASDAQ:AAPL) iOS.
Immersion's Haptic SDK allows full vibration motor control of duration, amplitude and pulsing frequency within the Android OS, offering a library of over 120 pre-defined haptic vibration feedback effects and allowing developers to create more console-like feedback experiences.
Samsung's Galaxy range has taken full advantage of Immersion's integrators, that allow it to provide several options that automatically add haptics into the Android UI and provide an easy way to customize the overall tactile feel of the device, including converting sound into haptic feedback.
In 2012 Samsung represented about 24% of Immersion's revenues, or roughly $7.7 million. As a first adopter of the technology, Samsung enjoyed lower per unit royalties than other company's licensees.
The new license agreement probably a combination of higher per unit royalties plus Basic Haptic
Immersion's license agreement with Samsung expired at the end of 2012, and the company was not able to renew it by the time it announced its Q4 results.
During its recent conference call, Immersion guided for revenues in the $28 million to $32 million range for 2013, absent a renewal of the Samsung's agreement.
The new guidance announced after disclosing the renewed Samsung deal calls for revenues of $44 million to $48 million in 2013 - i.e., an increase of $16 million from previous guidance, as opposed to the $7.7 million the Korean company paid in 2012.
The difference cannot be explained, in our opinion, by just the combination of additional revenues obtained for Basic Haptic and expectations of increased units shipped by Samsung next year, but must also include a higher compensation for Samsung's use of Immersion's TouchSense and Integrator software solutions.
More license deals on their way, mobility not the only focus
Immersion is still engaged in litigation with HTC, and expects to incur into additional legal costs in 2013 to defend and monetize its IP.
After the company demonstrated its capacity to force companies like Google, Motorola, LG and Samsung to license its Basic Haptic technology, we expect more OEM using the Android OS to capitulate and join Immersion's customer list.
Over the long term, the company should also start getting significant results from vertical like automotive that are still in their infancy in revenues, although the company has already signed some of the best names in the industry like Daesung, Lexus, Visteon (NYSE:VC), Mercedes, BMW, Aston Martin, Panasonic Corp (formerly Sanyo Automedia), Alps, Densitron, and has recently developed, through one of its partners, General Motor's (NYSE:GM) Cadillac CUE Infotainment System.
Disclosure: I am long IMMR. I wrote this article myself, and it expresses my own opinions. I am not receiving compensation for it (other than from Seeking Alpha). I have no business relationship with any company whose stock is mentioned in this article.