I received a lot of negative feedback on my prior article, Sorry Bears, We're in a Secular Bull Market and so I wanted to do a follow up on this article now that a couple of weeks have passed and we have a little more clarity on how the economy has been progressing in 2013.
Today, the much-anticipated February jobs report came out and the numbers continue to point to a steadily improving economy. 236,000 jobs were created versus an estimate of 171,000. The number was better than the highest estimate of 225,000. Additionally, the unemployment rate fell approximately 0.2%. Private payrolls showed a gain of 246,000 while government continued to be a drag on the overall economy. Jobs there declined by 10,000.
I continue to think that the housing recovery is adding a good deal of help in the economic expansion, something perma bears are slowly beginning to acknowledge.
Existing home sales improved in February 4.5% to 105.9, way above consensus estimates of a 3% gain. New home sales in January surged 15.6% to an annualized 437,000, thanks to a sub 3.5% mortgage rate. This figure was above the housing stimulus aided figures from early 2010. See the chart below from Econoday.
Additionally, the ISM non-manufacturing index rose to 56 this week, posting the best reading in over a year. And the components most important to investors within that index were even more impressive:
(1) New orders up to 58.2
(2) Hiring at 57.2
How anyone can construe this as anything but positive is beyond me. There is an actual economic recovery going on that is strengthening and still the stock market is still not expensive. With the S&P at 1540 and estimated 2012 earnings of 102.57, the market is trading at a P/E of 15.03 and an earnings yield of 6.65. Both of these are still below historical averages of 15.92 and 0.0657, as shown in my charts below. Keep in mind to calculate those averages I excluded the top and bottom 5 P/E years and yield years to get rid of any noise in the data.
P/E Historical Data:

Earnings Yield Historical Data: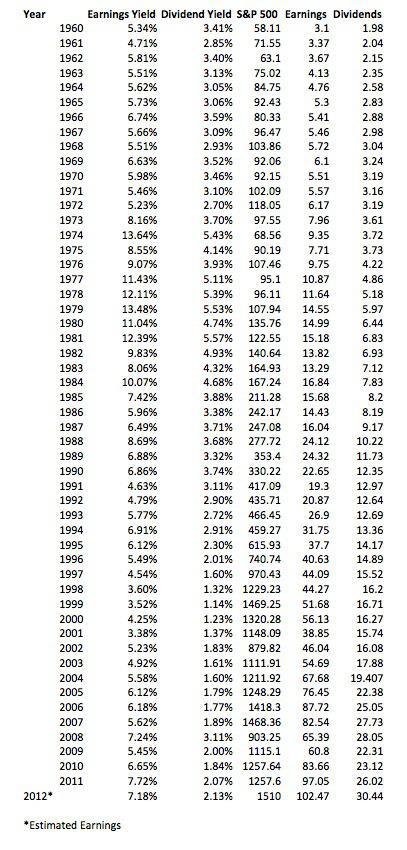 Source: NYU Stern School of Business
Again, the earnings picture should continue to improve globally as Japan and China recover from economic recessions and slowdowns, respectively, and as Europe begins to emerge from its recession. While profit margins are high on historical standards and could contract, there have been many periods that have had falling margins and rising stock markets because overall earnings went up. I believe the same will happen going forward.
How Should We Play this Secular Bull Market?
I continue to recommend going long the following:
(1) Sony (NYSE:SNE), a play on the falling yen and rebounding Japanese economy
(2) Nokia (NYSE:NOK), a play on an improving economy in Europe
(3) YRC Worldwide (NASDAQ:YRCW), a high risk, high reward turnaround play on the economic recovery in the US.
(4) Travelzoo (NASDAQ:TZOO), with exposure to travel and Europe (generates 30% of revenues from Europe)
(5) Veolia (VE)
(6) Bank of Ireland (NYSE:IRE), highly leveraged to the rebound in the Irish economy.
(7) Baidu (NASDAQ:BIDU) - I just wrote an article about Qihoo (NYSE:QIHU) and its questionable management and came away with the conclusion that BIDU is a cheap way to play the secular growth market in Internet growth in China.
Disclosure: I am long TZOO, YRCW, SNE, BIDU. I wrote this article myself, and it expresses my own opinions. I am not receiving compensation for it (other than from Seeking Alpha). I have no business relationship with any company whose stock is mentioned in this article.