About 75% of Americans own at least one car. One in four owe more on their car than it's worth.
These numbers are frightening, and they're the reason many Americans are desperately trying to sell their vehicles. With the number of car owners finally dropping for the first time in decades, a new industry is starting to take off.
Zipcar is an hourly car rental, or car sharing, company located in many major U.S. cities. The company has been around for about 10 years, but as a recent New York Times article points out, "[it] almost seems to have been founded with 2009 in mind."
A favorite among college students, Zipcar lets its 250,000 members take a car for a few hours at a time to go grocery shopping, visit friends, or just go for a drive in the country. This setup is ideal for the millions of Americans looking to sell their car. We've become so accustomed to driving, this is the perfect solution.
It only costs members $50 per year membership fee, plus a one-time application charge. After you are onboard, you pay just $9 per hour or $66 per day (for most locations). This covers all your gas and insurance. I've had many friends use this service, and all seem to be pleased with it.
Another company that offers plans like this is I-Go. Their rates are comparable, with even more flexible options.
Unfortunately, neither are publicly-traded. There are some mainstream ways to play this growing industry.
Mega rental companies like Hertz Global Holdings Inc. (HTZ: NYSE) and AMERCO (UHAL: NASDAQ) – better known as U-Haul – are jumping in on this game. Both are currently relatively small caps (under $1B). Each company started offering hourly rentals, but are still far from perfect investments. This up-and-coming business segment is still just a small piece of their revenue mixes.
We might not be out of luck just yet, however. Zipcar has been stirring the news circuit with rumors of a potential initial public offering (IPO). We haven't been able to report on any IPOs in quite awhile: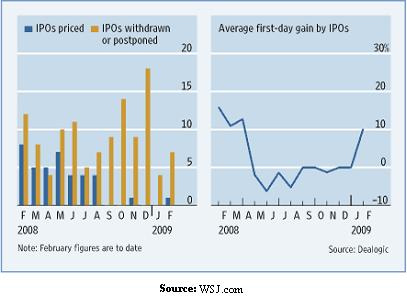 An IPO like this might just be one we need to jump on. Zipcar's membership has been doubling almost every year since its inception. It expects annual revenue to reach $1 billion over the next few years, and could be a lucrative company to own.
It should trade in the middle range of the small cap market – somewhere between $400 million to $500 million.
Fortunately, if it does IPO anytime soon, the market will probably slap it with a valuation comparable to Avis Budget Group (CAR: NYSE), Hertz, and U-haul. That would give us a pretty large upside – in the neighborhood of 300%-400% profits.
We'll keep our ears to the ground and let you know the minute we know more on this potential IPO.