One of the best ways to make money in this market is to try to get in ahead of catalysts. The market isn't stupid, but it doesn't really like to let these things run until a fairly short amount of time beforehand, especially since the "hot money" is busy chasing the nearest-term catalysts on the market. In this article, I would like to highlight a number of upcoming catalysts for shares of Nvidia (NASDAQ:NVDA) that could help confirm what seems to be the beginnings of a real uptrend. I'll review the technical picture so far, and then dig right into the catalysts. Let's begin!
The Chart: Looking Pretty, But Still Need A Final Cross
Here's a chart of Nvidia with the 50, 150, and 200-day moving averages included: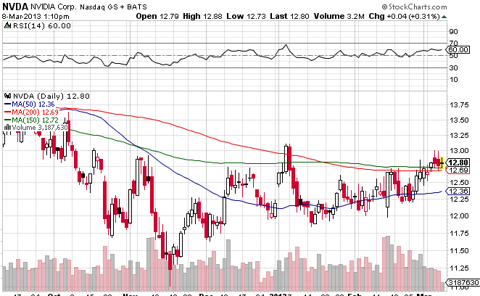 Click to enlarge
Life has gotten easier for Nvidia shareholders as the stock has managed to stay quite nicely above its 50 DMA for a number of trading sessions. Even better, the stock has now cleared its 150 DMA and 200 DMA values quite nicely, which helps to signal vastly improving technical health. I further like that the 150 DMA is actually above the 200 DMA (we want short-term moving averages to be above longer-term ones), but I would really like to see the 50 DMA cross above both the 150 DMA and the 200 DMA. At the rate things are going, this looks pretty plausible, especially as the 50 DMA works off the $13+ values baked in from the hype of a potential Amazon (NASDAQ:AMZN) Kindle Fire HD win.
So, the technical picture looks good, but the fireworks really start when/if the 50 DMA crosses the longer-term 150 DMA and 200 DMA.
Now, let's talk catalysts!
Catalyst #1: GPU Technology Conference (3/18 - 3/21)
Nvidia's "big" tech-geek event is the GPU Technology Conference. Nvidia is a technical company first and foremost, and GPU technology is the firm's baby. Every year at the GPU Technology Conference, investors and GPU enthusiasts alike are treated to an exhibition of Nvidia's latest and greatest tech. While hearing about GPUs is fine and dandy (and I'll be honest -- my inner geek probably cares more about the tech than the stock during these types of events), the real gem for investors is that CEO Jen Hsun Huang will be addressing the financial community in a special session. This could generate some buzz/positive momentum, especially as investors may get a clearer picture of how GeForce GRID is expected to contribute to the business.
Catalyst #2: Analyst Day (4/11)
The more important event for the stock/financial community is the upcoming Analyst Day on 4/11. Tech stocks are usually quite influenced by what is said at analyst day. Things to look for:
Full year guidance for the "Tegra" business
Update on the recovery in the workstation "Quadro" business
Growth projections for the HPC "Tesla" business.
Full year gross margin guidance
The health/market share of consumer GPU business, especially as AMD (NYSE:AMD) has gotten more aggressive in recent months
Full year revenue/earnings guidance
Right now, the average analyst expectation for the business is as follows:
EPS: $0.71 (down 21% Y/Y)
Revenue: $4.25B (down 0.6% Y/Y)
Essentially, you have the Street believing that earnings are going to drop dramatically and revenue will be flat at best. This seems incredibly pessimistic, so any guidance that shatters this view could lead to quite violent and dramatic upside for the stock.
Conclusion
The Nvidia story is getting more exciting each day. Nvidia showed off a working version of its "Grey" (baseband + apps processor on a single die), which will allow it access to the larger volume smartphone markets. Further, Tegra 4 should start hitting the shelves in 2Q 2013, which could also shatter some of the more pessimistic estimates that the Street currently has. Finally, the GPU/Workstation business could be on track to grow at a much pronounced rate than is expected.
The technical picture is looking better, and management is less about "hype" and more about "execution" than has traditionally been the case, which could signal a real shift in how Wall Street treats the stock. Only time will tell, but for those of you who like catalysts, I just gave you two pretty nice near-term plays.
Disclosure: I am long NVDA, AMD. I wrote this article myself, and it expresses my own opinions. I am not receiving compensation for it (other than from Seeking Alpha). I have no business relationship with any company whose stock is mentioned in this article.