By David Urani
With the market going into record territory, we are hearing plenty of folks suggest that the market is overvalued. We've made this point before but feel it's worth reiterating here: If you look at the valuation of the S&P 500 (even though it's still about 30 points off its own record high), you can see that it is in fact below its average valuation.
On a trailing basis (for the past year's earnings) the S&P 500's price to earnings ratio is right around 15, which is under the 18.8 average since 1989. Also keep in mind that total corporate earnings for the S&P 500 for are expected to hit $29.77 in Q4, compared to the 2Q07 peak (when the markets previously peaked) of $23.06. That's a 23.9% increase in expected earnings over 2Q07. The price-to-earnings ratio of those expected earnings is even lower, just 13.91.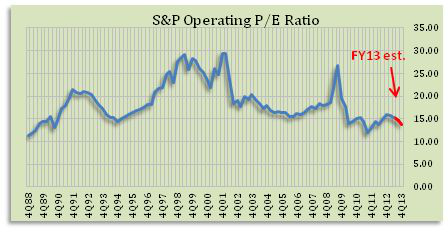 We're not going to dismiss that there are some real potholes remaining in the economy including the 2% increase to payroll taxes that went into effect in the new year, as-yet unknown effects of the sequester spending cuts, and ongoing struggles in Europe. Consequentially, perhaps it's fair that stocks don't quite carry the same sort of "growth premium" (a.k.a. high valuation based on earnings growth) that they have in the past. But it seems the market has already accounted for that.
So the next time someone tells you the market is "overvalued," ask them based on what valuation, because if you're looking at expected earnings and equity prices based on those earnings as I've laid out above, you could realistically say that the market is in fact undervalued. And as we've also pointed out time and again, a large chunk of those corporate earnings are coming from all around the world, not just here in the U.S.