Talisman Energy Inc. (NYSE:TLM), an upstream oil and gas company, engages in the exploration, development, production, transportation, and marketing of crude oil, natural gas, and natural gas liquids. It primarily operates in North America, the North Sea, and Southeast Asia.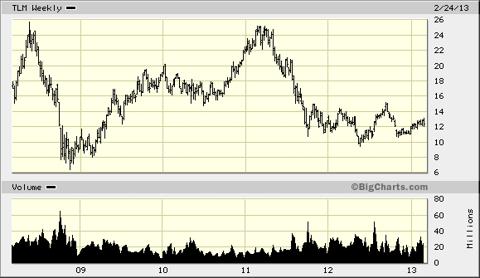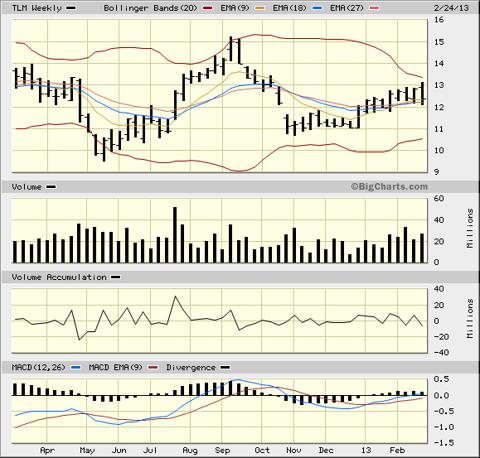 Background
Talisman Energy has almost lost 50% off its stock value since 2011. The company has a market cap of 12.67B, forward P/E of 21.68 and a Price / Book of 1.32.
The company has executed a strong turnaround by instituting a new management -
The company has appointed a new CEO in Hal Kvisle as of September 2012.
With new management the focus is more on total shareholder returns and near-term profitability, in particular, generating reliable cash flow per share growth. The company's focus is more on paying down debt, strengthening the balance sheet and building financial capacity.
The company intends to build and strengthen in its three core regions - the Americas, Southeast Asia and the North Sea - and shed non-core assets and focus on our best properties in all three regions.
In 2012, the company executed on planned dispositions of $2.5 billion, which left the balance sheet in a stronger position at year end with debt levels $750 million lower than they were at the start of the year. The year-end net debt was $3.7 billion. In 2013, they have reduced the planned capital spend. They have reduced $4.5 billion in spending opportunities down to a $3 billion actual capital program.
In 2012, the company exceeded their production target and ended the year with average daily production of 426,000 barrels equivalent per day. In 2013, company is investing approximately 90% of their capital on liquids and on international gas opportunities.
The company significantly reduced drilling times in the Montney; and in 2013, they're doing the same in the Eagle Ford. At a corporate level, they're targeting a reduction in our gross G&A run rate of at least 20% by the end of 2013.
In North Sea, in the fourth quarter, they closed on joint venture with Sinopec which brings in additional investment and hedges risk.
Liquids production in North America grew by 17%. In 2013, the majority of North American capital spend will be directed towards the Eagle Ford.
During the year, the company added a combined total of 75 million barrels equivalent of proved plus probable reserves, mostly in Eagle Ford, Montney, Wild River and Corridor assets.
2012 cash flow of $3 billion was down from $3.4 billion in 2011. A 35% reduction in gas prices in North America and lower North Sea volumes were partially offset by significant liquids-based production growth in Southeast Asia and North America.
Catalysts
Turnaround Play
As management executes successfully on the turnaround plan the share price will propel much higher from the current levels given the quality of assets.
Increase in North American Gas and Oil Prices
Higher pricing will help improve profitability and also increase the value of assets.
Strategic Investor Interest
Possible investment / buy-out from Chinese cos. Company already has worked on a joint venture with Sinopec and is no stranger to working with Chinese cos. Nexen (NXY) just received an investment from CNOOC.
Institutional Investor Interest
Extremely Bullish Options Action - What prompted me to look at TLM was extremely bullish short term and long term options action in TLM. Institutional Investors have bought Oct 2013 $13 calls and July 2013 $14 calls in large volumes indicating that investors expect the stock to move significantly to the upside. Institutional Investors have sold July 2013 $11 puts and Oct 2013 $11 puts in large volumes indicating that investors expect the stock to have a floor at that level. The company is showing similar action to that which Nexen showed before it was acquired.
Summary
Talisman Energy looks poised to break out of its trading range and run to multi-year highs on continued successful execution of its turnaround plan, strong technicals, improved profitability, and favorable pricing. Downside risk is very limited given the quality of assets. In addition to all the favorable scenarios opportunity to the upside could be huge if the company gets a major investor or buy-out offer as this sector is hot and Chinese cos. are on an acquisition spree. My short term price target for 2012 is $18/share on the above factors and if a buy-out were to occur price would be in the $24/share range given the stock was trading at that range as recently as 2011.
Disclosure: I have no positions in any stocks mentioned, and no plans to initiate any positions within the next 72 hours. I wrote this article myself, and it expresses my own opinions. I am not receiving compensation for it. I have no business relationship with any company whose stock is mentioned in this article.