Established in 2004, Silver Wheaton (NYSE:SLW) has quickly positioned itself as the largest metals streaming company in the world. The company currently has 15 silver purchase agreements and five precious metals agreements where, in exchange for an upfront payment, it has the right to purchase all or a portion of the silver production, at a low fixed cost, from high-quality mines located in politically stable regions, for the life of the mine, unless otherwise specified.
Based upon its current agreements, forecast 2013 attributable production is now to be 33 million silver equivalent ounces, including up to 140,000+ ounces of gold, following its most recent streaming acquisitions, which both adds to immediate and longer-term cash flow. By 2016, annual attributable production is anticipated to increase significantly to approximately 52+ million silver equivalent ounces, including 200,000 ounces of gold. Beyond the initial upfront payment, no ongoing capital expenditures are required to generate this growth (with the exception of remaining milestone payments, which are part of the initial contract), and Silver Wheaton does not hedge its silver production.
Silver Wheaton's industry-leading growth profile is driven by a portfolio of world-class assets, including silver streams on Goldcorp's (NYSE:GG) Peñasquito mine in Mexico and Barrick's (NYSE:ABX) Pascua-Lama project straddling the border of Chile and Argentina. Silver Wheaton should also see record production from the likes of its San Dimas stream, which, since being taken over Primero, will increase attributable production to Silver Wheaton in the near and longer term as it undergoes an expansion.
The company's unique business model creates significant shareholder value by providing leverage to increases in the silver price while reducing the downside risks faced by traditional mining companies. Silver Wheaton has an experienced management team with a strong track record of success, and is well-positioned for further growth, as seen most recently through its brilliant silver and precious metal stream recently acquired from Hudbay Minerals (NYSE:HBM) and mining giant Vale (NYSE:VALE).
Silver Wheaton's acquisition from Hudbay Minerals, which is composed of 2 separate albeit high quality assets, will increase the company's immediate and longer-term production growth profile, as the 777 stream will contribute an initial 65,000-70,000 oz. Au and 820,000 -850,000 oz. Ag. The gold stream will be reduced by 50% once either Constancia reaches completion or 2016 (whichever is later), whereby Silver Wheaton will also being receiving attributable silver production from Constancia on top of 777, which will amount to an additional 2.4m silver ounces per annum. Approximately six months following the Hudbay acquisition, Silver Wheaton entered into its largest contract to date in terms of cost. Silver Wheaton struck a deal with mining behemoth Vale, whereby in exchange for $1.9B upfront, Silver Wheaton has the right to receive 25% of all the gold production from Salobo (the biggest copper mine in Brazil) and 70% of all the gold production from the Sudbury group of mines in Canada, all at an ongoing purchase price of $400/oz. Salobo currently produces approximately 40,000 oz. of gold, increasing to 60,000 oz. by 2016, while the Sudbury group of mines produces 30,000 oz., increasing to 50,000 oz. by 2016.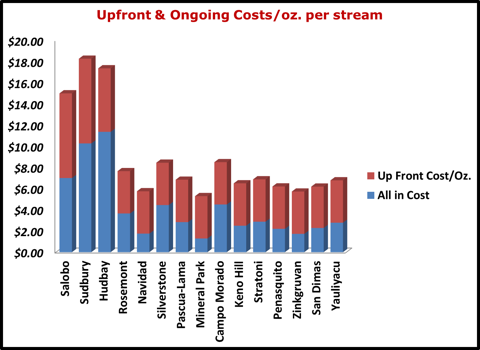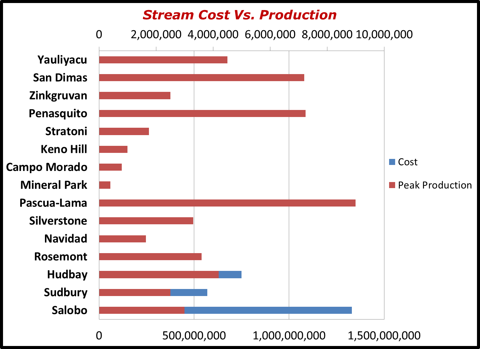 Following the announcement of Silver Wheaton's inaugural dividend policy, investors were unimpressed to say the least, with the payout ratio equivalent to approximately a 4% of operating cash flow. A year ago November, however, Silver Wheaton enacted a dividend policy that is shareholder friendly and is a function of both the underlying commodity price and annual production growth. In other words, holding the silver price constant, Silver Wheaton will increase dividend payments essentially every year for the next 4-5 years. The formula is as follows; 20% X Operating cash flow or (Net Income + Depreciation). As companies mature, however, they increase their payout ratio typically to between 75-85%. For example, assuming the price of silver averaged $30/oz. from 2012 through 2016 and the stock price was $35/share over this time, Silver Wheaton's dividend would increase from just $0.35 to $2.17 (the dividend yield would be 6.2x as much).
Silver Wheaton has managed to acquire a strategic asset base in the sense that its cornerstone assets are run by proven operators, geographically diversified, below industry average cash costs (ensuring they will stay economical into the future), hold interests in several of the world's premier mines, and have extremely long asset lives based only on current reserve estimates.
Overviewof Core Assets-
Sudbury (Canada) ~ Silver Wheaton's most recent deal with Vale involved streaming deals on two of its assets, Sudbury mines and Salobo. This was the first deal ever completed by Silver Wheaton that was strictly confined to gold streams, which increased the long-term exposure to gold to 25% of total revenue and 75% from silver. Located in Canada, the Sudbury mines have been in production for some time, operating by a proven operator, Vale. In exchange for $1.9B paid to Vale, Silver Wheaton will have the right but not the obligation to purchase 70% of the gold production from Sudbury and 25% of the gold production from Salobo, located in Para, Brazil. Each ounce will be sold to Silver Wheaton at $400/oz. The Sudbury stream agreement has a 20-year term sheet, which began paying out on January 1, 2013. Average annual production will be 35,000 oz. for the first 3 years, increasing to 50,000 oz. thereafter as a new mine is added to the group of mines. This deal was good from the standpoint that Silver Wheaton had an overweight proportion of its NAV in Peru and Mexico. Following the closing of this transaction, Canada and Brazil will carry a heavier weight of the Net Asset Value for the Company.
Salobo (Brazil) ~ The real meat of this deal was for the Salobo stream, Silver Wheaton's first asset in Brazil. Not only does this increase the geographical diversity of its assets, but it also gives Silver Wheaton its longest lived streaming asset. Based on current reserves, Salobo has a 63 year mine life, during which time it will sell Silver Wheaton 45,000 oz. through 2015, at which time production will increase and Vale will sell 60,000 oz. from Salobo. Futhermore, there is plenty of room to further increase mill throughput, thereby increasing attributable production to Silver Wheaton. As with the Sudbury stream, each oz. of gold will be sold at $400/oz. In aggregate, these two streams increase the average mine life per stream, immediately increasing production as well as providing growth starting in 2016, further increases Silver Wheaton's geographical diversity, increases reserves by a more than 4m oz. and increases Silver Wheaton's exposure to gold to roughly 25%.
777 (Canada) ~ 777 is one of two streams fairly recently acquired from Hudbay Minerals in Silver Wheaton's first deal in over 2 years. 777 is unique in the sense that it more than tripled the company's exposure to gold at the time, at least until the most recent deal was made with Vale in an all gold streaming transaction. Silver Wheaton is entitled to purchase all the mine's gold and silver production until Constancia meets certain development requirements or 2016, whichever is longer. Once either development requirements are met or 2016, Silver Wheaton's gold but not silver stream will drop off to 50% from 100%. As part of this $750 million deal, Silver Wheaton will be entitled to purchase each ounce of gold at $400/oz. and each ounce of silver at $5.90/oz. For at least the first full 4 years after the deal closes, Silver Wheaton's production will increase by 65,000 - 70,000 oz. Au and 800,000 oz. Ag. Once the stream falls to 50%, Silver Wheaton's long-term attributable production in the longer term will increase by 32,500-35,000 oz. Au and 800,000 oz. Ag, or 2.4m-2.5m silver equivalent oz. This will, however, be augmented by the second stream in the deal, Constancia. 777 has had a very long history of replacing reserves, making the current 9 year life a conservative estimate.
Constancia (Peru) ~ As previously mentioned, Constancia is part of the Hudbay deal, expected to commence production sometime in 2015, reaching capacity in 2016/2017. This will increase SilverWheaton's production by 2.4m oz. Ag for a minimum of 16 years, based on current reserves. Silver Wheaton and Hudbay both believe the upside potential is substantial, both optimizing total production and adding significant mine life going forward. Like 777, the ongoing per ounce purchase price of silver will be $5.90/oz. In aggregate, these two new streams will add approximately 4.8m silver equivalent ounces, bolstering the company's immediate and longer-term growth profile.
San Dimas (Mexico) ~ In late 2010, Goldcorp sold San Dimas to Primero, amending the silver purchase agreement to Silver Wheaton's benefit. Per the amendment, Goldcorp will be required to deliver 1.5m oz. a year from (2011 - 2014) and Primero delivering 3.5m oz.plus 50% of silver produced thereafter. Following the fourth year of this arrangement, Primero will be required to deliver the first 6m oz. produced and 50% thereafter, which will partly be ensured by Goldcorp. The streaming agreement, initially set to expire in 2029, has now been extended for the life of the mine. In addition, Primero has already laid out plans to expand annual production as well as engage in an aggressive exploration program, as much of the property remains unexplored. By 2014, Silver Wheaton's attributable production should increase to at least 7m oz. According to the expansion plans, production will likely approach 7.5-8m oz. sometime between 2016 and 2017, not taking into account any additional exploration success.
Penasquito (Mexico) ~ Perhaps Silver Wheaton's most attractive asset, owning a 25% streaming interest in one of the largest silver deposits in the world, having over one billion ounces of silver reserves and substantial M&I. It will remain a core growth driver for years to come as production ramps up and mine and milling operations are optimized, currently projected to be achieved by 2018-2019. While some smaller operational issues were seen in the second quarter, it isn't uncommon for such things to arise in a project of this caliber, and we expect everything to be resolved soon rather than later. Average annual production throughout the life of the mine is expected to be 28-30m oz., peaking in 2019-2020 at over 40m oz. or 10m attributable to Silver Wheaton. Since completion of the agreement, silver reserves at the mine have increased 92% and attributable silver production to Silver Wheaton has increased by 73% or 67 million ounces, to a total of 159 million ounces. We also expect this continue when the time comes for the company to increase 2P reserves. Goldcorp has also undertaken a scoping study to determine whether an underground mine would either increase annual production or extend mine life. Assuming it can increase total production by a small amount, this will pay off massively for Silver Wheaton. Average annual attributable production could easily be increased from 7m oz. to 8m+ oz.
Pascua-Lama (Chile) ~ Silver Wheaton acquired 25% of the life of mine production from yet another one of the world's largest silver deposits, further diversifying its asset base via exposure to Chile and to a smaller degree, Argentina. Pascua-Lama, set to reach commercial production in Q2 2014 following a recent delay, as the capital investment required to bring this world class asset into production will cost1.5-2B+ more than outlined in the PEA/Feasibility Study. It is projected to reach feasibility levels in mid-late 2015, producing an average of 800,000-850,000 Au and 34-36m Ag annually. Pascua-Lama hosts 671 million ounces of contained silver within Barrick's reported proven and probable gold reserves, with an additional 166 million ounces of contained silver within Barrick's reported measured and indicated gold resources, currently supporting a minimum mine life of 25 years. This, however, like many of Silver Wheaton's other assets, is unlikely to be depleted when the 25 years comes due, unless further mining and mill optimization measures are implemented, drastically increasing the projects internal rate of return, NPV and attributable annual production.
Yauliyacu (Peru) ~ Silver Wheaton's fourth cornerstone asset, adding approximately 4.5-4.75m attributable ounces for 20+years. In 2011, however, due to concentrate problems and the company deciding to address this issue to prevent it continuing in the future, led to a shortfall in silver delivered to Silver Wheaton. Fortunately, this has been resolved in the most recent quarter, reducing Silver Wheaton's ounces produced, but not yet received considerably. While this contract was initially perceived to be 20 years, reading further into the specifics, Silver Wheaton has the right to receive (20 * 4.7m) or 95m oz., thus given the several shortfalls since inception, Yauliyacu will remain an asset for several years longer than anticipated. Silver Wheaton also has the right to extend the life of the contract in 5-year increments on essentially the same terms of the original contract.
Rosemont (USA) ~ The Arizona mine, along with Pascua-Lama, Keno Hill, Navidad, Constancia and potential acquisitions going forward will be the company's primary long-term growth drivers. Once in production, Rosemont will increase Silver Wheaton's attributable production by 2.9m oz. of silver and up to 15,000 oz. of gold for over 20 years based on current reserves.While the timeline for commercial production is still unknown, it should begin initial production by 2015, reaching capacity or near capacity in 2016 or earlier. Once online, Rosemont will be the key to propelling Silver Wheaton's attributable gold production to or past 100,000 oz.
Zinkgruvan (Sweden) ~ Although this Swedish asset is not considered to be one of the company's larger assets, Lundin (the operator) reported finding silver byproduct credits in its copper reserve. The operator began commissioning a new copper plant, which will increase production attributable to Silver Wheaton.
Navidad (Argentina) ~ When Silver Wheaton acquired its only direct competitor, Silverstone, at a very attractive price, it also acquired a 12.5% debenture on Aquilines Navidad property, exercisable for just 32.4m. Navidad has since been acquired by Pan American Silver (NASDAQ:PAAS), which has gained the entire attention of the company due to size of the deposit. Pan-American has the funds to bring the mine online, at which time the mine will produce between 16-20m oz. annually, approximately 1.5-2m oz. attributable to Silver Wheaton once it's onstream.
Keno Hill (Canada) ~ This asset is probably the most overlooked stream in the company's portfolio. Silver Wheaton acquired a 25% interest on the entire district, which Alexco has big plans for. With one of the highest grade silver districts with over a dozen potential deposits, the short, mid- and long-term production growth are substantial. Analyst estimates have a mere attributable production profile for the company of 2m oz. of silver (500k attributable to Silver Wheaton). This, however, is below just the currently producing deposit's annual production. Alexco will soon bring an extremely high grade silver mine, Lucky Queen, on in Q1 2013,along with Onek, which should increase Alexco's total silver production by 50% +/- to 3m oz. per annum. Alexco also has plans to bring up to two more mines in 2014, including its highest grade deposit, Silver King. In other words, by late 2014/early 2015, the company projects anywhere from 6m-8m ounces of silver production and 10m+ by 2016-2018, or 2.5m oz.attributable to Silver Wheaton.
Silver Wheaton Production Profile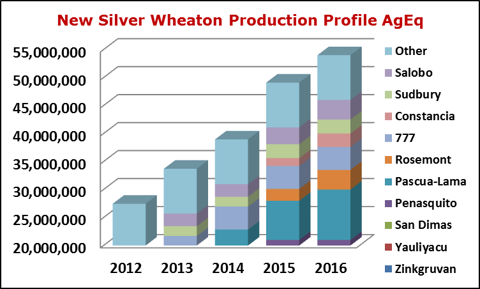 Silver Wheaton's new production growth profile now has immediate, mid- and longer-term growth via 7 streams, which come online starting when the recent deal closes: Salobo, Sudbury, 777, Pascua-Lama, Constancia, Rosemont and Navidad. With lower silver price expectations now priced in relative to the prevailing price a year ago May, combined with much tighter credit markets, it is the perfect environment for Silver Wheaton to be able to deploy more capital after having accessed two more large debt facilities, one having a one year term and the second having a 5 year term.
Valuation
What is a stream, really? One could contend it is nothing more than a call option, as it has all the characteristics of one (Strike Price = $4, Expiration = Length of Contract and an Underlying Asset = Silver). It also meets the definition of an option, that being "A contract between two parties for a future transaction on an asset at a reference price." But aren't there risks associated with a stream? Sure, but the same goes for an option or futures contract, i.e., counterparty risk (a recent example being the MF global debacle). Assuming a stream does have more risk, instead of trying to value it using a collection of European call options (which have a time premium for every year further away from expiration), a medium ground would be to simply use the undiscounted value of all future cash flow. The chart below will illustrate a basic NAV, undiscounted value of all cash flows, and the value of a stream using call options. In more simple terms, the chart is trying to replicate the business model and determine the cost of doing so.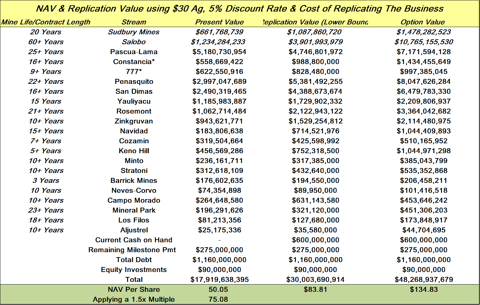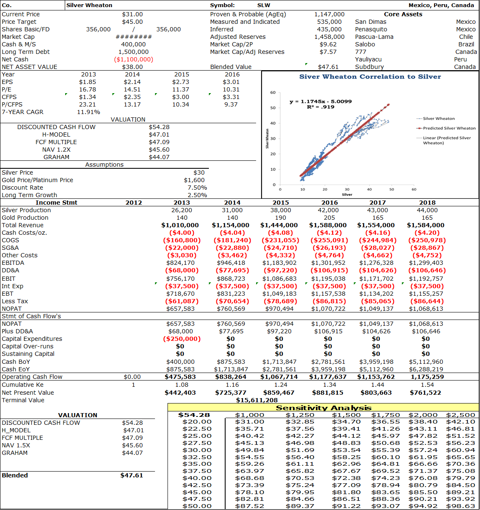 Disclosure: I am long SLW. I wrote this article myself, and it expresses my own opinions. I am not receiving compensation for it (other than from Seeking Alpha). I have no business relationship with any company whose stock is mentioned in this article.