1. Treasury yields will continue to remain low through the rest of this year. Federal Chairman Ben Bernanke has affirmed that he will keep interest rates low until there is sustainable improvement in the overall economy that will warrant a gradual increase in yields. The yield on the 10-year Treasury note hit a record low of 1.379 percent on July 25 and has since risen to 1.84 percent.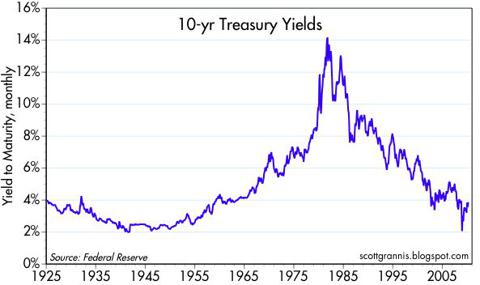 Until treasury yields rise a substantial amount, the "great rotation" from bonds to equities will continue to push demand for equities even higher. The stimulus has been compared to giving the stock market a dosage of heroin that it has now become "high" on. (Pun intended)
2. Employment data has continued to show signs of strength. Friday's employment data revealed that the unemployment rate dropped to 7.7%. This is the lowest number since 7.9% in December of 2008.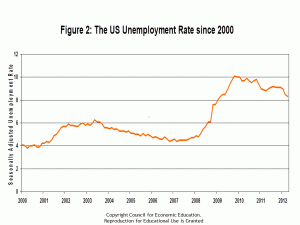 More businesses are gaining confidence in the economy as positive data continues to flow in. Record low interest rates have spurred new-found demand for borrowing, which in turn allows businesses to expand or for new businesses to delve into their ventures.
3. Consumer confidence, which is an important measure of the health in the U.S. economy from the perspective of the consumer, has been steadily improving. In February of 2009, the measure was at a record low of 25.3.
As the chart below illustrates, this key measure of economic health has been inching forward with some volatile measures along the way.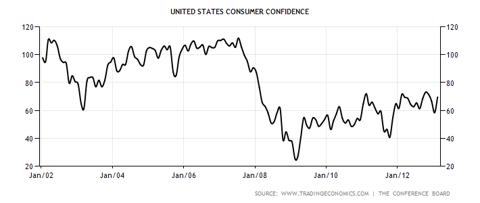 4. The housing market has begun to show life again, as existing home supply has been decreasing. This steady improvement in existing home sales has been on the rise due to the rapid decline of home prices, low mortgage rates, increased short sales, and investors jumping in on the action. As a result, these low levels of existing home inventory clears the way for new home builders to begin building again, and adding yet even more jobs to the economy.
As the demand for new homes increases, there will be several job opportunities created in the housing industry. Similarly, there will be a wide range of employment opportunities in other industries that provide products and services to home builders and its new owners. For example, jobs are generated in industries where lumber, concrete, lighting fixtures, heating equipment, and other products that go into a home are made. Companies such as Home Depot (NYSE:HD) and Lowe's (NYSE:LOW) will continue to capture more profits as this pent up demand for homes is unleashed. Home Depot has just reached a new 52-week high of $71.45. Its 1.7 % dividend and attractive valuation should propel its stock even further as more positive housing news is reported. Lowe's had an intra-day high of $39.39 and was up 1.58 % at the market close on Friday, as the payroll data hinted at future store sales growth. It is approaching its all time high of $39.98. Even more jobs are created when real estate agents and lawyers provide their services to the home builders and home owners. This will surely benefit the employment numbers in the months to come as 38 % of the overall jobs that were lost from 2007 to 2009 came from housing related sectors.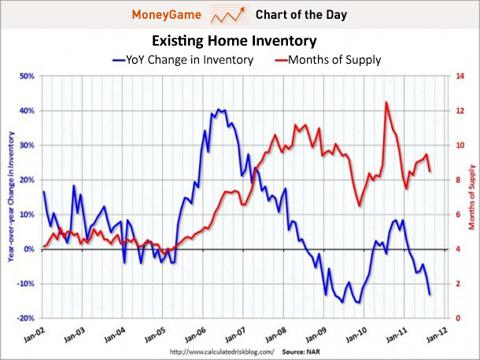 The economy is gradually improving, as key indicators mentioned above continue to report better numbers going forward. Record low interest rates have greatly encouraged borrowing for new businesses to expand and hire. Similarly, affordability in terms of mortgages has been at all-time highs, as the interest rates remain near all-time lows. As hiring picks up, the amount of individuals able to buy homes will increase, which will ultimately lead to a creation of new housing related industrial work. We are now in a virtuous cycle and a secular bull market.
There will certainly be bumps along the road, but new investors as well as current will be stepping in to buy at these advantageous entry points before the Dow reaches 15,000.
Disclosure: I am long HD. I wrote this article myself, and it expresses my own opinions. I am not receiving compensation for it (other than from Seeking Alpha). I have no business relationship with any company whose stock is mentioned in this article.