We all know how Apple (NASDAQ:AAPL) has managed expectations in the past. Apple has given underestimated guidance, so that it could look good by beating expectations by good margins. It appears that Comtech Telecommunications (NASDAQ:CMTL) is taking a page from Apple's playbook. It has given extremely conservative guidance for the rest of 2009 in its conference call this quarter. It has further given conservative guidance for FY2010, even though it has no good way of knowing what that guidance should be until after April 2009. The Federal Budget comes out then. One analyst even commented in the conference call that giving this guidance at this time was inappropriate since the Federal Budget isn't available yet. Apparently CMTL has deliberately thrown a wet blanket on analysts' expectations of the company. The likely reason for this is that it wants to be able to meet or beat the analysts' expectations as CMTL goes forward. I note it has beaten analysts' EPS estimates for at least the last 4 quarters in a row by an average of 26.2%, although CMTL only beat by 4.5% this quarter.
Apparently this strategy has had at least partially the desired effect. The analysts' mean target price before the conference call was $57. After the conference call it was $36.50. The analysts' growth estimates for 2010 were 125% before the call. Currently the 2010 growth estimates are about 25% (Yahoo Finance). In the conference call CMTL was proposing a very conservative 15% growth rate in 2010. This did not take into account further commercial business developed in 2009 or further Federal business resulting from the April budget. It was clearly a "wet blanket". Partly this was also a result of decreased future margin estimates. However, if further contracts are acquired, much of these decreased margin expectations would disappear. They are partly due to plants running at significantly less than full capacity. Most of the analysts seemed to think that more contracts will be acquired, especially after the Federal Budget comes out. Currently CMTL is estimating that the earliest parts of these new orders will ship in 2011, not 2010. Many analysts seemed to think this was much too conservative thinking.
More significantly the stock price has fallen dramatically from about $36 on Mar. 9, 2009 to its current $21 today. This is after falling dramatically along with the market from $50 in early December 2008 to $36 on Tuesday. This is a company that has more than $200M in cash today. The CEO expects that it will have more than $250M in cash by the end of FY2009. The FY2009 figure amounts to $8.90 per share. The company has reasonable debt, which could be completely eradicated by some of its liquid assets.
I have included a brief comparison of statistics for this company to its industry (plus some of its other statistics):
From Yahoo Finance:
| | | |
| --- | --- | --- |
| Growth Estimate | CMTL | Industry |
| Next Year | 24.5% | 51.9% |
| Past 5 Years | 29.4% | N/A |
| Next 5 Years | 27.5% | 11.49% |
| PEG Ratio | 0.42 | 1.78 |
From Yahoo Finance and TD Ameritrade:
| | |
| --- | --- |
| Company Name | CMTL |
| Current Price | $21.48 |
| PE | 8.16 |
| FPE | 9.30 |
| 1 Year Target Price Estimate | $36.50 |
| Price/Book | 1.06 |
| Price/Cash Flow | 6.86 |
| Quick Ratio | 3.99 |
| Average Analyst Recommendation | 1.9 |
| Cash per share at the end of FY2009 | $8.90 |
Were the current results bad enough to knock the stock down so far? It wouldn't seem so. The company beat earnings estimates ($.46 vs. $.44). This was about a 50% decline from the year ago quarter. Sales declined 5.4 percent to $143.9 million from $152 million. They were hurt by a decrease in its mobile data communications segment.
Not only does CMTL look good in comparison to its industry with a PE of 8.16, it also knocks you out when you subtract out the $8+/share in cash CMTL has. 8.16 * (21-8)/21 = 5.05. This truly looks like a deal for a top performing stock in this industry.
There was some other good news. CMTL doubled its backlog to $462.1M on 1-31-09 from $219.2M on 1-31-08. Gross profit was down from 46.3% to 41.3%. This is likely a continuing trend throughout the year, although it would be substantially helped by new contracts that would translate into more full use of facilities. We will likely have to wait until April or May for news on this score. The Justice Department closed its Anti-Trust investigation into the Comtech EF DataCorp's acquisition of network backhaul assets and certain product lines of Verso Technologies. Second, CMTL resolved the Brazilian subpoena matter. CMTL paid fines aggregating $7500 to U.S. Customs, and they have released CMTL's inventory. CMTL will shortly reship the inventory to its Brazilian end customer (about $1.2M). Third, the matter of the DOD subpoena over a quality issue with certain high power switches is being addressed. The customer has been informed. The customer is still buying more switches. CMTL is fully cooperating with the DOD investigation. No wrong doing has been alleged.
The Telecommunications Transmission segment did well (+38% from the previous year). The RF Microwave Amplifiers business segment grew from 9.3% of consolidated net sales in the year ago quarter to 24.7% this quarter, although the performance for the rest of the year is not estimated to be quite as stellar. The Mobile Data Communications Services results were weak (-55.6%). However, this seems to be largely because CMTL is "in between" things in this area. It just got a huge order in this area ($281.5M), which should start incrementally shipping in Q4 of 2009 through 2010. Plus its new Blue Force Tracking system version will be released as a prototype to the US Army later in 2009. The US Army will spend much of 2010 evaluating it for purchase. CMTL expects that the US Army will purchase it. However, those orders may not actually begin shipping until 2011. They could begin shipping in 2010, which would add substantially to the 2010 growth figures. However, the company is being ultra conservative on this score. The important fact is that this likely does not represent a huge drop off in this Mobile Data Communications Services business for the longer term.
In sum, all of the businesses seem to be growing if you look at them longer term. The company is hurting in this challenging economic climate, but it is still doing very well. It is fiscally extremely well off. How many companies can claim to have more than $8/share in cash or cash equivalents on their books? The stock was given a buy rating by Collins Stewart a day after the earnings announcement. It still has a mean analysts' recommendation of 1.9 (a buy). This is not a stock you want to sell. This has clearly been a case of an overreaction to a news presentation that was clearly designed to dampen overly optimistic enthusiasm for the stock. I see this as the same type of ploy I have seen used by Apple in the past. The stock has now oversold by a long way. It is a clear buy now. CMTL stock will likely pop up $5 or more in the very near term.
CMTL is launching its next generation Blue Force Tracking solution during the week of March 23 at the Satellite 2009 Industry Convention in the Washington DC area. I expect this will generate further enthusiasm for the stock. March 12, 2009, it demonstrated its new on-air troposcatter communications products in conjunction with the AFCEA TechNet meeting in Tampa, FL. The Transportable Fast Link Antenna (TFLA) and the Troposcatter Communications Trailer (TCT) were operating over-the-air with the AN/TRC-170 on an 81 mile Tampa to Orlando link offering high reliability, high availability communications for voice, video and data. This should help too. Management has prevented the stock from overheating. Now the stock can proceed to be the great grower that it has been. The stock has halted its movement downward. It is time for the upward movement to begin. It is a big buy at its current price.
The technical charting data indicate that it should find its first point of stability at a price above $25. This is likely to happen in the very near term, providing the market does not crash again soon. The quarterly results and conference call indicate that this should be the case. The company has clearly not included many "likely" earnings prospects in its earnings guidance. Even the analysts participating in the conference call seemed to think this. As evidence of this, the stock has only been upgraded, not downgraded. I have included the relevant charts below to illustrate the technical movement rational.
The Monthly CMTL Chart – shows a good previous support point, which an overshoot should return to.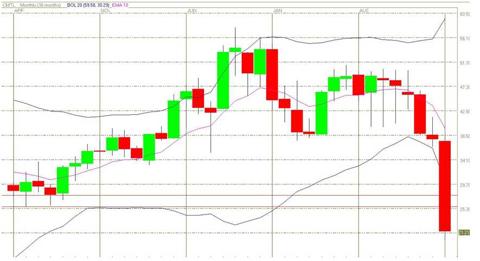 Click to enlarge
The Daily Chart – shows more clearly how this support point figures into my trading strategy. The two possible retracement points shown below are at approx. $25.60 and $27.70.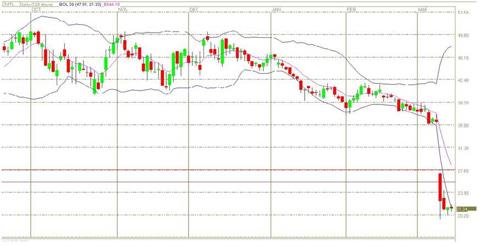 Click to enlarge
In technical trading, when a stock gaps down, it will try shortly after that to fill the gap (presuming nothing is dramatically wrong with the stock). I think CMTL is still a good growth stock, which is very fiscally sound. It seems extremely likely to try to fill the gap. Since there were reasons for the gap downward, I do not expect it to return to the $36 point quickly. However, it should likely move quickly to one of the support points I have indicated in the charts above. I have tried to make a case above that the market reaction was an overreaction. There are still many positive items that I did not mention.