I continue to accumulate Phillips 66 (NYSE:PSX) shares due to dividend growth. The refining sector is benefiting from favorable refining margins. In 2013, Phillips 66 plans to spin off a pipeline and storage Master Limited Partnership (MLP). The dividend growth and the spinoff will generate shareholder wealth. Phillips 66 growth prospects are robust. This will result in a growing dividend income stream.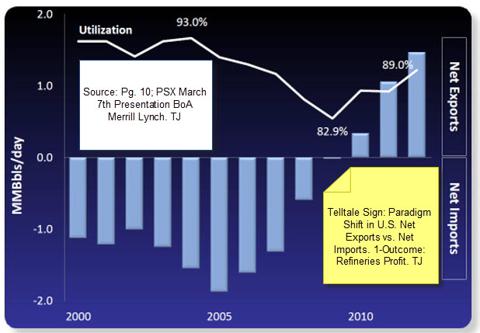 Paradigm Shift: U.S. Oil Exports Vs. U.S. Oil Imports
The above chart highlights the rapid changes in U.S. oil imports. The influx of excess crude, within the U.S. has provided financial benefits to the U.S. refineries. Refineries benefit by decreased crude costs. The end result is Phillips reports higher profits due to lower crude costs.
Background
In 2011, ConocoPhillips separated its two primary businesses - Refining & Marketing (R&M) and Exploration & Production (E&P) - into independent publicly-traded corporations. The Refining & Marketing business was subsequently named Phillips 66 while E&P retained the ConocoPhillips name. In May 2012, Phillips 66 went public through an initial public offering (NYSEARCA:IPO) and began trading under ticker symbol PSX on the New York Stock Exchange.
Dividends & Shares
Since its IPO in May 2012, Phillips 66 has paid dividends in each quarter with $0.20 per share paid in September 2012, $0.25 paid in December 2012 and $0.3125 ($1.25 annualized) paid on March 1st. These three dividend payments, each higher than the previous one, signal Phillips 66's strong commitment to dividends and a continuation of its parent company's dividend culture.

The company spent $245 million on share buybacks in the quarter. The Board also authorized an additional $1 billion for buybacks, upping the current total for buybacks to $2 billion.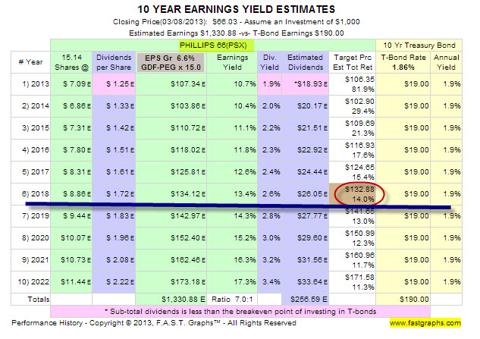 Since its IPO, Phillips 66 shares have more than doubled and currently trade at about $66.03, near the top of their 52-week range of $28.75 - $66.97. The company has a market capitalization of about $41 billion. Shares trade at a price-to-earnings ratio (P/E Ratio) of about 10.2xx and offer a dividend yield of about 2%.
Planned Spinoff of Pipeline and Storage Assets as MLP
The company recently announced plans to transfer its pipeline and storage assets to a publicly traded Master Limited Partnership structure. Phillips 66 will sell part ownership to public shareholders and raise equity capital to fund future growth and unlock the value of its infrastructure and logistics assets. The company plans to file an MLP registration statement with the SEC in the second quarter of 2013. Management will take the MLP public in the second half of 2013. These assets are currently owned by Phillips 66 R&M and include 15,000 miles of pipeline and 56 storage terminals.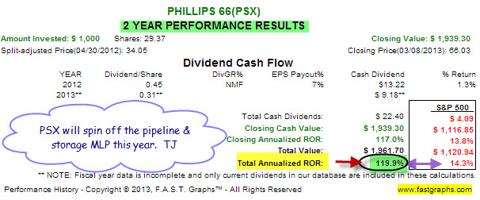 Company
Phillips 66 has three primary businesses - Refining & Marketing, Midstream and Chemicals - which refine crude and develop and market petroleum products such as gasoline, diesel and jet fuel (R&M), gather and process natural gas and natural gas liquids (Midstream) and produce chemicals for industrial and consumer applications (Chemicals). The company has global refining, marketing and chemicals operations while its midstream business is based solely in the U.S.
Phillips 66 is committed to operational excellence and has an ongoing focus on safety, reliability, productivity, efficiency and environmental stewardship. The company has 14,000 employees worldwide with active operations in about 15 countries. Phillips 66 also holds 500 patents in 58 countries.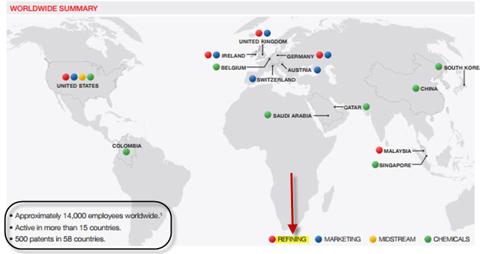 Management
Phillips 66 is led by Greg Garland, Chairman and CEO. Garland is a chemical engineer who started his career with Phillips in 1980, rose to top executive positions with Phillips and Chevron, and has over 30 years of relevant industry experience. The company's CFO, Greg Maxwell, has 34 years of executive-level financial experience and rose through the ranks at Phillips. Maxwell is a certified public accountant and a certified internal auditor. In addition, the company has a stellar cast of sales, marketing and operations executives with extensive industry experience.
Refining & Marketing
Phillips 66 has 15 refineries globally (11 in the U.S. and one each in the U.K, Malaysia, Germany and Ireland) with total crude processing capacity of 2,229,000 barrels per day, making Phillips 66 one of the world's largest refiners of crude. The company's refining operations include 15,000 miles of pipelines and 56 storage terminals in the U.S. and miscellaneous assets abroad.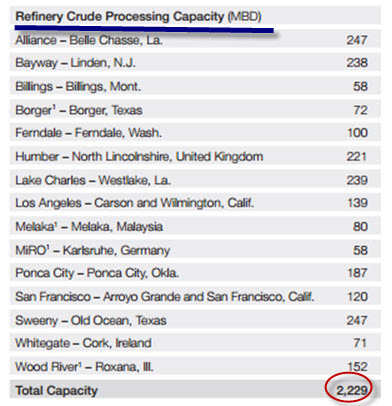 The company's marketing operations include 10,000 retail fuel sites across the world (8,300 in the US with products sold under the Phillips 66, Conoco and 76 brands; 1,400 outlets in Austria, Germany and the U.K. sold under the JET brand; 250 outlets in Switzerland through a joint venture with Coop), lubricants marketed and sold in over 70 countries. The company has a commercial responsibility for its global commodities portfolio which includes specialty products such as petroleum coke, flow improvers, solvents and waxes. R&M delivered 87% of the company's earnings in 2012.

Midstream
Phillips 66's midstream business is primarily tied to its 50% equity stake in DCP Midstream which gathers and processes natural gas and NGLs and has assets that include 62,000 miles of pipeline, 61 natural gas and NGL processing plants and 12 NGL fractionators. Phillips 66 also owns a 25% stake in the Rockies Express natural gas pipeline.
Chemicals
Phillips 66's chemicals business is primarily tied to its 50% equity stake in CPChem, a joint venture with Chevron. CPChem is a leading producer of aromatics, olefins, plastic piping, polymer resins, styrenics and specialty chemicals, and has 38 manufacturing facilities, 4 research and technology centers and 31 billion pounds of annual chemical processing capacity. Its chemicals are used in industrial applications, plastics, cars and everyday products. Chemicals delivered about 15% of 2012 earnings.
Strategic Focus
Revenue and earnings growth are tied to adding value and enhancing returns (R&M), increased U.S. oil and gas production (Midstream) and low cost U.S. feedstocks for petrochemical expansion. Long term, the company plans to grow its higher value businesses as more meaningful contributors to net income.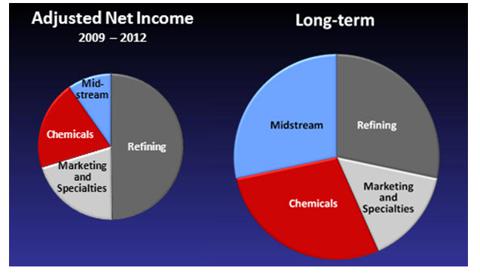 In addition to strengthening its R&M segment, Phillips 66 wants to grows its Midstream and Chemicals businesses with new pipelines (from Eagle Ford and the Permian Basin), better access to advantaged crude feedstocks through infrastructure investments, higher shale crude processing capability (from 112,000 bpd in 2012 to 200,000 bpd in 2013), new long-term crude supply agreements, investments in railcars and transport vessels (with 2,000 new railcars to be added in February 2013 to transport crude to east coast and west coast refineries) and expansion in export capacity (from 285,000 bpd in 2012 to 370,000 bpd by the end of 2013).
4th Quarter Analysis
In its fourth quarter ended December 31, 2012, (4Q12), Phillips 66 achieved 91% utilization at its refineries, generated $1.3 billion in operating cash flow, paid down $1 billion in debt and strengthened its balance sheet (down to a 25% debt-to-capital ratio at year end from 28%) and paid $400 million to shareholders through dividends and share buybacks.
Phillips 66 reported a 9% decline in year-over-year (yoy) sales and operating revenues due to disruptions at the company's Bayway Refinery from Hurricane Sandy, a 3% drop in worldwide refinery utilization and lower NGL prices, partly offset by a 10% increase in advantaged crude and higher export volumes. Overall, crude feedstock costs were down 13% and total costs and expenses were 10% lower. Yet, on lower sales, net income dipped 65% to $708 million (from over $2 billion in 4th quarter 2011) and earnings per share dropped to $1.11 from $3.17.

R&M earnings were down 72% yoy due to a $564 million impairment of the company's equity in the Melaka Refinery. Adjusted for this one-time impairment, R&M earnings were $1.1 billion, up $927 million yoy due to improved refining margins, feedstock advantages and higher gasoline and distillate spreads. The company processed 97% more shale crude in the quarter and export volumes were up 5% on strong international demand.
Midstream earnings were down 25% on lower NGL prices partly offset by an improved mix related to higher NGL from liquids rich basins.
Chemicals earnings were 66% higher due to 8% higher sales volumes for olefins and polyolefins and improved margins. Refinery utilization rates were adversely affected by an outage at the Saudi Polymers refinery, barring which refinery utilization was near full capacity.
Corporate and Other expenses were higher and included $47 million in net interest expense.

In the quarter, Phillips 66 spent $894 million for capital projects of which $513 million was invested on pipeline projects in Sand Hills and Southern Hills.
In December 2012, the company made a $1 billion early payment on outstanding debt and reduced its debt-to-capital ratio to 25% from 28%. At year end, the company reported cash and cash equivalents of $3.5 billion and total debt of $7 billion.
Fiscal Year (FY) 2012
For the full year, total revenues were down 9% to $182.9 billion. Net income was down 14% to $4.12 billion and diluted earnings per share were also down 14% to $6.48.

Refining & Marketing contributed 82% of operating earnings across the company's three active segments, Midstream barely broke even. Chemicals' earnings were up 15% and made up 18% of total segment earnings.

In 2012, the company generated $4.3 billion in cash from operations, invested $1.5 billion in capital projects, paid $282 million in dividends and spent $356 million to buy back 7.6 million shares. The company also made $5.26 billion in distributions to its parent company, offset by $7.8 billion in cash received from the issuance of new debt.

The company's Midstream business invested on pipeline expansion projects from Eagle Ford and the Permian Basin, and expects these extensions to be operational by mid-2013. The Chemicals business, CPChem, plans to expand its U.S. Gulf Coast presence to take advantage of lower crude feedstock prices, lower energy expenses and better international marketing and delivery. CPChem is in investment evaluation and execution stages for the expansion of its existing refineries.
Competitor: Valero Energy Corporation (NYSE:VLO)
Phillips 66 and Valero Energy Corporation are two prominent refiners in the U.S.
Valero will have a spinoff this year too. Valero is spinning off CST Brands. CST Brands are the retails units that sell fuel and merchandise. There are approximately 1,900 CST Brand locations in N. America. Valero owns the majority of the stores.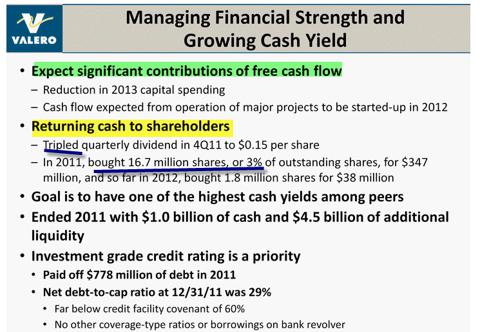 Valero is returning cash to shareholders. Valero, and the refining sector, continue to produce increased levels of free cash flow for stock buybacks and dividend increases.
Summary
Phillips 66 is best viewed as a world leader in Refining and Marketing. We speculate that the company will likely expand its Midstream and Chemicals businesses and possibly spin them off down the road to focus on its core R&M function. This should incrementally unlock shareholder value over the years, with existing shareholders potentially receiving shares in the spinoffs. The company's 2% dividend yield continues to grow as profits increase. Phillips 66 is a solid, long-term holding that will only get better as North American crude production picks up.
Disclosure: I am long VLO, PSX. I wrote this article myself, and it expresses my own opinions. I am not receiving compensation for it (other than from Seeking Alpha). I have no business relationship with any company whose stock is mentioned in this article.