Even after soaring above $800 over the past year, Google (NASDAQ:GOOG) is set to continue its upward trend. First of all, the company has a lot of potential as a long term investment. Its share price has had a 212.89% gain since it bottomed out in November 2008. Additionally, the company has experienced very strong short term gains. The charts below detail the revenue/sales over the past two years and the history of the share price since 2008. Google's revenue significantly increased during every quarter of 2012 compared to where it was a year before. Its sales estimates also show significant increases, such as the mean estimate for Year Ending Dec-13, which is a change of 145.5% compared to the previous year. These large gains are not going to disappear anytime soon, either. Google's various services and products are continuing to grow and become even more profitable.

Chart from Reuters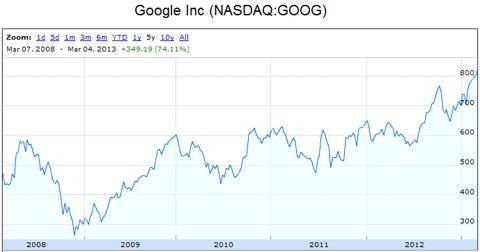 Chart from Google Finance
Internet Expansion
Google's flagship service, its search engine, has continued to be a major success for the company. Despite increased competition in the sector from Microsoft's (NASDAQ:MSFT) Bing and the Chinese internet giant Baidu (NASDAQ:BIDU), Google has still maintained its dominance in the sector with 67% of all internet searches using Google in 2013.
Setting aside advertisement revenue, Google also receives an additional benefit from its search engine. Google's search engine has given the company access to very detailed information, such as what people are searching for, how often they are searching for it, and how searches vary by geographic location. Google has been using this information to create additional online services, such as Google Flights, Google Maps, and Google Shopping. The Google brand attracts people to these services, as many people associate Google with high quality searching, and additionally Google is able to gravitate people towards these services because they often show up at the very top of a search results page.
For instance, if you search for "directions from Chicago to Indianapolis", the very first thing that shows up is Google Maps. Another example is Google Shopping, which neatly organizes different websites that are selling a given product. This service is different from the large online retailers like eBay (NASDAQ:EBAY) and Amazon (NASDAQ:AMZN) because Google itself is not selling any products, but instead is simply allowing people to compare the prices listed on different websites via a simple Google search. Google's strategic usage of its search engine to promote its other services has definitely been a positive contributing factor in its continued success.
The Internet is not going away anytime soon, either. The number of internet users is constantly on the rise, and has increased from 25.74% of the entire world population in 2009 to 32.77% in 2011. As the Internet continues to grow, Google's revenues from its online services will grow with it.
Smartphones
Google's Android operating system for smartphones has been amazingly successful since its launch in September 2008. Some people were skeptical about it to begin with, since Google was expanding into a new area that it did not have any prior experience in, but the results ended up better than the company could have ever hoped for. As shown in the chart below, Android had a 50% share in the smartphone market within three years of being launched, completely blowing all of the competition out of the water. Even iOS, the operating system for Apple's (NASDAQ:AAPL) famous iPhone, has paled in comparison to the success of Android.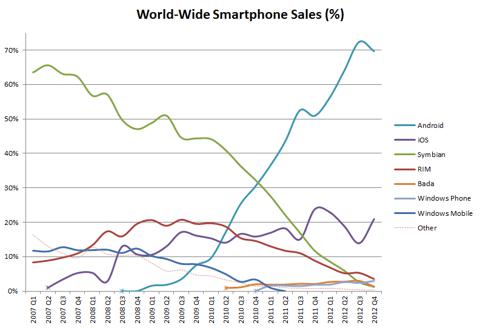 Information from Gartner, Inc.
Additionally, much like the growth in Internet users, the number of mobile phone users in the world has been consistently growing over the past several years. Mobile phone hardware manufacturer Cisco (NASDAQ:CSCO) has predicted that the number of mobile phone users in Africa alone will be 850 million by 2017, an increase of 673% from Africa's current 110 million users. Clearly, Google's venture into the smartphone sector has paid off.
Acquisitions
Google is constantly on the lookout for tech startups with innovative ideas. Google bought 16 different companies in the tech sector in 2012 alone, and in 2011 Google bought Motorola Mobility , which owned a lot of valuable patents. Google is not slowing the acquisitions, either. The company is currently sitting on $48 billion in cash, likely to keep itself prepared for any potential acquisitions. The most recent acquisition was Channel Intelligence, a company that helps other companies sell their products online, for $125 million. Many of these acquisitions have proven to be very profitable for Google; Android itself was acquired by Google back in 2005.
Investing in the future
Google's love for innovation has not waned over the years; in fact it seems to be continuously growing. Google has been researching a variety of potential technological advancements for years. One well known example is the self driving car, which sounds like something out of a science fiction movie. Google is making the fiction a reality, though, and as a result of Google's research, self driving cars are now legal to drive in the state of Nevada.
One of Google's newest projects is Google Glass (pictured below), which looks like something out of Star Trek. It is essentially a pair of glasses that can display all kinds of information to the user, making it much more convenient to perform tasks like checking your email while on the go. Google has repeatedly demonstrated that it is not afraid of pushing the frontiers of technology, and while not all of its futuristic projects will end up becoming profitable, there is always the potential that one of them will become a major success for the company.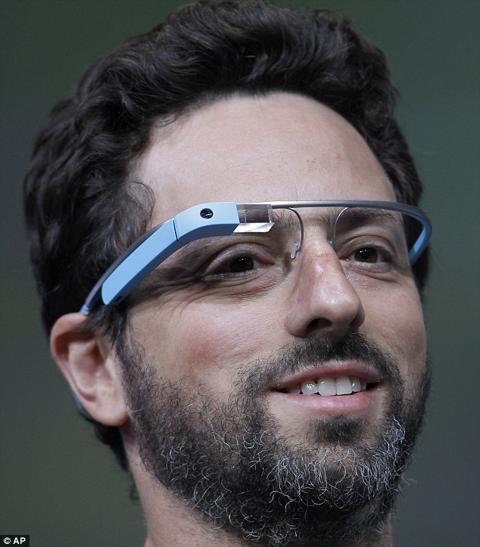 Wrap Up
In short, my stance on Google is very bullish. It has had a very strong upward trend since the fall of 2008, consistently recovering from any retracements. Its long term outlook is looking very good. Internet usage is continuing to grow around the world, and Google has maintained a dominant position in the search engine market. Additionally, Google's Android operating system is dominating the smartphone market, which is also growing rapidly.
Google's philosophy on innovation is possibly what has led it to its large success thus far, and it is not shying away from this philosophy. The company is continuously acquiring new tech startups with innovative ideas and researching new technological advancements, expanding the frontier of technology.
While some tech companies come and go, changing as rapidly as the weather, Google has been consistently successful since its creation. It has easily survived multiple financial crises, an increase in competition, and a variety of large patent lawsuits. As the demand for internet services and mobile phones continues to grow, Google's share price will grow along with it.
Disclosure: I have no positions in any stocks mentioned, and no plans to initiate any positions within the next 72 hours.
Business relationship disclosure: Capital Traders Group is a team of proprietary trading and equity research analysts. This article was written by Chris Johnson, one of our Equity Research Interns. We did not receive compensation for this article (other than from Seeking Alpha), and we have no business relationship with any company whose stock is mentioned.