click to enlarge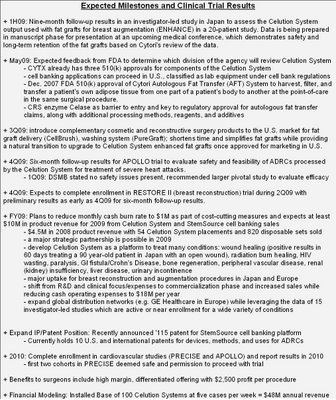 Cytori Therapeutics (NASDAQ:CYTX) is a leading global innovator in the emerging field of regenerative medicine using adipose (fat) tissue as a rich source of adult stem cells capable of differentiating into a variety of cell types. The Company develops and markets cell banking, therapeutic, and cosmetic medicine applications for its Celution System, which enables real-time regenerative cell therapy applications by harvesting and processing a small amount of patient-derived fat tissue in about one hour to harvest the adipose-derived stem and regenerative cells (ADRCs).

A 17-page PDF stock profile report for Cytori is available to view or download for free at BioMedReports.com in the stock research section.

The accompanying table includes an outline of the expected clinical trial milestones and corporate goals for Cytori in 2009.

Cytori is a commercial-stage regenerative medicine company which is developing the Celution System to process a patient's own fat (adipose) tissue in about one hour for a variety of reconstructive and cosmetic medicine (e.g. breast augmentation) applications, with the latter process consisting of supercharged or enhanced fat grafts to enable long-term retention of the fat graft as a natural alternative to artificial implants for breast reconstruction or augmentation.

Cytori also offers StemSource Cell Banking for a patient to preserve their own ADRCs for use in the future as ongoing clinical trials establish the safety and effectiveness for cardiovascular disease, breast reconstruction/augmentation, liver disease, kidney failure, orthopedic/spinal disc regeneration, stress urinary incontinence, and gastrointestinal conditions.

Cytori currently offers its products and services in Japan and Europe along with two key strategic partners - Olympus Corp. (OTCPK:OCPNY) (a strategic investor, major shareholder with over 4 million shares, and medical device partner for commercial-stage manufacturing of the Celution System) and Green Hospital Supply (OTC:GHSPF) (a strategic investor holding 3M shares and partner for StemSource Cell Banking for hospitals in Japan). Earlier this year, Cytori formed a partnership with GE Healthcare (NYSE:GE) to market the Celution System in Europe for regenerative medicine and cell banking applications.

With Johnson & Johnson (NYSE:JNJ) paying over $1B for breast implant maker Mentor, the most interesting application of the Celution System may be for cosmetic medicine in the form of breast reconstruction and augmentation procedures. Last May, Cytori reported encouraging results from a clinical study being conducted in Japan using the patient-derived Celution System output of adipose-derived stem and regenerative cells for breast augmentation.

Preliminary results in the first three patients demonstrated that the increased breast volume achieved in the study was retained after three months and the tissue had a natural appearance and texture. The next milestone in this study will occur early this year after the nine-month follow-up data is presented at a medical conference to assess fat graft volume retention and tissue softness to determine if the results persist and can be considered permanent. The study is being conducted on 20 patients as a new cosmetic surgery option for small-volume breast augmentation, with the goal of achieving results which are both long-lasting and natural.
Disclosure: Long CYTX