It was another difficult week for precious metals as investor sentiment remains poor, however, both gold and silver managed gains for the first time since late-January. Record outflows from gold ETFs continued while silver ETF holdings rose, the latter being a somewhat remarkable development given the recent futures market selling and the commensurate drop in the silver price.
Investment banks provided more downward revisions to their 2013 precious metals price forecasts and this has added to the negative sentiment. Optimism about improving economic conditions has compelled investors to rotate more money out of safe haven assets such as precious metals and into stocks that, last week, reached multi-year highs or record highs.
One of the most important factors pressuring precious metals prices recently has been a stronger trade-weighted dollar (recall that the two often move in opposite directions). Given what's currently going on in Europe and Japan, the strong dollar trend is not likely to change over the short term, but change it will.
Physical demand remains strong, mostly in the form of central bank buying, retail buying in Asia, and U.S. coin sales, however, this is far too little to offset the many negative factors in gold and silver markets at this time. Someday, the tide will turn, but, probably not this week, though a big surprise in Friday's inflation report could start the ball rolling as investors once again start thinking about a subject that has been of little concern lately - rising consumer prices.
For the week, the gold price rose 0.2 percent, from $1,576.80 an ounce to $1,579.20, and silver jumped 1.5 percent, from $28.58 an ounce to $29.00. Gold is down 5.7 percent for the year, now 17.9 percent below its 2011 high, and silver is 4.4 percent lower in 2013, down 41.4 percent from its high 23 months ago.
A Strong Dollar Pressures Gold and Silver
Amid all the investment bank downgrades and the well-publicized outflows from gold ETFs, another important factor for precious metals markets that has received far too little attention lately is the surging U.S. dollar.
Whether you like it or not, when the world's reserve currency rises against other freely traded currencies, it's very difficult for the gold price to move higher.
This is shown below using two popular ETFs:
Note that areas outlined in red show a falling dollar and a rising gold price while areas outlined in blue indicate the opposite.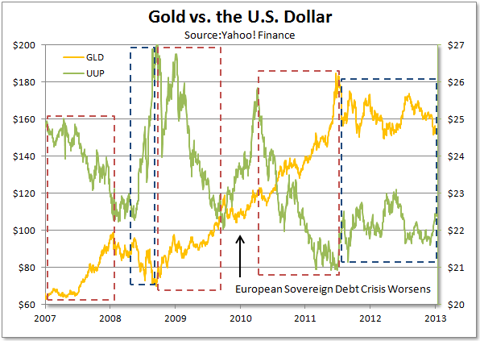 The only sustained divergence from this relationship occurred in late-2010/early-2011 when surging bond yields led to an escalation in the European sovereign debt crisis, causing the dollar to strengthen against other currencies as safe haven demand for gold rose.
Otherwise, a generally rising trade-weighted dollar makes it nearly impossible for the gold price to rise and that's what has happened since the 2011 record high of over $1,900 an ounce for the yellow metal. More recently, gold's tumble from nearly $1,700 an ounce came as the U.S. dollar surged in February.
While this may make little intuitive sense (i.e., why should the gold price fall if more money printing in Japan causes the yen to weaken and a U.K. credit downgrade causes the pound to drop?), it is an undeniable factor in how precious metals are priced. To some degree, gold is still in competition with the U.S. dollar as a currency and, anytime the dollar looks good on a relative basis, futures traders tend to sell gold.
U.S. budget troubles are far from being solved and, until they are, credit downgrades have been postponed, not averted. Moreover, the Federal Reserve continues to print $85 billion a month with no end in sight as higher payroll taxes and spending cuts begin to slow economic growth.
As a result, relative dollar strength is surely just temporary, though the recent trend is not likely to reverse immediately. When it does, precious metal prices will rise.
Investment Banks Sour Further on Gold
A stronger dollar has been the least of the reasons offered by investment banks as they scramble to downgrade their gold price forecasts after the metal's multi-month swoon and record outflows from ETFs.
Last week, Bank of America Merrill Lynch lowered its average 2013 gold price forecast from $1,805 an ounce to $1,680 and from just over $2,000 to $1,838 for 2014. Improving economic conditions and rising interest rates were cited as the reason for the revision from analysts who, previously, were very bullish on gold, forecasting the price to rise well above $2,000 an ounce in the second quarter of this year.
BofA remains bullish over the long term, now predicting the gold price to top $2,000 an ounce sometime next year, but not nearly as bullish as former Merrill Lynch strategist David Rosenberg who, during the CFA Institute of Chicago conference last week, said that gold is heading to $3,000 an ounce.
Nomura joined in on Friday, slashing their 2013 forecast for gold from $1,981 an ounce to $1,602 and from $1,800 to $1,750 for 2014 noting that rising interest rates, improving economic growth, and benign inflation prompted the revision.
UBS commodity strategist Julien Garran predicted the gold market will start a new rally in just a few months as the Fed's latest round of quantitative easing progresses and the U.S. economy sees little improvement. Lastly, Morgan Stanley was also bullish on gold citing another wave of money printing that includes the Bank of Japan as reason for prices to rise from current levels.
Gold Flows Out of ETFs As Silver Flows In
Clearly, outflows from the world's many gold ETFs have played a key role in downward revisions to price forecasts and the widely publicized record outflows from the world's most popular gold fund - the SPDR Gold Shares ETF - have added to the negative sentiment amongst investors.
Last week, GLD holdings declined by another 14 tonnes and, as shown in the Bloomberg chart for total known gold holdings below, the selling seems to have slowed.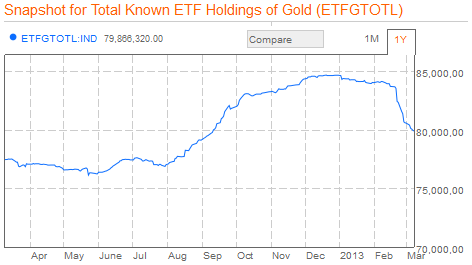 There is concern, however, that more GLD outflows may result from redemptions related to one of billionaire John Paulson's hedge funds that has performed poorly in recent months.
As of December 31st, Paulson & Co. owned almost 22 million shares of GLD worth over $3 billion (or about five percent of total assets in GLD).
Paulson remains committed to gold and related stocks for the long term, however, a loss of 18 percent in February and a year-to-date loss of 26 percent on his Gold Fund could further erode sentiment in this sector.
Importantly, these widely reported losses were in one of the smallest of Paulson's funds and were due to tumbling gold stocks and leveraged bets on the gold price that didn't pan out in February, all part of the "piling on" effect that has occurred in the financial media toward gold lately.
All told, investors pulled $5.6 billion from gold funds last month, however, it was an entirely different story for silver.
As shown below in the Bloomberg chart for total known silver holdings, the world's silver ETFs added over 200 tonnes in February, most of this a result of huge increases at the popular iShares Silver Trust ETF (NYSEARCA:SLV).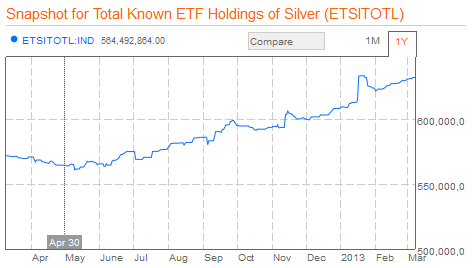 On a year-to-date basis, the SLV trust has added over 560 tonnes in what is surely an indication of strong physical demand for "the poor man's gold." This sharp increase played an important role in HSBC raising their 2013 silver price forecast from $32 an ounce to $33 just last week.
Physical Demand Remains Strong
More signs of strong physical demand for precious metals came with word of more central bank buying in February.
South Korea joined Russia and Kazakhstan in adding to their gold reserves as the Bank of Korea increased its holdings by 20 tonnes in February as prices fell, its fifth round of buying since mid-2011. This raised their gold reserves to 104.4 tonnes and, since this represents just 1.5 percent of their foreign exchange holdings, more buying is expected.
Central banks bought over 500 tonnes of gold last year and are expected to provide ongoing price support as emerging market nations diversify away from major currencies such as the U.S. dollar and the euro.
Gold repatriation by central banks was again in the news last week as Mexico's Government Audit Office reported that almost 95 percent of the nation's official gold reserves of 124 tonnes is stored in vaults at the Bank of England and has never been audited.
The Bank of Mexico reportedly doesn't even have serial numbers for the gold bars it owns and some analysts think this will result in bringing some portion of their gold holdings home. Mexico increased their gold reserves by 20 tonnes last year and for more on this subject, see The Mexican standoff: Gold, Banxico and the Bank of England at The Real Asset Co.
Recall that Germany announced it will repatriate 674 tonnes of its gold reserves from vaults in New York and Paris as trust amongst central banks appears to be eroding. This could be an important issue for the gold market in the years ahead as more gold repatriation from New York, London, and elsewhere could eventually expose the magnitude of central bank gold leasing programs that many analysts think have been responsible for suppressing the gold price.
The gold market in China is normalizing after a surge of buying at lower prices following the Chinese Lunar New Year caused premiums to jump to over $20 an ounce relative to the international gold price.
As the recently purchased gold has entered mainland China, premiums have shrunk to below $10 an ounce and should soon be at the normal $5-$6 an ounce and buying at still-low prices is expected to continue. Gold bars for investment during the Lunar New Year were in high demand with sales reportedly doubling from a year ago as Chinese buyers have become price-sensitive, as in India.
Here in the U.S., gold and silver coin sales continued at a torrid pace in early-March. After record high sales volume in the first two months of the year when new issue coins are in highest demand, American Eagle silver coins have recently been selling at a record pace for the month of March.
Gold coin sales have been more modest this month after a sales surge in January and February. Like the ETF products, silver in coin form is now clearly more popular than gold.
As has been the case for months now, futures markets continue to pressure gold and silver prices while physical demand for the metals is strong. A rising U.S. dollar makes any advance for precious metals more difficult, however, this Friday's inflation report could change that if, as expected, the first fresh whiffs of inflation in the U.S. emerge at a time when the Fed is printing more than $1 trillion a year in new money and deficit spending continues at almost the same rate.
Disclosure: I am long GLD, SLV. I wrote this article myself, and it expresses my own opinions. I am not receiving compensation for it (other than from Seeking Alpha). I have no business relationship with any company whose stock is mentioned in this article.
Additional disclosure: I also own gold and silver coins and bars.