Since my last positive article on Wendy's (NYSE:WEN), in Dec. of last year, the company's common stock price has outperformed that of major competitors McDonald's (NYSE:MCD), Yum! Brands (NYSE:YUM), Burger King (BKW), and Chipotle Mexican Grill (NYSE:CMG) (see graph). The stock price is up even more since my initial recommendation in Sep. 2012. After such a strong performance, the question is, is the party over or not? There are a number of initiatives Wendy's is undertaking that could contribute to continued overperformance. At the same time, a number of uncertainties and headwinds could be a negative for the company's shares in 2013.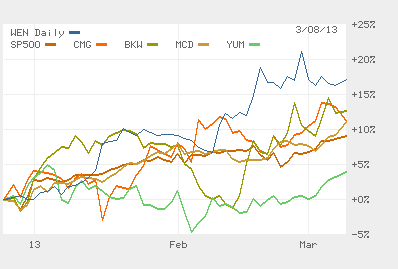 Valuation and fundamentals
Before going deep into Wendy's initiatives and challenges, it makes sense to compare its major valuation measures and fundamentals to that of its peer group and the S&P 500.
| | | | | | | |
| --- | --- | --- | --- | --- | --- | --- |
|   | WEN | BKW | MCD | YUM | CMG | S&P 500 |
| Market value | $2.2B | $6.5B | $99B | $30.5B | $10B | $13,500B |
| EV | $3.2B | $9B | $107B | $31.6B | $9.5B | n/a |
| EBITDA (2013) | $350M | $700M | $10.6B | $2.8B | $650M | n/a |
| EV/EBITDA | 9.1 | 12.9 | 10.1 | 11.3 | 14.6 | n/a |
| EBITDA margin | 7.6% | 25.3% | 36.1% | 21.3% | 19.8% | 21.3% |
| Price-to-sales | 0.9 | 3.3 | 3.5 | 2.2 | 3.7 | 1.4 |
| Price-to-book | 1.1 | 5.5 | 6.4 | 14.1 | 8.2 | 6.4 |
| PEG | 1.8 | 1.4 | 1.9 | 1.9 | 1.6 | 1.8 |
| PE (2013) | 28.9 | 24 | 16.8 | 21.8 | 32 | 14.2 |
| Beta | 1 | n/a | 0.4 | 0.8 | 0.8 | 1 |
| Dividend yield | 2.9% | 1.1% | 3.2% | 2.0% | 0.0% | 2.3% |
| Price-to-CFO | 11 | 29 | 14.2 | 13.3 | 23.2 | n/a |
| Int'l sales | 10.9% | 35.9% | 68.0% | 75.4% | ~2% | n/a |
Source: Thomson Reuters, Capital IQ, SEC filings, author's calculations and estimates. EV - enterprise value; EBITDA - earnings before interest, taxes, depreciation, and amortization; PEG - price-to-earnings-to-growth; CFO - cash flow from operations.
From the above table, it seems like Wendy's still has one of the most attractive valuations. A negative factor is that the company has the lowest EBITDA margin, but this is already factored in its lowest EV/EBITDA ratio of 9.1. On a price-to-book and price-to-sales basis, Wendy's trades below its peers and the S&P 500 Index. Importantly, based on price-to-CFO, Wendy's is also undervalued underscoring the company's cash generating capability.
Initiatives
The fast food industry is competitive and the participating companies are forced to constantly reinvent themselves and offer new menu items. The largest effort that Wendy's undertook in the past year is its image activation campaign (see photograph below) that includes inside remodeling (tier 1, 2 and 3) as well as structural and outside improvements (tier 1). The company renovated 48 franchised stores in 2012 under the program and plans to renovate an additional 100 in 2013 with 20% of system wide locations renovated by the end of 2015.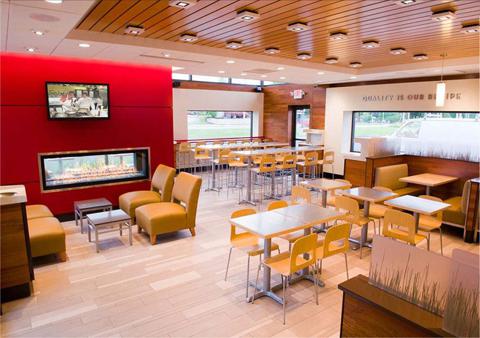 Click to enlarge
Wendy's has already received more than 100 applications for 2013 renovations so the program is oversubscribed so far. It is estimated that the most expensive renovation, tier 1, improves sales by as much as 25% and also has a "halo" effect in neighboring Wendy's locations. Tier 2 and 3 image activations will be tested in March of 2013 so there is some uncertainty whether they will be as successful as the tier 1 image activation model. Over 50% of the image activations in 2013 will be tier 2 and 3. In addition, the company pays an incentive for each image activation and it estimates it will expense $10 million in the fourth quarter of 2013 as the incentive is paid upon completion of the renovations.
Wendy's is constantly introducing new upscale menu items (Dave's Hot 'N Juicy, Baconator, Asiago Ranch Chicken Club, and Bacon Portabella Melt) while at the same time it recently launched a value offering called "right price right size menu" featuring six items at $0.99 and several items slightly more than that. Also, Wendy's introduced a new logo, packaging with inspiring graphics, more stylish uniforms and bolder ads. All this, combined with an increased advertising budget and focus on social media, should contribute to the company's 2013 projected EBITDA in the range of $350-$360 million compared to EBITDA of $333 million in 2012.
Wendy's major competitors are also undertaking similar initiatives. McDonald's is optimizing its menu and offering McWraps and fish McBites and trying to modernize the customer experience. However, McDonald's is a much larger company. Only on the summer Olympics sponsorship and advertisement, the company spent $90 million. McDonald's capital expenditures budget for 2013 is $3.2 billion and it will use it to open 1,500 to 1,600 new restaurants and reimaging over 1,600 restaurants.
Similarly, Chipotle is rolling out a catering menu with burrito's by the box and a larger catering offering for 20 to 200 people. Also Chipotle plans to roll-out nationally a new vegetarian menu item Sofritas (the main ingredient is tofu) and to open 165-180 new restaurants in 2013 with one new country (Germany). And Burger King is updating its menu while at the same time continuing to re-image its restaurants in the U.S. and Canada and planning to open nearly 500 net new restaurants this year. Significant part of Burger King's growth is expected from international expansion as the company recently entered into five new master franchise joint ventures and seven new development agreements with foreign partners.
Yum! Is the leader in international sales as the company derives over 75% of its revenues from abroad. The company plans to increase its penetration in the African continent where there is less than one KFC per million people compared to 58 per million people in the U.S. Also, Yum! Is reaching a size in Germany and France where the company can have national advertising campaigns, which should further boost sales in Europe. On the menu side, Taco Bell and Pizza Hut are launching new offerings such as cool ranch doritos, locos tacos, and cantina bell and pizza sliders, respectively.
Challenges
Wendy's, as well as the fast food industry in general, will have to deal with higher commodity and employee costs. Wendy's management estimates that 20% of the food cost is in beef and 20% in chicken. These two commodities are likely to continue their price increase in 2013 due to higher corn prices and increase in demand. In addition, as the Affordable Healthcare for America Act starts to be phased in, employment expenses will likely rise.
The fast food industry is labor intensive and future headwinds include an immigration reform requiring stricter proof of eligibility to work. However, Wendy's plans to counter these negatives by improving efficiencies, closing unprofitable locations, and discontinuing breakfast to improve margins. Most companies in the fast food industry increase prices as a last resort and it will not be a surprise if we see synchronized price increases this year. All this brings uncertainty, which makes investing in companies of fast food retailers riskier.
In addition to industry-wide challenges, there are also company-specific problems. For example, at the end of last year, there was negative media coverage of some of KFC's chicken suppliers in China using excessive levels of antibiotics. The media coverage together with negative social media vibe contributed to a significant decline and a continuing crisis in one of the largest markets for the company (KFC's size in China is comparable to McDonald's size in the U.S.). It seems like every few years there are major problems impacting the fast food industry - avian flu, SARS, horse meat sold for beef, and unhealthy frying oil, to name a few.
Conclusion
Wendy's stock while cheaper than those of its competitors based on a number of metrics carries significant risks. For example, food inflation and employment costs could hurt the company more severely than expected and its image activation campaign (tier 2 and 3) is still untested. This year will be important for Wendy's as the company is undertaking a number of initiatives. Its shares have risen significantly over the past six months and it could be safer if investors stay on the sidelines and see how the rest of the year unfolds for Wendy's. If the company is successful with its initiatives and is able to overcome the challenges, the common stock could be a great long-term investment.
Disclosure: I have no positions in any stocks mentioned, and no plans to initiate any positions within the next 72 hours. I wrote this article myself, and it expresses my own opinions. I am not receiving compensation for it (other than from Seeking Alpha). I have no business relationship with any company whose stock is mentioned in this article.