Happy 4th Birthday Mr. Bull Market. Here is a snap shot of the charts of the last 4+ years: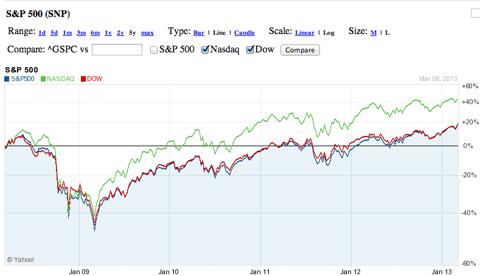 It has been an amazing run for the longs and it may have much longer to run if Fed Chairman Ben Bernanke, aka 'Helicopter Ben' and now 'BearHunter Ben' has his druthers. For sure, it has been a very difficult four years for the bears if they were just short the indices. Sure, everyday we read about the coming crash with headlines like, "Jim Rogers: Major Crash Ahead For U.S. Investors". They seem to go in one ear and out the other. More recently, one in Forbes predicts the "Death Of The Hedge Fund Short Seller" and profiles Bill Ackman and his short thesis on Herbalife (NYSE:HLF). We disagree with Ackman and have written about here in SA. Here a few excerpts from the Forbes article:
"Driving the reduction in hedge fund short trading is the escalating cost of selling stock short in the last few years. "Short selling has become increasingly expensive in the years subsequent to the financial crisis, thus creating added pressure for hedge fund managers," says a recent report put out by JPMorgan's prime brokerage unit. "Cost trends have created a strong disincentive for many managers."
And:
"Hedge fund returns have been lousy since the 2008 financial crisis, when they mostly lost money, but on average, performed much better than the stock market. Despite charging rich fees, hedge funds, on average, have been outperformed by the U.S. stock market for four straight years-with the last two years being particularly bad."
Clearly, these are lean times for most short sellers. It seems Ben the BearHunter has accomplished a few things simultaneously with his multiple Quantitative Easing (QE) initiatives including avoiding deflation (haven't heard this in a while) creating jobs (latest job report) and, last but not least, killing those dastardly bears. Or has he?
What happens when markets reach new highs like we did this past week? Simple answer: investors get nervous. And when long investors get nervous, they go out and find....... you guessed it, the trusted venerable bears as a way of buying 'insurance'. Long investors seek out bearish ones and offer them new money to place on their favorite "going to zero" list as a way to insure their existing long positions. Here are a few we like that the bears don't in addition to HLF from the 'top 100' list from highshortinterest.com. We feel these will be an indirect beneficiary of BearHunter Ben's initiatives: BlackBerry (NASDAQ:BBRY), NII Holdings (NASDAQ:NIHD). There are a lot of names on the 'top 100" we don't like and agree with short sellers on their negativity. We do not agree at all with the rationale behind the high short interest in HLF, NIHD or BBRY.
We like these particular names because they are all on the 'hard to borrow list' at institutions that lend securities to short sellers. This means they have a cost associated to borrowing them which is known as a 'negative rebate'. We explain short selling details in our previous writings. Two of the three names above have debt on their balance sheets mainly because they are in capital intensive businesses. The biggest debt issuer is NIHD because it operates a capital intensive business with substantial infrastructure costs in transmission equipment, communication lines and towers together with a necessary inventory of phones for sale to its subscribers. In addition, in certain cases it also has capital requirements associated with radio frequency licenses it needs to purchase from governments to operate its systems. HLF has $431.31M of long term structured debt. BBRY has no structured debt and a cash rich balance sheet. In all cases, we feel that the net asset values of for these companies is far in excess of their debt outstanding and much higher than what is reflected in their current share prices. In addition, they are all turn around stories which gives us more upside than downside in a risk reward analysis.
Because they are debt issuers, NIHD and HLF may experience an additional updraft in their stock prices from new FINRA notices warning bond investors that their bonds may be subject to rapid drops in price due to duration risks. Under this scenario, some hedge funds have started to short the bonds of these companies and actually buy the stocks in a pair trade within the company's own capital structure. Look at the Merrill Lynch High Yield Bond Index snap shot :


We can see the high yield bond market is at lofty levels in terms of low rates and high prices for these bonds. Hence, the FINRA warning may be a good one. We are only interested in the equity portion of the trade because of our underlying faith in the turnaround stories in the individual companies listed.
We will summarize brief highlights of our turnaround story picks in descending order of short interest:
NIHD-
NII Holdings is the Nextel cell-phone operator in Latin America. The company has recently re-engaged its experienced CEO Steven Schindler to upgrade its network in Brazil, Mexico, Peru, Chile and Argentina. Raising $750 million in February, NIHD has a fully funded capital plan and now is attacking its build-out and marketing plan under the capable hands of "iron fist" Schindler, as he is known inside his company. The increase of short interest in NIHD has caused the rate to borrow the stock go from 1 to 2.5 % in the last week. NIHD is a great turnaround story in the making.
HLF-
HLF is currently a profile short/long battlefield stock that has Bill Ackman's Pershing Square hedge fund declaring the company is running a Ponzi scheme in terms of its marketing practice. Carl Icahn on the other hand thinks otherwise and has taken a 15%+ stake in the company with boards seats and approval to go higher in terms of ownership. We think Carl Icahn will create plenty of upside for the longs in this name. The charge to borrow the stock for HLF has increased from 4% annual to 5% in the last week alone.
BBRY-



BlackBerry has introduced a new smartphone on a brand new operating platform named the BB10. We have used the product for the last 30 days and feel it is a winner. We are not alone as we have outlined in previous articles. The company has a large and growing short interest and the stock's negative rebate continues to increase with our checks showing a full percentage increase from 6.5% to 7.5 % this week. That's a big indicator of a growing short interest in the stock and why the shares have not been reflecting the successful rollout of its new high performance product line.
We have to mention the highest negative rebate winner we found on our weekly check list. This stock we think should be viewed as a zero coupon bond of an emerging market country. The company is Vringo (VRNG) and we have been long it in the past and are considering going long again. The negative rebate 2 weeks ago was 20% and this week it went to 32%. This is the cost to borrow the stock on an annual basis. The story here is the company has won a patent battle against Google and is continuing to seek final judgments.
Finally, our weekly check with two leading Wall Street institutions with premier prime brokerage units that aggressively lend these securities to hedge funds resulted in a stunner: the above pricing came from only one institution, the other said "sorry, these names are all no good"- meaning they had none to lend at all. Looks like the smoke from BearHunter Ben's gun is starting to fill the room.
Disclosure: I am long HLF, BBRY, NIHD. I wrote this article myself, and it expresses my own opinions. I am not receiving compensation for it. I have no business relationship with any company whose stock is mentioned in this article.
Additional disclosure: May go long VRNG before this article is published