Apollo Residential Mortgage Inc. (NYSE:AMTG) is a REIT that invests in, finances, and manages RMBS, residential mortgage loans, and other residential mortgage assets throughout the US. The company is externally managed and advised by ARM Manager LLC, which is an indirect subsidiary of Apollo Global Management LLC (NYSE:APO) -- a leading global alternative investment manager. AMTG is a relatively new public company with an IPO date of July 21, 2011. Hence AMTG's results for Q4 and FY2012 are as good a metric as one is likely to find to use to evaluate it.
In its short history AMTG has constructed a $4.2B investment portfolio of agency and non-agency RMBS at a 2.7% blended net interest spread and a 17.3% levered asset yield as of December 31, 2012. More specifically its Agency net interest rate spread was 2.2% with 7.6x leverage; and its non-agency net interest rate spread was 5.8% with 2.4x leverage. The net interest rate spread for AMTG's agency portfolio was particularly impressive in Q4. Annaly Capital's (NYSE:NLY) net interest rate spread was only 0.95% in Q4 2012. A perpetual top performer, American Capital Agency Corp. (NASDAQ:AGNC), had a net interest rate spread of only 1.39% on its agency portfolio in Q4 2012. If you took into account AGNC's highly profitable activity in the dollar roll market, its net interest rate spread rose to 1.61% for Q4 2012. This is still far below AMTG's net interest rate spread. AMTG's result is truly impressive. AMTG's low CPR of 5.6% in Q4 2012 (or 5.8% including its Agency IO's and Agency IIO's) aided in achieving this result.
The chart below shows AMTG's overall portfolio allocation.

This chart is already out of date. AMTG recently completed its first securitization of a whole loan pool; and it expects to further diversify in 2013 in order to optimize its portfolio based on market conditions. When considering this, it is comforting to know that AMTG is being managed by a subsidiary of APO -- one of the top US alternative asset managers with $113B in assets under management at the end of Q4 2012. APO's recent performance speaks for itself.
The above charted allocation helped AMTG report operating earnings of $15.7 million (or $0.65 per common share) for Q4 2012. AMTG grew its book value from $21.46 at the end of Q3 2012 to $22.49 at the end of Q4 2012. It declared a $0.70 per common share dividend and a $0.35 per common share special dividend for Q4 2012. It was able to do this because it realized net gains of $7.6 million, or $0.31 per common share, from the sale of $203.6 million of RMBS. For the entire year AMTG returned a cumulative total of 56%. This was comprised of $3.40 per common share in dividends and the rest in stock price appreciation. This is a terrific return for any stock.
Growth was accomplished by a combination of both a common stock offering and a preferred stock offering. These resulted in net proceeds of $416 million to the company. Recently AMTG has announced another public stock offering of 6,800,000 shares of common stock. The underwriter has a 30-day option to purchase up to an additional 1,020,000 shares of common stock. The offering is expected to close March 13, 2013. I have yet to see the price set for this offering. With this uncertainty in investors minds, the stock has taken a minor dip from its high of $22.91 on March 5, 2013 to a close of $22.20 on March 8, 2013. This may turn out to be a good time to buy. Remember that the book value of the stock at the end of Q4 2012 was already $22.49, and the book value trend has been up recently. Some may decide to wait for the offering price. However, either way AMTG is a buy.
The two year chart of AMTG provides some technical direction for this trade.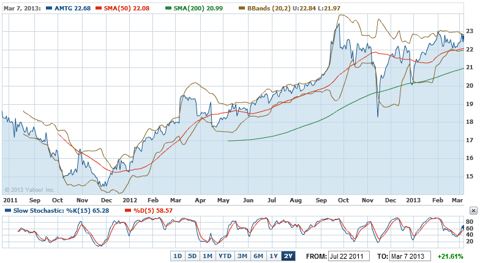 The slow stochastic sub chart shows that AMTG is neither overbought nor oversold. The main chart shows that AMTG is still in a strong uptrend. That uptrend has weakened slightly in recent months. However, the fundamental results have still been great. Therefore there is no real reason not to buy this stock based on its own performance technically or fundamentally. In fact it has the strong backing of the housing market by the Fed to help it profit.
The only gotcha is that the overall market is overdue for a retracement. Further a weak US Q4 GDP growth number of +0.1%, the new January federal taxes (especially the payroll tax hike of +2.9%), and the recent sequester activation all put a pall over the US economy. Some estimate that the new taxes and spending cuts could cost the US economy roughly -2% in GDP growth. We might not see some of this until Q2 or later, but this is a very worrisome detail. It could mean a US recession. With this in mind, it is appropriate to average into AMTG over the course of 2013. This way you will be assured of getting an overall good entry price for the stock.
With its excellent management team and its great performance so far, AMTG is likely to outperform the market and even its "hot" sector in the long run. With its stellar fundamental performance, AMTG's 12.61% dividend looks very attractive. Its PE of 2.66 and FPE of 7.42 help to reassure an investor. Its average analysts' recommendation of 2.1 (a buy) instills confidence. AMTG is a buy.
NOTE: Some of the fundamental financial data above is from Yahoo Finance.
Good Luck Trading.
Disclosure: I have no positions in any stocks mentioned, but may initiate a long position in AMTG over the next 72 hours. I wrote this article myself, and it expresses my own opinions. I am not receiving compensation for it (other than from Seeking Alpha). I have no business relationship with any company whose stock is mentioned in this article.