The charts below show the monthly change in US non-farm and private payrolls since President Obama was sworn into office in January 2009. In his first 14 months in office, the US economy shed jobs for a total decline of 5.105 mln.
Since then, however, the economy has rebounded resulting in a gain of 5.726 mln. Combining the losses of his first fourteen months and the rebound since then, the US economy has created 621K jobs under President Obama's watch.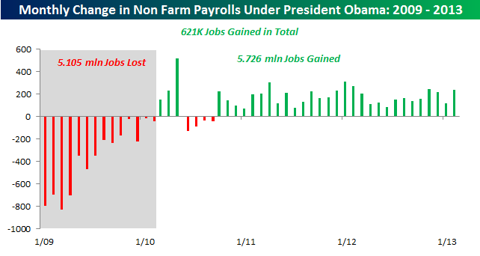 Click to enlarge
Although President Obama is considered a champion of 'big government' it is somewhat ironic that government employment has actually been a drag on overall job growth. The chart below shows the change in monthly payrolls under President Obama looking at just the private sector.
Like the overall economy, the private sector shed 5.019 mln jobs during Obama's first fourteen months in office. Since then, though, the private sector has seen 36 straight months of job growth for a total gain of 6.353 mln jobs. Overall, this works out to a gain of 1.334 mln jobs in the private sector under President Obama's watch.
The pace of job creation under President Obama since he was first inaugurated has been nothing to write home about. That being said, there is obviously a case to be made that he didn't step into the job at an exactly good time. Additionally, the fact that job creation is now in the green rather than the red under the President's watch is certainly an improvement.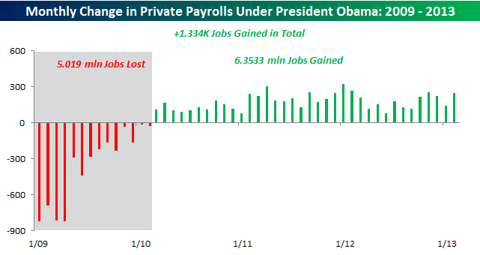 Click to enlarge