We are moving into a time frame for which I have been expecting a pullback in the market. While I maintain my longer-term bullish view, this week's options expiration marks the beginning of a three-week period in which I anticipate the market could see an interim peak. I think that we could set a nominal new high in the S&P 500 (say 1590, which would be about 2.5% higher than the close on Friday and less than 1% above the all-time high of 1576), but then see a pullback of 5%-7% (1478-1510).
If we see this long-awaited and rational pullback, I would expect some of the most extended stocks to suffer the biggest retreats. While the Russell 1000, which is up 9.1% YTD, is only 3.8% above its 50-day moving average and 10% above the 200-DMA, there are 117 stocks in the index (12%) that are 10% or more above their 50-DMA, a level that typically signals caution. This group of stocks is 29% above the 200-DMA on average.
In order to identify some candidates that might be most vulnerable, I screened the Russell 1000 using Baseline, employing the following parameters:
Price vs. 50-DMA > 15%
Price vs. 200-DMA >25%
One-year Price Return > 50%
11 stocks made the cut:
Click to enlarge images.

The stocks are sorted by the distance to the 50-DMA and come from a variety of sectors. Before selling or even considering shorting one of these stocks, it's important to understand if there has been a "game-changer" type of event that no screener will ever detect. I would never recommend taking action without understanding the complete story, and please consider that none of these stocks are on my watch list of 100 stocks that I follow closely.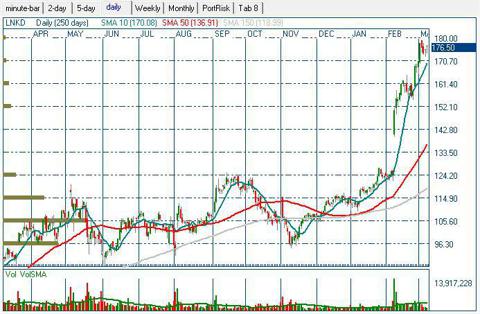 I love LinkedIn (NYSE:LNKD) and derive tremendous value from my subscription to its low-end premium service. To the best of my knowledge, there has been no "game-changing event" here -- it has just likely run too far too fast. The gap in early February followed a huge beat (sales for Q4 of almost $304 million compared to a $280 million consensus). They 2013 sales consensus was only in line with the prior consensus at $1.41-$1.44 billion, but the analysts ended up boosting the consensus nonetheless to $1.49 billion (+53%). The stock trades at a steep 10x forward sales (adjusted for about $7 per share in cash). Trading at 4x the $45 IPO price from May 2011, this is one that could see some profit-taking.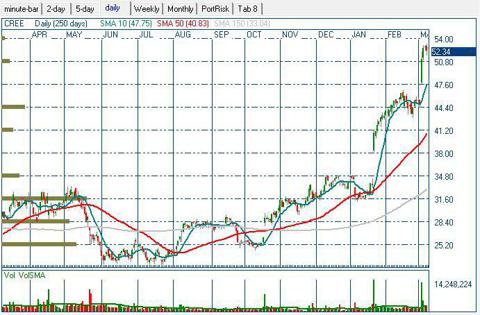 I have long been skeptical of Cree (NASDAQ:CREE), but I haven't looked at it in awhile. The stock fell from near $83 in April 2010 to almost $20 in late 2011, but has recovered about half that loss over the last 15 months. In January, the company reported strong earnings and a strong outlook. GS in early February said that it could be a takeout at $70. In early March, the gap up took place after CREE hiked guidance for Q3 marginally and introduced a new series of LED bulbs offered only at Home Depot. Interestingly, EPS estimates for June 2014 have been stable for the past six months (+35% vs. FY 2013), so this is all P/E expansion. Adjusting for about $8 per share in cash, the stock trades at 25 P/E.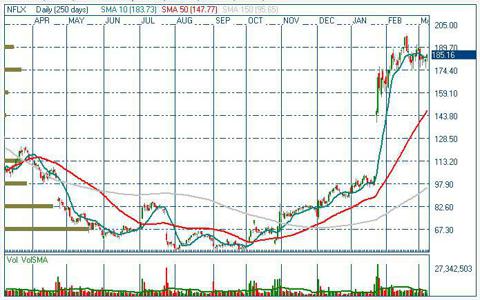 Netflix (NASDAQ:NFLX) saw some short-covering after it reported in late January. This one has huge future content commitments not reflected on its balance sheet and needed to grow digital subscribers or would have raised scrutiny regarding its future. It delivered strong subscriber growth and even grew its mail business too. From a fundamental perspective, I think that this one is dicey. I like Kevin Spacey, but not so much NFLX. In fact, I added CSTR after they reported to my Top 20 Model Porfolio. As far as NFLX, it has recovered a bit more than half of its huge decline from $305 in July 2011 to $53 last August. I would expect 209 (61.8% retracement) to contain this move.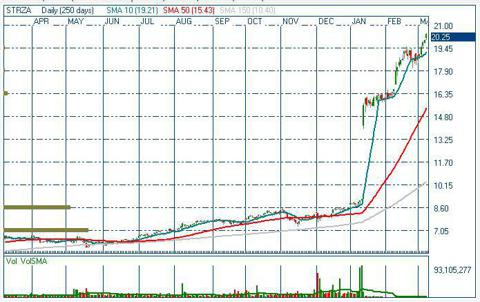 I really don't know this one, but someone in the Seeking Alpha community has been asking me about Starz (NASDAQ:STRZA). On Jan. 11, it changed its name from Liberty Media and spun out Liberty Media Corporation (NASDAQ:LMCA). It seems that the company, which announced a new deal with Sony Pictures in February for exclusive first-run premium pay TV through 2021 (from 2016 -- sorry, NFLX), is a pure-play content company now. Starz (with six channels) and Encore (eight channels) reach 56 million subscribers, while Movieplex (three channels) offers art house, independent, and classic movies from its library. If you do look into this one, realize that the spin-off took place after year-end, so the last reported financials don't reflect the current structure.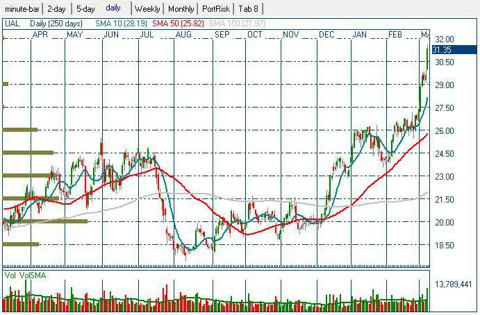 United Continental (NYSE:UAL) is one of several airlines that are "flying." With Jim Cramer recommending an airline for the first time in over two decades, there is no doubt about this being a momentum story now. Don't be fooled by the low P/E -- it has lots of debt and other obligations. The whole industry is stoked on the US Airways (LCC) deal with American. This one is just clearing the top of a three-year "holding pattern," so I wouldn't be so quick here to take profits just yet. I am biased a bit, though, as I think we are about to enter a period of weak energy prices and improving consumer demand, which is nirvana for this industry.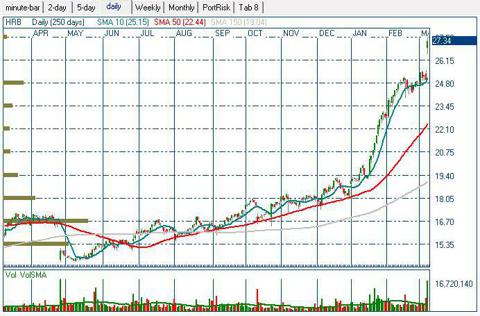 H&R Block (NYSE:HRB) has cleaned up some legacy balance sheet and regulatory issues and is benefiting from tax law complexity. The company had a horrible report last week, but it was viewed as a one-time glitch related to delayed e-filing. The consensus for the year ending April 2014 (perhaps not updated since the company just reported) suggests that the stock trades at 8x EV/EBITDA (assuming one removes mortgages and investment securities and corresponding debt), so the stock is not extremely expensive nor particularly cheap. Peer INTU has been rallying, too.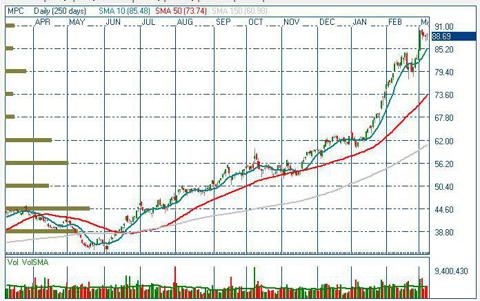 Marathon Petroleum (NYSE:MPC) has done very well since the 2011 spin-out of the refiner from Marathon Oil (NYSE:MRO). In early February, it closed the purchase of BP's Texas City refinery, which it expects to be accretive in 2013. MPC is clearly benefiting from access to cheap domestic oil, which trades at a big discount to Brent, something that won't last forever, as infrastructure improvements will likely equalize those prices and then eat into margins. I am not sure what to make of this one as the valuation looks pretty low at current consensus estimates, but this is a very volatile industry.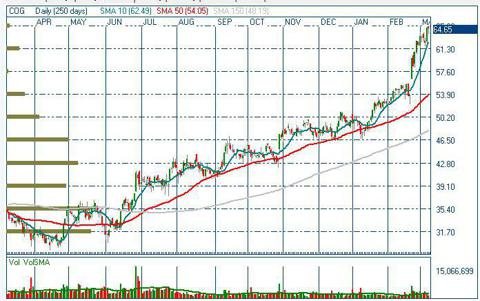 Cabot Oil & Gas (NYSE:COG) has been one of the best stocks in the S&P 500 over the past few years, riding its Marcellus success. It has a small Eagle Ford position too, with 60K net acres, 48 net wells and a single rig and a position in the Marmaton. Two-thirds of its $950 million to $1 billion capital spending will be directed in 2013 toward the Marcellus. The stock, an eight-bagger over the past three years and almost double the old all-time high of $36 in 2008. The stock gapped up in late February after it reported above-consensus top-line and earnings. It grew production 43% in 2012 and 44% in Q4. It has been helped by hedging to some degree.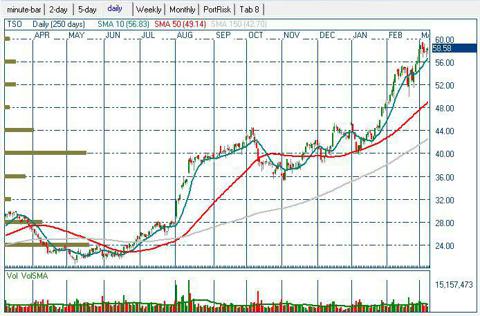 Tesoro (NYSE:TSO) is the second refiner on the list. Like MPC, it is benefiting from the spread between Brent and domestic oil. In December, the company pointed to operational improvements not being fully appreciated by investors, a desire to attain investment-grade credit ratings, diminished 2013 capex and better-than-expected returns on its large capital projects. Technically, this one could test its double-top near $65-$66 from 2006. Watch the Brent/LLS spread here, too. It trades at a big premium to tangible book value (2x) after trading at a discount for years, but it's generating its highest earnings ever.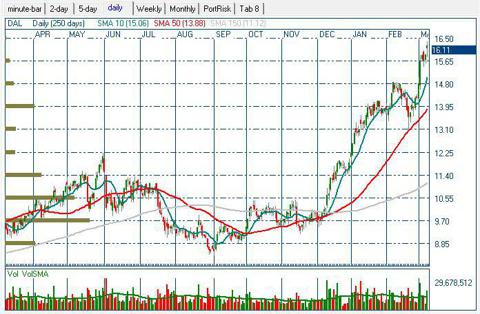 Delta Air Lines (NYSE:DAL) trades just like UAL, so I will refer readers to my prior comments.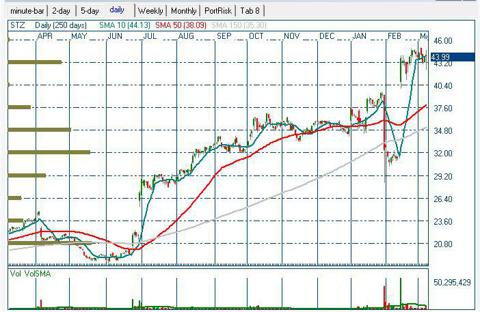 Constellation Brands (NYSE:STZ) showed up on a totally opposite screen I ran last month. While I didn't recommend it, it validates the process, where I highlighted the 12 stocks in the Russell 1000 trading at more than 10% below the 50-DMA. The stock had been hammered on concerns about its acquisition of Grupo Modelo, and the stock exploded following successful resolution. That big shake-out probably cleared out a lot of potential profit-taking -- it was huge volume. Thus, I this one looks a bit less interesting despite meeting the criteria of the screen.
Conclusion
Taking profits or shorting stocks that have been on a tear can be a dangerous strategy, especially in a strong market like we enjoy. When the winds change, though -- as I anticipate that they may in the next few weeks -- gains can quickly evaporate as profit-taking sets in. I have shared my thoughts on 11 stocks that appear to be very extended and would be seemingly vulnerable in this environment. In some cases, it might make sense to take action now, in others perhaps there is some time to watch the stocks for a better possible exit or entry into a short position (if at all). If you are interested in why I think that the market may be about to reverse somewhat and some other stocks that I find potentially vulnerable, I encourage you to sign up for a live webinar I will be hosting at Marketfy on Tuesday after the market closes.
Disclosure: I have no positions in any stocks mentioned, and no plans to initiate any positions within the next 72 hours. I wrote this article myself, and it expresses my own opinions. I am not receiving compensation for it (other than from Seeking Alpha). I have no business relationship with any company whose stock is mentioned in this article.