Well, I was expecting something like this to happen sooner rather than later. But as the saying goes, "It's never too late."
Carl Icahn has stepped up to the plate and taken a position in Dell (NASDAQ:DELL), putting his own proposal on the table. Instead of the $13.65 a share offered by the Dell LBO group, Carl Icahn is proposing the company give out a $9-per-share special dividend because he says the company is worth at least $22.81 a share.
In a statement, Carl Icahn said: "We see no reason that the future value of Dell should not accrue to all the existing Dell shareholders." He also promises to take to the LBO group to court if they so much as dare to try to pass the current LBO offer as is.
Please recall that at least 42% of Dell's shareholders have to vote against the LBO deal in order for the proposal to be blocked. Currently, about 15% of current shareholders are opposed to the offer, without counting Carl Icahn's position -- rumored to be just shy of 6%. So, overall, close to 20% of total shareholders officially oppose this deal so far.
Using reverse logic, since we already have 20% of shareholders who are opposed to the deal and just another 22% of total shareholders are needed to block the deal, my conclusion is that the deal will not go through at the current offering price. I think it will be very easy to find that one out of every five shareholders needed for the deal to be blocked (you can find all my recent Dell LBO logic here). Another reason why this deal might not go through at current terms has a lot to do with the recent performance of Hewlett-Packard (NYSE:HPQ).
Click to enlarge image.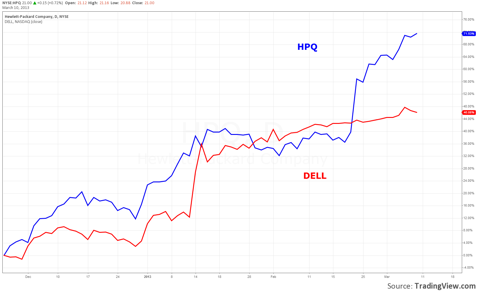 Click to enlarge
Hewlett-Packard has been on the rise for many reasons. But what does Hewlett-Packard have to do with Dell, you say? Well, if there is one company that resembles Dell the most it is Hewlett-Packard. And if Dell and Hewlett-Packard are similar in many ways, that also means Dell shareholders should benefit similar to Hewlett-Packard shareholders.
I am sure that Dell shareholders are currently looking at the above chart and imagining that Dell's stock might have had a similar performance if this deal was not on the table. So if I am a Dell shareholder, seeing how Hewlett-Packard's stock has performed, why would I vote yes for the LBO deal at $13.65 if the stock can probably go much higher by itself, like Hewlett-Pack did?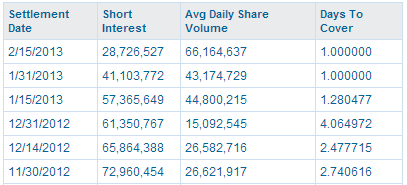 Another clue as to why this deal will not go through has to do with short interests. The chart above shows that short interests are below one day's trading volume. This might be an indication the market does not see any more downside to the stock and has covered. It might also mean that the market thinks this deal will be done, but at higher prices.
Finally, one reason why this deal will probably go through, but at higher prices, is Microsoft (NASDAQ:MSFT). I am on the record as saying this is a good deal for Microsoft (please consider "Should Microsoft Buy Dell?"). I personally think that if it wants to do this deal bad enough, it will put more money on the table if needed. If I were Microsoft, I would have no problem putting up $5 billion or maybe more (for a higher equity stake in the company, of course) if needed. One thing is for sure: Microsoft has the money and the need to do this deal. I think it will, even if it means paying a whole lot more.
Conclusion
Day by day we see that the LBO group will not have a free ride with this deal. While no other bidder has emerged so far, Carl Icahn's involvement serves Dell's shareholders the same.
My recommendation: Continue holding the stock if you have it, because I think there are at least $3-$4 more on the table for Dell shareholders willing to wait a little longer.
Disclosure: I have no positions in any stocks mentioned, and no plans to initiate any positions within the next 72 hours. I wrote this article myself, and it expresses my own opinions. I am not receiving compensation for it (other than from Seeking Alpha). I have no business relationship with any company whose stock is mentioned in this article.