For those of you unfamiliar with the events of the last six months surrounding Celsion (NASDAQ:CLSN), it's been one heck of a ride. The bears made money and the bulls were crushed like a ping pong ball under a freight locomotive.
I played an option spread in Celsion leading up to its Phase III data results, and I'll admit that I lost money. I was about 7:3 calls to puts (with the calls obviously having tons more upside potential) and I got burned. I missed what, in retrospect, were four massive signs that the results weren't going to be good. I saw these red flags and chose to ignore them; it cost me. It's easy to admit, because I learned years ago that anybody who tells you they've never been burned, lost money or been wrong in the world of investing is lying to you.
With earnings coming up this week and fresh insight into how things are going post-disaster, it's starting to be the right time to revisit Celsion.
From its website:
Celsion is a late-stage biopharmaceutical company dedicated to the development of innovative, targeted therapies that address unmet medical needs in oncology. By applying our unique heat-activated liposomal drug delivery system to proven anti-cancer agents, we can deliver high concentrations of chemotherapeutics directly to the tumor site, with the ultimate goal of improving patient outcomes.
I started covering Celsion leading up to Phase III data for its product ThermoDox for use in liver cancer. Preliminary trials looked great and the idea behind ThermoDox was one that made sense: delivering a concentration of an often-used cancer drug to the site of the tumor by its Liposomal transport system, and using heat to activate it en masse.
I also wrote this, trying to figure out the meaning of Celsion PRing a "Technology Development Agreement" with Hisun in China ahead of releasing the results of the HEAT study. I offered up three possible ways the agreement could have came about; now that the smoke has cleared and all hell has broken loose, it appears as if my third hypothesis was correct about how the Hisun agreement came about:
Neither group has seen the results yet, and this agreement is based 100% off of past metrics. Future execution of this agreement could still be predicated on the results of Phase III, which no one might have. Zhejiang and Celsion could be joined arm and arm with the common shareholders, still blinded, and waiting on what is ultimately going to be the biggest news in the company's history.
I recently wrote about Celsion:
Celsion's entire pipeline is based on their liposomal delivery of drugs, a la the way the active ingredients were delivered for liver cancer. So, why bother with a company whose pipeline is apparently screwed to the nth degree and is diluting their stock akin to someone dumping half a can of Diet Coke into the Pacific Ocean? Here's a couple reasons:

Celsion is absolutely dirt cheap, trading at 90% off its highs.
ThermoDox's next trial will be for breast cancer, where they've shown in prelimiary trials to have the most success (even moreso than they did in prelims for liver cancer). If their reason for Phase III failure has to do only with the location of the cancerous tissue and not the drug or process delivery, Celsion still has a chance to be a grand slam.
Celsion has a strong balance sheet heading into 2013 and recently just closed another round of financing. The company, although diluting its stock, is not going bankrupt.

This is why its my hyper-speculative choice. There is potential ten bagger results just from the stock if the company can turn things around and find some success with ThermoDox or by changing their corporate strategy altogether. With options, there's even more upside. Either way, there is also eventual risk of total loss.
"Quoth, you giant investing bonehead," you'll say to me, "this is no time to chase your losses." I can hear you now: "It's obvious that ThermoDox doesn't work and this is a hugely speculative play. Don't waste your money."
Well, random voice, this potential play certainly wouldn't be for the faint of heart and there's absolutely no reason to dump a ton of money into it. But below are the reasons why I think that, although extremely risky, Celsion could ultimately yield a four-bagger or more.
Click to enlarge image.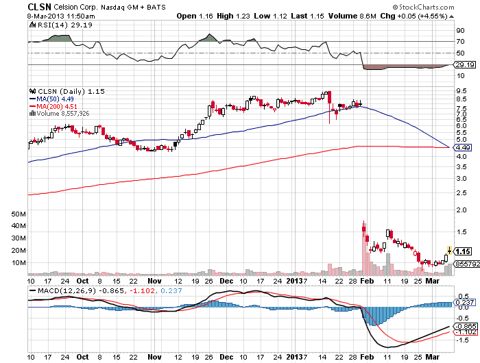 1. Technical Indicators
On any kind of crash like Celsion experienced, you expect to throw the technical indicators out the door for a couple of days. There's no point in trying to look at the candlesticks between late January and early February and trying to figure out something more beyond "something absolutely horrific happened."
However, now that we are a month or so post-catastrophe, we can start to collect and use some of the data that we have. The two items I noticed are:
The inevitable post-crash "death cross" about to happen with the 50-day moving average crossing downward through the 200-DMA. This is traditionally a bearish indicator when a stock is trading normally, but on the heels of a catalyst event like we have here, I wouldn't pay as much mind to it.
The RSI has denoted "oversold" since the crash. Normally, you'd expect the RSI to dip into oversold territory after a crash, but to sustain itself in the fashion in which it has here indicates that we still haven't seen our "bounce" from the crash. Yes, I realize Celsion has diluted by almost 50% somewhere along the way, too, and that might have something to do with it. But judging by this indicator (which should really just be used to compliment other indicators), we are still due for buying to come in.
2. Financing Complete and Cash in the Bank
Celsion recently just completed $15 million in financing, which means two things:
Dilution
It's digging its heels in
Sure, it's important to realize the effect that dilution is going to have on the stock price. Red Acre investments points this out in their article, citing that the warrants in conjunction with the recent financing puts Celsion at 51% dilution. They said:
Celsion had approximately 35 million shares outstanding as of their Q3 2012 quarterly report. The current offering of 12 million shares and 6 million warrants represents 51.4% dilution to existing shareholders. One mistake inexperienced investors often make is to ignore preferred shares and warrants in their calculations of a company's valuation. Preferred shares are indeed part of the capital structure and should be counted at the correct conversion ratio when calculating market capitalization. Warrants that are in-the-money should also be counted as if exercised in order to do a proper valuation. A look at popular sites such as Yahoo Finance will show only the 35 million or so shares of common stock under "shares outstanding" for Celsion. Investors need to properly check the company's quarterly and annual reports to get the correct number of fully-diluted shares outstanding. Failing to do so will lead to unpleasant surprises when the stock does not behave the way one expects.
What they fail to point out is that if Celsion trades at the same market cap it was at during the run-up to the Phase III results, even with the dilution, it'll likely be trading in the $4 range -- a potential 400% gain. It's a big "if," but worth noting in my opinion.
This is also a sign that the company has no plans of going anywhere. With earnings coming up this week, I'd expect to hear more about what the "new" Celsion corporate strategy is going to be.
3. Pipeline Trials
Not interested in ThermoDox anymore? Consider these facts regarding Celsion's trial pipeline:
It is working to identify how sub-groups responded to the Phase III trials for liver cancer. If it can salvage something from these results (i.e., it showed progress in a certain type of person), that could be a catalyst.
It is working through trials for other types of cancer. As we heard on the conference call the morning of the HEAT results, the delivery of the drugs was perfect. It wasn't the manner in which they were delivered, it was some other factor. So now it's a matter of finding a use for the flawless delivery method it has developed with ThermoDox.
Pancreatic and liver cancer are two of the toughest to treat.
From Celsion's 8-K:
For example, ThermoDox is being evaluated in a Phase II clinical trial for colorectal liver metastasis, a Phase II clinical trial for recurrent chest wall breast cancer and other preclinical studies. We will conduct additional analyses of the data from the HEAT study to assess the future strategic value of ThermoDox and are performing sub-group analysis of the Chinese cohort of patients in the HEAT study and other activities for further development of ThermoDox for mainland China, Hong Kong and Macau.
Conclusion
The upside vs. downside potential has changed significantly. While there was previously value shorting CLSN or buying puts, trading at $1 with its microscopic market cap leaves more potential to the upside here. Again, if Celsion finds itself trading at the same market cap it was trading at before its Phase III results (even with the 50% dilution of its last financing figured in), it's going to be trading at or about $4/share.
Considerable risk exists here. If Celsion doesn't change corporate strategy, find good data in the HEAT subsets, or find a use for ThermoDox, it's in deep trouble. There is a chance for loss with Celsion, but we know it has enough cash to keep the doors open and business running well through 2014, and with this week's upcoming earnings report and a potential look into the new corporate strategy, it's time to take a long look at Celsion.
Disclosure: I am long CLSN. I also own CLSN calls. I wrote this article myself, and it expresses my own opinions. I am not receiving compensation for it (other than from Seeking Alpha). I have no business relationship with any company whose stock is mentioned in this article.