Apple (NASDAQ:AAPL) is currently experiencing one of the worst sell-offs it has faced in the last decade. In this article, I will attempt to provide many reasons why the company's growth story isn't over and why the stock should be bought at these levels. Reasons for this include that recent growth worries are likely temporary, declining margin fears are overblown and manageable to the extent they occur, new product categories are coming, and that Apple is best positioned to continue to take over new product and service categories as much of the world's gross domestic product becomes tied into the mobile Internet -- and thus transformed and disrupted.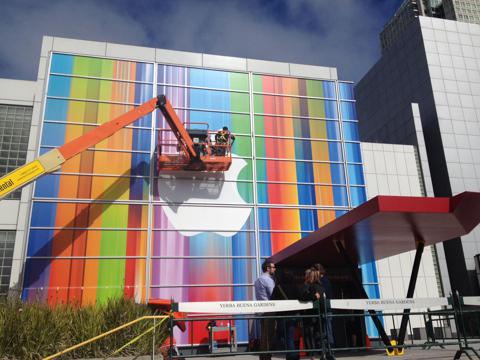 External Backdrop
Fund Flows:
Over recent weeks fund flows have moved into equity funds and out of bond funds. In the first week of 2013, equity fund inflows reached the highest levels in years. 10-year Treasury bond interest rates are lower than many S&P 500 companies' dividends (including Apple). Because the economy and markets are looking more stable, funds should continue to flow out of the U.S. and Japanese government bonds and into equities globally, although at a much slower pace than in January (and despite sharp countertrend movements during the year).
Macro:
The global economy broadly shows signs of rebounding, with promising data points coming out of China and the United States. This helped to buoy markets in the last few weeks of the year. Despite a volatile year the S&P 500 ended up 13%. The Shanghai Composite rebounded strongly in December due to rebounding economic data and a belief that the government has turned supportive of markets after it was perceived to have had its foot on the breaks. The index ended 2012 slightly positive after spending much of the year plunging. Japan has signaled again and again strongly that it will further ease monetarily and passed an economic stimulus package last week. Investors have reacted with enthusiasm, pushing the Nikkei up more than 20% last year.
The picture in Europe remains more mixed, however, with credit spreads having fallen precipitously in the PIIGS (Portugal, Italy, Ireland, Greece, and Spain) since the summer, though economic data remains lackluster with unemployment remaining at very high levels. Despite this stock markets in Germany and the U.K. have approached pre-crisis levels, though France, Italy, and Spain are far below those levels. It is likely that, while volatility will likely return during 2013, markets in aggregate should remain relatively stable, while providing a fair environment for picking stocks, bonds, and other securities in stronger industries and regions.
Click to enlarge images.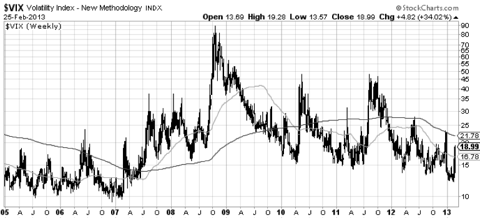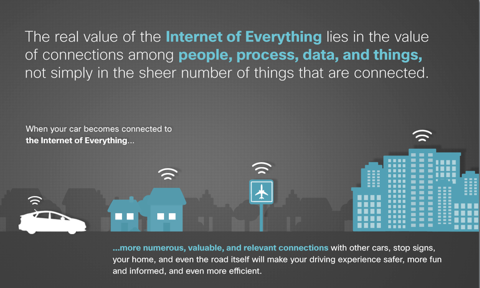 Big Picture
Computing is becoming pervasive. Everything around us will eventually contain or be deeply integrated with computers and connected to networks such as the internet. This transformation provides companies that are more skilled in computing, such as hardware, but more critically, in software and services, giving them an opportunity to disrupt entrenched leaders in large industries. Already, media, retail, and consumer electronics have been thoroughly disrupted, and many other industries are soon to follow. This leaves dominant computer hardware, software, and internet platform companies such as Apple, Facebook (NASDAQ:FB), Google (NASDAQ:GOOG), Microsoft (NASDAQ:MSFT), Amazon (NASDAQ:AMZN), and Samsung (OTC:SSNLF) with huge opportunities to take over the value in more industries as they become remade with software. In many ways, Apple is better positioned to win in these areas because of its vertically-integrated products, market power, and scale.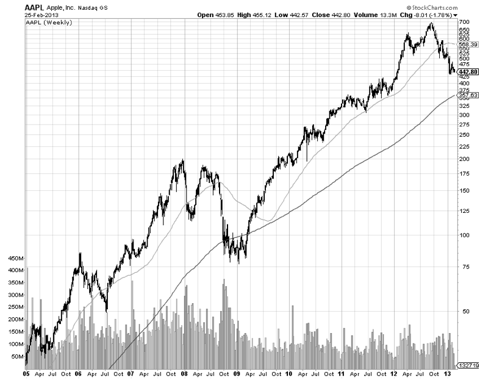 Google, despite it's enormous market share lead against Apple in smartphones, has had trouble gaining traction with its new services such as Google Wallet because Android is open to the extent that carriers and device makers can push their own services, ecosystems, and even app stores rather than Google's. Amazon has completely forked Android to make it their own along with an Amazon app store. Samsung has built its own payment system, voice control system, and pen hardware, all of which may lead developers to write software to integrate with Samsung specific hardware and services rather than Android's APIs (application programming interfaces). Samsung also recently announced SAFE (SAmsung For Enterprise) and KNOX which are aimed at the enterprise market. Good Technology, an enterprise provider of mobile device services, recently put out a report that appears to show that at least for their customers Google hasn't done a good enough job in convincing IT staff to adopt Android.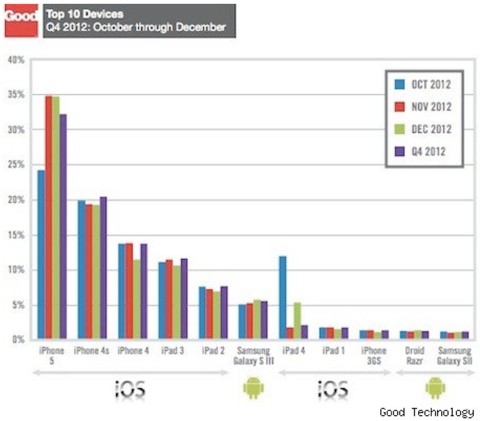 Samsung even has their own app store that provides apps to their TVs, as well as Android, Bada, and Windows Mobile phones, though they haven't pushed it hard against the Google Play store of yet. The issue of competing ecosystems and services has the potential to cause a rift between Samsung and Google, though up to now it appears both companies have decided not to rock the boat enough to upset the conditions that have allowed Samsung and Android to dwarf Apple and iOS. In the future, services like Google Wallet or Google Now and Siri will be increasingly important features to customers as the ability of these devices to interact with the world around it becomes valuable. However, because new versions of Android are not passed down to most devices (as shown in the chart below), Google's software innovations aren't used by the majority of the Android market and Samsung is attempting to make its customers see more value in Samsung features.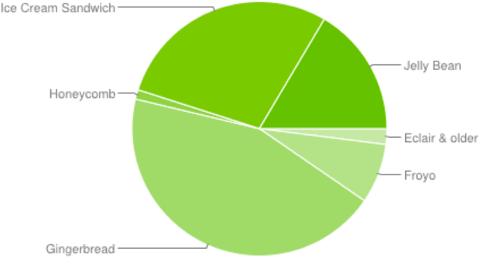 Google will need to convince Samsung and mobile carriers to play ball or Android's fragmentation issues will increasingly hamper the operating system. Google's strategy appeared to be to put more effort behind its Nexus line of products but it is now rumored that the company will release its first fully branded smartphone this year, called by the Wall Street Journal as "Google X" or "X phone," as a hedge against fragmentation and to steer Android device makers.
With the exception of Facebook, all of the companies listed above have moved closer to vertical integration, but it is unclear if they can catch up to Apple fast enough and achieve the scale needed to compete. Samsung looks to be best placed to do this because it has huge market power, scale of production, and cash flow. It is the only substantially profitable Android device maker due to it's dominant position. Google's best chance at recovering control from of it's platform is to favor device makers other than Samsung and to sell better Nexus devices in significantly larger quantities with the help of its recently approved acquisition of Motorola Mobility. It may already be too late to do so successfully, however.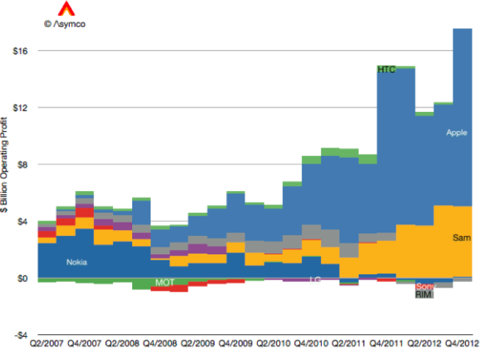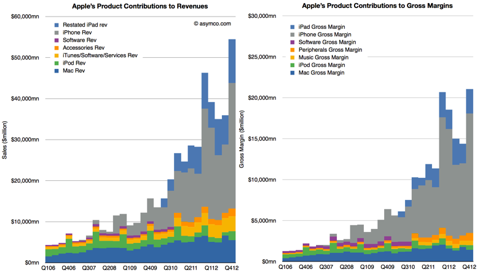 Despite Apple's lower market share globally, this is the company's market to lose in the long run because of its vertical integration as the market transforms into one where standardization matters in order to have devices, software, and services that work well enough together to interact with an increasingly chip-enabled outside world.
Why Doesn't the Market See It This Way?
Apple's share price has suffered almost a 40% decline since making highs above $700 in September. It is unlikely that all of the downward movement was due to company fundamentals, but rather an interplay between these and a plethora of other reasons. These include a reduction of institutional holdings as positions in Apple went far above acceptable levels for many funds as the price had risen, expected capital gains tax increases caused many longer-term Apple investors and institutions to take profits, and because pessimistic reports on the company gained more traction during the period of the crashing stock as the company has historically taken a hands-off approach to the stock price and almost never comments in relation to news or rumors. All of these likely combined helped to bring Apple shares down, breaking key support levels, which in turn caused panic, leading to a downward spiral and bringing bearishness to heights not seen since the financial crisis (diagram updated by me showing the decline in relation to past declines).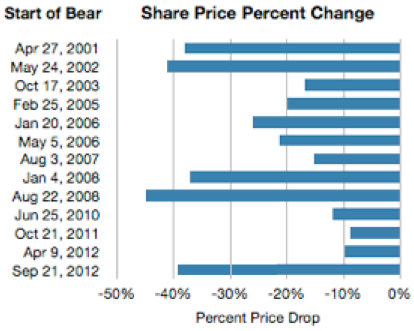 A stock that is declining makes people look for fundamental reasons for the decline and these came to the foreground. Nevertheless, the bottom line is that company fundamentals were not strong enough in the short term to stem the selling. While Apple's holiday quarter earnings report was slightly weak relative to expectations, guidance was low and made worse because of management altering methodology to a range, and then leading investors to believe that this guidance range would be more accurate than before. If true, this caps upside potential relative to prior guidance that the company always handily beat.
Analysts still expect Apple to beat their guidance range for the March quarter, but with a 20% decline in earnings from the previous year. CFO Peter Oppenheimer's reasons for the guidance include a more aggressive rollout of iPhone in the December quarter leading to less sales this quarter, iPad Mini having lower margins and getting over production constraints and thus higher sales leading to a less profitable shift in product mix, and iPad cannibalization of Macs and still constrained production of iMacs. Some of these are temporary so guidance for next quarter and performance relative to this quarter's guidance will be key.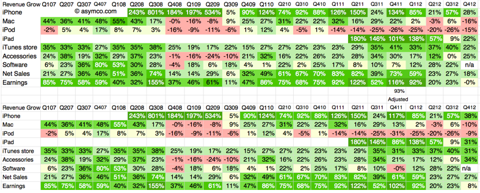 Longer-term fundamental concerns boil down to Apple's competitive position eroding in smartphones and tablets and fears that Apple may not be able to innovate and differentiate enough in these markets to maintain (much less grow) it's enviably massive profits. The pessimistic and now almost default view is as follows:
iPhone's massive gross margins of more than 50% are an anomaly afforded by the nature of the subsidized cell-phone business model. Carriers want these subsidies reduced and if Apple won't allow this they will continue to push other handsets that are increasingly seen as just as good as iPhone, and they come in increasingly popular larger screen sizes. Additionally, carriers want to lower subsidies and this will force Apple to lower iPhone prices across the board. At the same time smartphone growth is now coming from the low-end, pre-paid (non-subsidized) markets. If Apple comes out with a cheaper iPhone to compete in this market, margins will be significantly lower. iPhone troubles cannot be offset by iPad, which is already experiencing lower margins due to iPad Mini, and potential new product-categories for Apple are considered to be in markets that will never be large enough to offset iPhone decline. In addition, iOS is losing to Android and market share will continue to decline. The company's days of growth are over, shown by last quarter's earnings and its guidance for the current quarter. Finally, Apple is no longer innovating now that Steve Jobs is gone, and this will hasten the company's decline.
This view is partially wrong. While Apple's hardware gross margins may have peaked in the mid 40s, gross profit dollars and free cash flow matter more. In these areas the iPad will continue to grow due to the huge growth in tablets, and iPhone will at least maintain current sales levels for years so long Apple management remains competent. Carriers in most of the world still need the iPhone to satisfy demand of the most profitable customers (as evidenced by T-Mobile's and NTT DoCoMo customer losses to iPhone carrying competitors). In most markets, a carrier losing out on a new iPhone because it wants to lower subsidies is a bad business decision, and because of this very few carriers have given up on the device. OAO Mobile TeleSystems (NYSE:MBT) in Russia is a rare if not sole case.

Calls for Apple's inevitable decline have been frequent since the company almost went bankrupt in the 1990s, and they continued as it grew into the behemoth it now is:
Investors may be asking themselves what Apple can do to revive its fortunes. The likely answer, unfortunately, is that Steve Jobs has no white rabbits left in his hat. Apple appears to be facing a dead end in its business growth, the victim of mismanagement and unmitigated hubris.

Why Apple Is Losing Its Appeal Again - Dec. 11, 2000

Sam Jaffe, Published in BusinessWeek

2004: Apple - Watch for the big fire sale. Pretty designs and overpriced blue plastic can only get you so far.

Technology's walking dead - Jan. 5, 2001

Michael Kanellos, Published in ZDNet

Looking at the future of the PC market, Apple's premium pricing structure becomes ever more outdated. A few years downstream, Linux desktops will force Windows to get cheaper. At that point even Windows boxes, seriously cheaper than Apple, will be in the "too expensive" category.

Mac G5: Too Little, Too Late - Jun 12, 2003

James Maguire, Published in NewsFactor

Apple's short-term success is very real and quite admirable, but the company's inability to see coming trends in video, subscription content, and interoperability suggests that Apple is repeating the mistakes of the past. In the 1980s, the Mac held an early lead over the PC but was quickly buried after the industry standardized on a common Microsoft technology. Today, that series of events is repeating itself, and online music services -- and to a greater degree, the digital delivery of all media types -- is very much at a nascent stage. If Apple doesn't change its ways, the company simply won't survive.

Apple Death Knell #43: Apple Must Change, Or Die - Sep 15, 2004

By Paul Thurrott, Published in Connected Home Magazine

From macobserver.com
While current concerns are new or updated, Apple has experienced numerous periods of extreme pessimism over the years. Notable examples include the financial crisis, where it was stated as a matter of fact that Apple sells luxury items and they will get killed in a recession. Earnings growth got to as low as 11% in the calendar third quarter, but this was sandwiched between growth of 61% and 47%. During the crisis, Macs, while shrinking over a few quarters in 2009, outperformed the PC market and iPhone growth was spectacular.
It is unlikely that current concerns will be lasting just as prior ones disappeared with quarter after quarter of high double-digit revenue and earnings growth due to refreshed legacy products and new product categories outperforming expectations. iPhone 5 has been the best selling smartphone ever over the first few months it's been sold. iPhone margins have likely continued to remain above 50% as they have for most of the five-and-a-half years since the product's inception.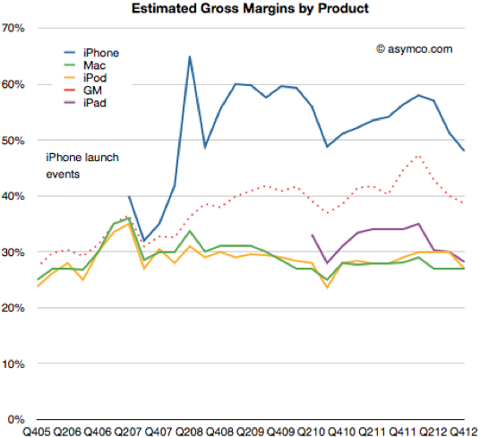 With the U.S. and Japan being exceptions, Apple is losing smartphone market share internationally, but there are issues with definitions. The iPhone is gaining market share in the handset market but cheap smartphones have begun to replace feature phones (or dumb phones) and thus Apple has lost market share as the market for smartphones has expanded due to these new quasi-smartphones being included in the category. This is why when measuring usage such as of internet browsers or apps, or of monetization, the iPhone and iOS more broadly dominate other operating systems and smartphones. These other smartphones don't appear to be being used as smartphones.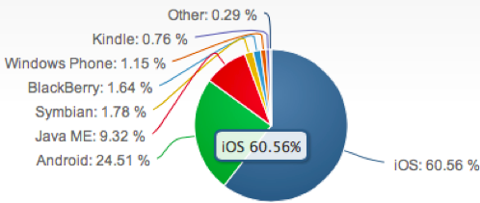 This is perhaps the reason Apple hasn't yet felt the need to compete in the low-end. Still, eventually, maybe as soon as this year, the sub-$200 smartphones will be good enough that usage will go up, giving ecosystems like Android a boost. Also, post-paid subsidized smartphone growth is beginning to slow, and future growth is clearly in pre-paid, non-subsidized smartphones, and in this comparison the iPhone is currently too expensive. Because of this Apple is likely to come out with a cheaper iPhone or at least something that will compete in the low-end, pre-paid smartphone category in 2013. This means iPhone margins might come down, but if Apple is able to differentiate a high-end iPhone from the low-end iPhone, cannibalization should be low, and cheap iPhone sales should mostly provide new growth.
The iPad Mini has shown the margins don't necessarily have to come down with a lower-priced product as it is expected that margins are as high as the iPad 4 and sales are expected to be robust. During the conference call in October, just after iPad Mini was released, CFO Peter Oppenheimer said the product's margins are "significantly below" corporate margins, but margins for new products always start low and ramp up, and recent teardowns suggest margins north of 40%.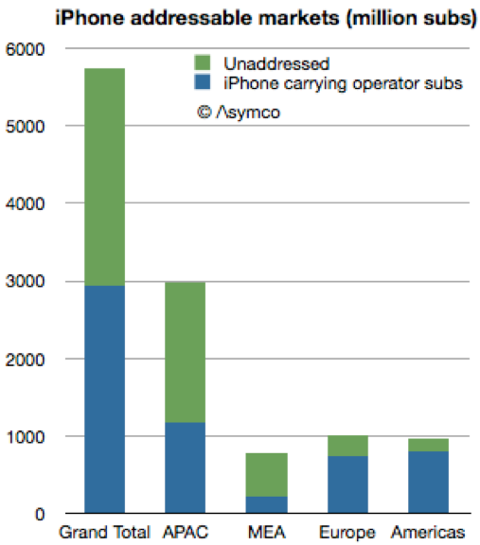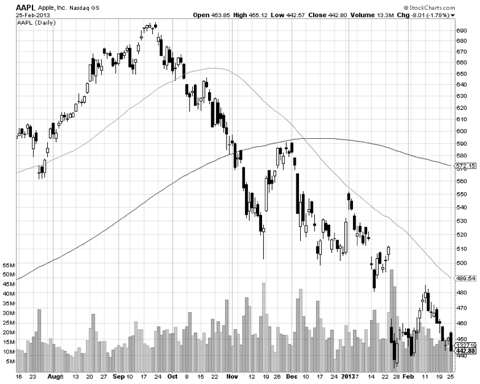 When Will the Stock Rebound?
Unless Apple's profits and free cash flow are going to shrink going forward, the company's shares are cheap. They are priced at 10 times trailing as well as expected fiscal year 2013 earnings and roughly 7 times after extracting cash and securities on reserve in addition to the earnings from those holdings. Nevertheless, shares will only rise if the company provides new reasons to buy the stock. Apple shares hit a low of $437 and some of the extreme-pessimism deflating has allowed the stock to halt its decline though any rebound will need a large catalyst such as a interesting update to a major product, a potential blockbuster new product, or an announcement of a substantially larger dividend or stock buyback.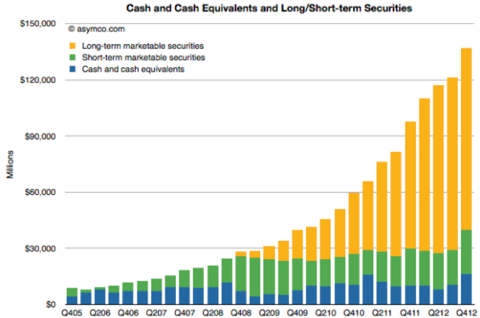 At least one of these is approaching in the coming months, with the use of additional cash for shareholder-friendly initiatives coming in March, updated products coming before July, and there is the possibility of new product categories such as a TV or watch coming by October. A cheaper smartphone product aimed at developing markets would provide the company with the largest boost since there is a vast addressable market that Apple has so far not reached.
However, even without such a product, Apple would likely be able to coast without shrinking profits by just updating its current line of products as they have been due to the potential for the iPad to cover for any potential iPhone share losses or gross profit declines going forward. It is likely that March will see stabilization with possible upward bias to share prices as investors await further clarity from earnings. A rebound due to new catalysts would be magnified because of a swing back from deeply depressed sentiment, and because most weak hands will have been shaken out leaving less supply for new buyers.
Disclosure: I am long AAPL. I may buy GOOG put options and FB call options within the next week. I wrote this article myself, and it expresses my own opinions. I am not receiving compensation for it (other than from Seeking Alpha). I have no business relationship with any company whose stock is mentioned in this article.