Vivus (NASDAQ:VVUS) has confirmed in an SEC filing that institutional holder First Manhattan Co. has nominated 6 individuals for the Vivus Board Of Directors. First Manhattan has increased its stake in Vivus to 8.8% as of the filing and has expressed feelings that Vivus has managed the launch of anti-obesity drug Qsymia poorly.
Investors in Vivus and the prescription anti-obesity sector as a whole will want to pay attention to this developing issue closely. There is a lot more at stake than just the board seats at Vivus. At stake is the fundamental question as to whether or not the size of the market was vastly overestimated. If you are invested in Arena (NASDAQ:ARNA) or Orexigen (NASDAQ:OREX), this issue is as important to you as it is to investors in Vivus.
When Arena and the Vivus received FDA approval of their respective drugs last summer the expectations were quite high. After all it only made sense given the raw numbers of obese and overweight people. Everyone had high expectations. The term "BLOCKBUSTER" was bandied about with regularity and investors (institutional as well as retail) saw dollar signs. Vivus launched Qsymia and sales were far less than expected and called into question the sector as a whole. All equities in the sector have suffered since.
I fully realize that there will be passionate fans of Arena and Vivus that will slam me for what I am saying, but true savvy investors see that the numbers do not lie. Vivus, as expected, has tumbled and Arena has been flat despite the anticipated launch of Belviq at any moment.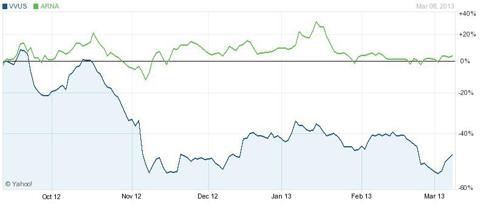 The fact is that thus far Qsymia has not met expectations in terms of sales. It is easy to blame the restrictions on the anti-obesity drug Qsymia, but after nearly 6 months we need to ask some questions. The weight loss market is indeed huge. Is the PRESCRIPTION weight loss market huge though? Will Belviq, free of the REMS restrictions, have better success? Is that twice as good? Five times as good? Or is it 10 times as good? Is the Arena partnership with Eisai a big differentiator with Arena getting one third of net sales? Is the Vivus strategy to go without a partner better?
First Manhattan Co. feels that the current Vivus board and management have dropped the ball. The investor has indicated that management should have a partner to help with marketing. The institution feels that the Board of Directors needs more vision and leadership.
Thinking more deeply, investors have some interesting things to consider. It appears that First Manhattan believes that the Arena strategy of having a partner is the way to go. This gives hope to the sector. If First Manhattan is correct, then Arena investors have some hope in the path management there has taken. If First Manhattan is wrong, then the sector as a whole is simply not as lucrative as everyone once thought.
What Vivus investors need to consider is whether the First Manhattan Board slate is more deserving than the current Board. The direction of the company has serious potential to shift. That can involve growing pains as well as corporate confusion. Of course, the best possible situation is that sales of Qsymia increase to levels that prove it to be viable.
Vivus investors need to watch Arena closely. Over the next few months proxy statements will be mailed to investors in the company. One item on the agenda will be the election of a Board. The initial launch of Belviq from Arena will likely be instrumental in what transpires with the Vivus vote and strategy going forward. It is the launch of Belviq, and the initial results that will tell the story of the potential in the PRESCRIPTION weight loss market. Bringing in a partner, as First Manhattan wants, could bring in money, something Vivus will be in need of.
Arena investors will want to watch the Belviq launch closely, but also want to watch the direction of Vivus. If Vivus does move into a direction more like Arena, the proverbial gloves could come off. Arena has had the benefit of up front money from its partner Eisai. In exchange, Arena is giving up longer term revenue potential. If Vivus does go the route of bringing in a partner, or selling the company, the player involved could be a 600 pound gorilla. This has to be considered.
Orexigen investors will simply want to watch the process play out and compare what is happening with Arena, Vivus, and the prescription anti-obesity market as a whole to see if the direction Orexigen is moving is the right path. The disadvantage for Orexigen is that it does not yet have FDA approval. The advantage is that it gets the benefit of seeing what works and what does not work before deciding on a direction.
The bottom line is that there will be a lot happening over the next few months that will impact all of these equities. They are more closely interrelated than many people realize. If you are invested in any one of them you should have all three on your watch list.
Disclosure: I am long ARNA. I wrote this article myself, and it expresses my own opinions. I am not receiving compensation for it (other than from Seeking Alpha). I have no business relationship with any company whose stock is mentioned in this article.
Additional disclosure: I have no position in Vivus or Orexigen.