Dividend investing is a remarkably popular topic now as more baby boomers approach retirement and see their social security checks stagnating. Dividend investing is not just for widows and retirees, investors of all ages can appreciate the benefits of compounded dividend repurchases as they slowly accumulate positions. Savings rates are nearly zero and will likely stay that way unless the Federal Reserve reverses course. As a result, many investors are pursuing high yielding equities because of their generally strong financial position and ability to generate income. While some investors are buying Italian ten-year bonds yielding less than five percent, I would suggest considering relatively safe American equities with comparable yields.
This week there are 15 candidates, five of which have been analyzed below based upon SA readership criteria. Note that the financial services firms going ex-dividend this week have been analyzed in a separate article to better address the intricacies in those companies. Aside from the financial services firms, consumer discretionary dominates with four candidates this week. Unsurprisingly the financial equities all have the highest yields but there are two other companies with yields above fiver percent discussed below. Market capitalizations are once again concentrated in the small cap bracket but there are a few larger firms. I prefer that my ex-dividend candidates have market caps greater than five billion dollars but that is not a requirement. Wednesday is a very popular ex-dividend date for this week but one equity goes ex-dividend as early as today.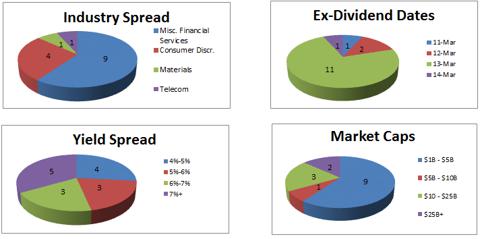 For details of the strategy and my screener details, please consult my methodology on the topic (last modified 1/21/2013). In brief, the screen focuses on relative stable equities with a concentration on liquid companies at affordable valuations. This is summarized below:
Dividend Yield ≥ 4.0%
Ex-Dividend Date = Next Week
Market Capitalization ≥ $1B
P/E Ratio: 0-20
Institutional Ownership ≥ 15%
Ideally Modest YTD S&P 500 Underperformance
Minimal European Exposure
After applying this screen I arrived at the equities discussed below. Depending on your belief in the investment hypothesis, you may decide to hold long enough for the dividend or to hold for long-term. The information presented below should simply be a starting point for further equity research in consultation with your professional financial advisor before making an investment decision. My goal is to present new companies to you and provide a brief overview of their recent developments; this should not be considered a substitute for your own due diligence.
Altria Group (MO): 5.29% Yield; Ex-Dividend 3/9
Altria is one of the largest tobacco companies with major brands such as Marlboro and Virginia Slims. Tobacco companies make for great investments in all types of economies because tobacco users are always willing to buy the inelastic product. I have invested in both Altria and Philip Morris (PM) with capital gains and dividends over the years. US cigarette volume is declining, but tobacco is still a strong worldwide seller. Furthermore, declines in cigarettes are being partially offset by demand for smokeless tobacco and other products, such eSigs.
Altria has taken financial steps to improve the company in the face of declining tobacco sales. In the third quarter over $250M of stock was repurchased and the $1B repurchase plan was expanded by $500M. As of December 31, 2012, 15.3M shares have been repurchased at a cost of approximately $490M. Altria has also been active in refinancing its debt to lower its coupon payments. Tobacco companies are both mature and safe, which presents the opportunity to return equity to shareholders via dividends and share repurchases. The complex partnership between the tobacco industry and the FDA is approaching critical benchmarks that all tobacco investors must monitor. For these reasons, I hold MO in my "Great Recession II" portfolio. Altria increased the dividend by more than seven percent in August and investors should keep their eyes open for another increase in August if the tradition holds.
Garmin (GRMN): 5.14% Yield; Ex-Dividend 3/13
Garmin specializes in global positioning systems ("GPS") technology, specifically stand-alone GPS receivers for automobiles. I have been bearish on Garmin for as I believe the company is overvalued in an industry that faces a steep decline going forward. Revenues and earnings continue to weaken at slow rate but the company has no debt and its strong liquidity/solvency position should keep the company chugging along for the near future. The dividend is respectable and was just recently increased but I cannot recommend Garmin for either an investment or dividend capture. Garmin has been staying afloat by taking market share from smaller rivals but the declines in revenues are becoming too difficult for Garmin to overcome. Earnings forecasts for 2013 came in steeply below estimates and the stock has declined nine percent in the past quarter. I have been bearish on Garmin for years due to smartphone competition and it appears that the competition is having a dramatic impact on Garmin.
BCE, Inc. (NYSE:BCE): 4.94% Yield; Ex-Dividend 3/13
BCE is the largest communication company in Canada with operating segments including television, landline, cellular phone, and even content generation. BCE is similar to the large American telecom companies but BCE benefits from less competition and is more diversified than American companies like Verizon (NYSE:VZ).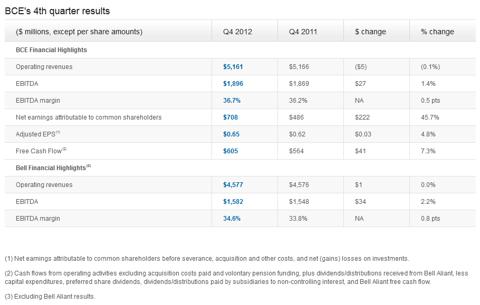 (Source: BCE Investor Relations)
The primary weak spot for BCE is declines in its legacy voice operations. Despite contracting revenues, Bell Aliant still generated over $1.3B of EBITDA in 2011. The introductions of Bell Media and growth in Bell Wireless have more than offset the declines in wireline operations.
The dividend has exhibited strong growth since 2010 but the rate of appreciation has slowed. The payout ratio is currently 65.5% but management is targeting a payout ratio between 65% and 75% of adjusted EPS so there is still opportunity for future increases. As Bell Media gets more established I believe that BCE can continue to reward investors. The stock is already up 6.3% so far in 2013 and now is less than one percent from its 52-week high. The risk of dividend capturing is always elevated at the 52-week high but it appears as if BCE is positioned well for the long-term. Note that there may be tax implications for investing in this Canadian company.
Newmont Mining Corp. (NYSE:NEM): 4.33% Yield; Ex-Dividend 3/11
Newmont is one of the world's largest gold producing firms with over 99.2 million attributable ounces of proven and probable gold reserves in addition to 9.5 billion attributable pounds of proven and probable copper reserves. Comparisons between 2012 and 2011 are difficult due to a $2.1B writedown in 2011 but Newmont had a very good 2012 in which it set records for revenue and dividend distributions. Newmont has a solid financial position with strong liquidity (1.5 quick ratio) and above average solvency (0.5 debt/equity). Companies like Newmont are dividend investors' dreams as they have resilient cash flows from operations. In the past three years cash flows from operations have been $3.2B, $3.6B, and $2.4B, respectively. In 2012 Newmont raised approximately $1.55B of net debt but I am not concerned given the financial position discussed above.

(Source: Finviz.com)
Gold is currently trading at $1,578 per 100 troy ounces, which is near a 52-week low. As you can see from the chart above, gold has approached $1,800 twice in the past year as concerns about the global economy grew. As unemployment continues to decline, gold has generally been following suit. Unfortunately this is not good news for Newmont which derives most of its revenue from gold mining. "All-in" cost per ounce of gold was $1,149, indicating that the company has a very solid gross margin even with gold at such low levels. The stock has been in a steep decline since gold last peaked and is now less than two percent above its 52-week low. This is a tricky company for ex-dividend capturing as it is subject to many external, macro factors but I would at least consider it for future research based on its current valuation.
Despite distributing a record $695M to shareholders in 2012, the payout ratio is under 40% of adjusted net income. Newmont is a dividend fallen angel as the stock has dropped nearly 30% in the past year, which explains the high yield. The dividend payment has held flat at $.35 per quarter, which was already very respectable for a mining company, but it was just hiked 21%.
Shaw Communications (SJR): 4.16% Yield; Ex-Dividend 3/13
Shaw Communications engages in diversified entertainment offerings with a focus on Canadian cable television. Cable companies have traditionally been able to distribute sufficient cash flows to investors but the tides are shifting with the rapidly rising cost of content. Sports programming is a double-edged sword because it is one of the biggest advantages over Internet streaming; however, it is the most expensive for cable companies to offer. This is still a 'cash cow' industry but it is changing too quickly for me to support investing in it. For example, Intel (NASDAQ:INTC) is just one mega-cap technology company that is threatening to disrupt the television industry with a potential new offering.
Factor in the popularity of Internet connected televisions and other devices and I am not extremely bullish on the traditional entertainment content business model. I do not believe that investors are being adequately compensated for the level of risk assumed and the other companies mentioned offer higher yields for less risk. Note that Shaw pays dividends on a monthly basis.
The information presented has been summarized below. I make no guarantees regarding the information in the chart as industry classifications are frequently imperfect. Orange and green represent "avoid" and "consider" classifications, respectively. All utilities in blue have been analyzed in a separate article.

Disclosure: I am long MO, PM, VZ. I wrote this article myself, and it expresses my own opinions. I am not receiving compensation for it (other than from Seeking Alpha). I have no business relationship with any company whose stock is mentioned in this article.
Additional disclosure: Please refer to profile page for disclaimers.