Foot Locker (NYSE:FL) is a retailer of athletic footwear and apparel, with over $6B in sales in 2012. The company operates 3,345 stores under the Foot Locker, Lady Foot Locker, Kids Foot Locker, Champs Sports, Footaction, and CCS names, and acts as a direct retailer via the East Bay franchise. Foot Locker also operates internationally throughout Europe, Canada, Australia, New Zealand, and Puerto Rico, and licenses to franchisees in the Middle East and South Korea. The company reported its fiscal earnings on Friday, March 8th, which caused a sell off of over 7%, closing at $32.79. Foot Locker is a fundamentally sound retailer, and this sell off presents a buying opportunity for a long term investor.
DCF Value Demonstrates FL is Undervalued By 32%
Using a discounted cash flow model to calculate stock value per share shows Foot Locker is currently undervalued. The EPS of FL is currently $2.58, and the average analyst estimate for growth is 12.1% for the next 5 years. Beyond 5 years, the model uses a future growth rate of 3.2%, which is the past 5 year growth of the S&P 500, and a discount rate of 12% (the average expected return of S&P 500). This model is fairly conservative, and it yields a stock value per share of $43.33, which is a 32% upside from Friday's closing price of 32.79.

On March 8th, Foot Locker slightly beat both on both the 4Q EPS and Revenue Lines. However, during the call the company's CFO Lauren Peters stated that the company expects to deliver a "double-digit percentage annual profit increase for 2013, driven by a mid-single-digit comp sales gain." This is what most analysts are blaming for the sell off, as FL's expectations were set much higher. That statement has been translated to project 2013 EPS at around 2.72 per share, instead of the 2.83 which is the current consensus estimate.
By analyzing the same DCF model, a reduction of the 5 Year growth rate from 12.1% to 5.4% is required to achieve next year's EPS of 2.72 (over a 50% reduction in analyst growth projection). Using 5.4% in the model as a 5 year growth projection, with the other parameters the same, results in an IV of $33.12. This demonstrates that the current pricing would be fair value even if sales were not half of the current projections.
During the conference call, CEO Ken Hicks commented that 2012 presented a "terrific" February for sales, and this year's February sales have surpassed that performance. In addition, he indicated March sales were off to a strong start, already up single digit percentages from the year before. These early indicators put Foot Locker off to a solid pace to achieve 2013 projections.
Foot Locker is Demonstrating Dividend Growth
Foot Locker currently yields a respectable 2.4%, and over the past 3 years the company has shown a strong commitment to increasing dividend payouts.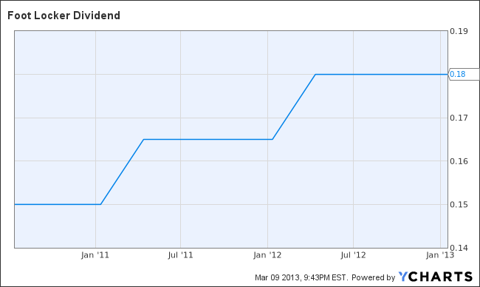 Additionally, Foot Locker recently declared its April Dividend to be $0.20 per share, which is an 11% increase over the last payout. This marks the 3rd year where the company has increased its dividend, which is a 33% growth (0.15 -> 0.20). The Ex-Dividend date was declared for 4/17/13.
Foot Locker's current payout ratio is around 36% (well below 50%), which is a good sign that the dividend is not only safe to continue at these levels, but allows some room for future growth as well.
Foot Locker's P/E Ratio is historically low
Foot Locker's current PE Ratio is 12.7, which is shown in the below graph.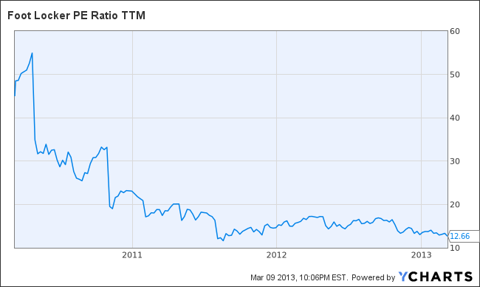 This is the lowest PE Foot Locker has traded at since Fall 2011, and is well below the 3 year trading average of 16.8.
Foot Locker has done an incredible job increasing business returns
The following chart demonstrates the Percent Change of Return on Equity and Return on Assets for Foot Locker.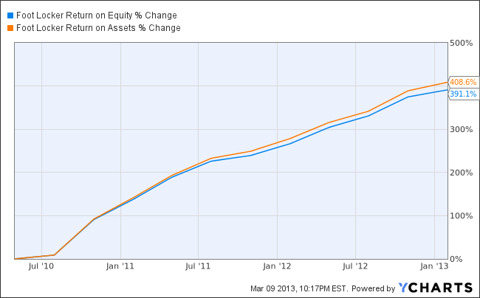 Since 2010, FL has been able to improve its returns 4x, which clearly demonstrates the current management team's ability to increase shareholder value and drive future revenues.
Foot Locker's Free Cash Flow Enables Expansion and New Initiatives
FL currently has $330M in Free Cash Flow, which is one of its strongest positions in the past 5 years.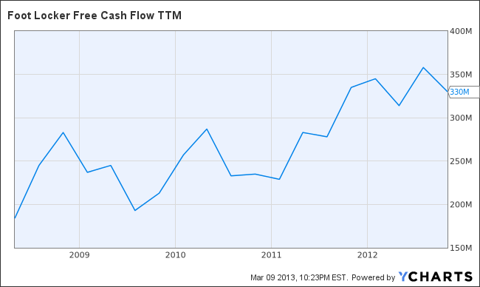 The company has recently announced several 2013 initiatives aimed at both expansion and driving efficient growth. First, they will continue to remodel several franchises in 2013. Champs stores have a remodel target of 15% of their locations by the end of the year. Champs stores which have been remodeled to date have seen significant productivity increases, which will help grow margins. They have also targeted a remodel of 10% of Foot Locker locations, which will be modeled after a prototype in the Willowbrook, NJ mall. This store saw significant sales increases under the new layout.
Internally, they are targeting a significant upgrade to their inventory and warehouse management systems. This is a focus on improving their ability to deliver products both to stores and customers in a reduced timeline.
Finally, they are targeting expansion in the European markets. Nearly one-half of the targeted store openings identified are in Western Europe, which has been identified as a high-growth demographic.
Foot Locker has improved Profit Margins
The following chart shows Foot Locker's Profit Margin performance over the past 3 years. Over this period, the company's Gross Margins have improved over 40%, while profit margins have improved over 7%.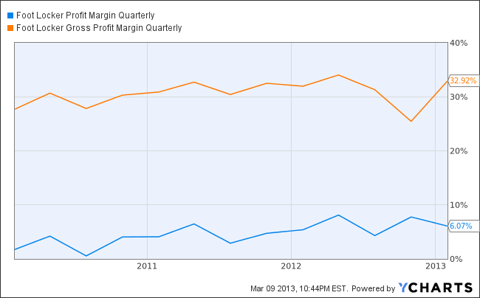 This profit margin improvement can be credited to the management team, as they have stated that they have not improved margins with vendors. They attribute this improvement to decisions made in both business intelligence and planning systems, which enable more efficient inventory processing. While they have stated they expect 2013 margins to be essentially flat, their investment this year in the warehouse management system should pay of in 2014.
Foot Locker is in a strong debt position
Foot Locker maintains a strong operating position, with a current ratio of 3.7, which is right on point with its 5 year average.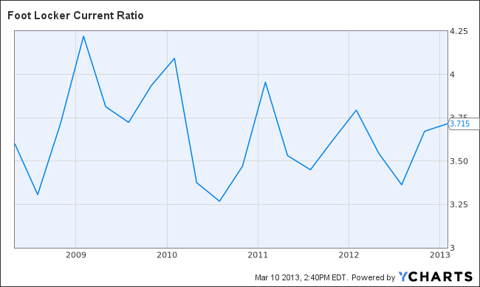 Additionally, FL's debt-to-equity ratio has been steadily declining, and is currently below its 5 year average of 0.7.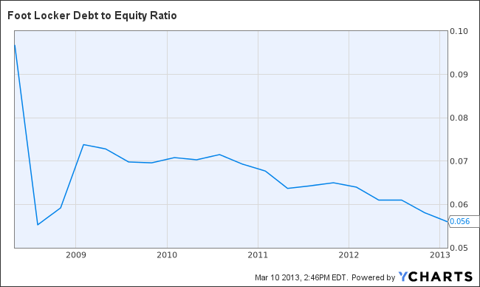 Not being heavily burdened by debt gives management the flexibility to improve overall performance by investing in productivity upgrades targeted at increasing sales and margins growth.
FL has improved Its Days Inventory
Days inventory is a quick metric that shows how many days an item is held in inventory before it is sold. For an apparel company, which is dominated by changing fashion trends, this is a good indicator of how well they understand the market demand, and if they are stocking the products consumers are looking to buy.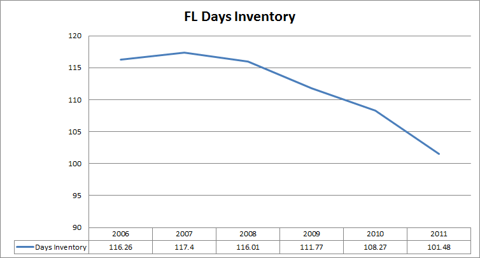 Foot Locker's past 5 years has seen a ~5% reduction in days inventory, which demonstrates they have been improving their product choices and identifying consumer trends.
FL has a PEG lower than Industry Peers
A quick look at comparable competitors across the Apparel Stores industry shows Foot Locker currently has a low PEG ratio.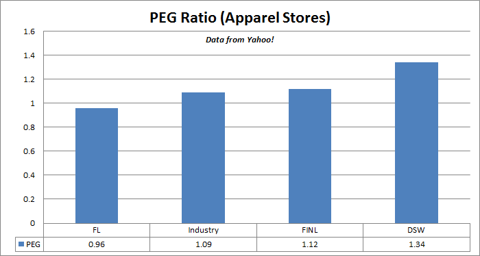 This demonstrates that buying Foot Locker now will not require paying a premium for future growth earnings, compared to other industry competitors.
Foot Locker is Academically Fit
As habit, it's always good to also check a company's performance against a set of academic-related metrics to serve as a spot-check of fundamental analysis. These easy metrics can shine a light on any financial problems that may need further research.
First is the Piotroski score, which leverages the academic work of University of Chicago Professor Joseph Piotroski. He devised a simple scoring mechanism to measure 9 simple tests, and give a binary rating against each. His research proposed that firms scoring between 7-9 should typically outperform the market. The FL Score is 8, which is a Pass. As an aside, they have scored 7 or better each of the past 3 years.
Next, the Altman Z-Score, which is another academic metric based on the work of Edward Altman from NYU. His research creates a scoring mechanism that has been demonstrated to predict company bankruptcy risk. If a company scores greater than 2.99, they are considered financially safe from distress, while anything under that requires further investigation into the company's long-term viability. The FL score is a solid 6.77, which is a Pass.
Last is the M-Score, an academic metric based on the work of Messod Beneish of Indiana University. This research provides an indicator of risk that Earnings have been manipulated to paint a more favorable picture of performance than should be recognized. An M-Score of less than -2.22 suggests the company is not manipulating earnings and requires no further investigation. The FL score is -4.79, which is a Pass.

And Finally...the F.A.S.T. Graph
In one of my earlier articles, a commenter noted the only thing missing was the inclusion of a F.A.S.T. Graph. Luckily, Chuck "Mr. Valuation" Carnevale posted this article last month, and I have copied over his F.A.S.T. Graph from that analysis of Foot Locker below.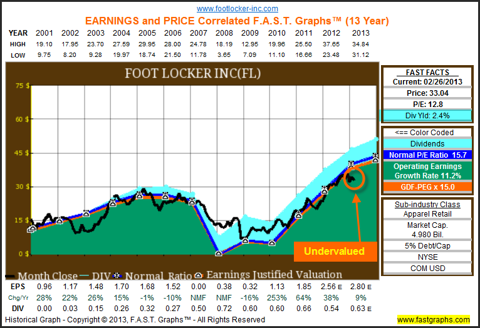 The F.A.S.T. graph demonstrates FL is undervalued when trading at $33.04, and so the current price of $32.79 at market close on Friday presents an excellent entry point.
Foot Locker is a fundamentally sound business, which presents an excellent opportunity to long-term investors.
Disclosure: I have no positions in any stocks mentioned, but may initiate a long position in FL over the next 72 hours. I wrote this article myself, and it expresses my own opinions. I am not receiving compensation for it (other than from Seeking Alpha). I have no business relationship with any company whose stock is mentioned in this article.
Additional disclosure: I plan to initiate a long position in Foot Locker 3/11/13.