Nine months ago, I posted an introduction to monthly pay dividend dogs based on a collection of sixteen stocks supplemented by dozens of funds and trusts. The next month, I published the list below, composed mainly of stocks with some funds and trusts beginning to creep on.
That article's 22 companies paying out monthly dividends were ranked as of July 12, 2012 using the two key dog performance metrics: (1) stock price; (2) annual dividend, dividing the annual dividend by the price declared the percentage yield by which each dividend dog stock was ranked.
Historically, dividend dog investors utilized this ranking system to select portfolios of five or ten stocks in any one index, sector, survey, or list to trade. They awaited the results from their investments in the lowest priced, highest yielding stocks and prayed that the price of every stock they now owned would climb higher (having locked in a high yield percentage at purchase).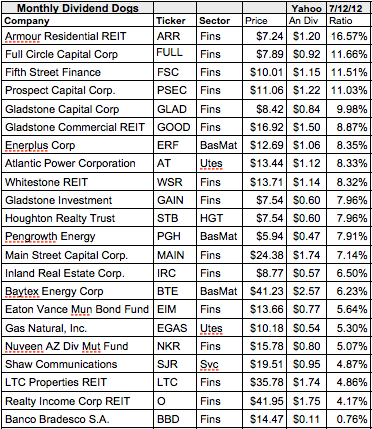 Ten monthly dividend stocks showing the biggest yields as of July 12 included equities representing just three of nine market sectors. The top yielding stock as revealed by Yahoo Finance data, was one of eight in the financial sector, Armour Residential REIT (NYSE:ARR). The other seven financial firms were: Full Circle Capital Corp. (FULL), Fifth Street Finance Corp (NYSE:FSC), Prospect Capital Corp. (NASDAQ:PSEC), Gladstone Capital Corp (NASDAQ:GLAD), Gladstone Commercial Corp (NASDAQ:GOOD), Whitestone REIT (NYSEMKT:WSR), Gladstone Investment Co (NASDAQ:GAIN). The balance of the top ten included: one basic materials firm, Enerplus Corporation (NYSE:ERF); one utility, Atlantic Power Corporation (NYSE:AT) representing the sectors.
Dividend vs. Price Results Signaled Bull Market After July
Below relative strengths for the top ten Mo Pay Dividend Dogs by yield was graphed as of June 4, 2012. Six months of historic projected annual dividend history from $1000 invested in the ten highest yielding stocks and the total single share prices of those ten stocks created data points for each month shown in green for price and blue for dividends.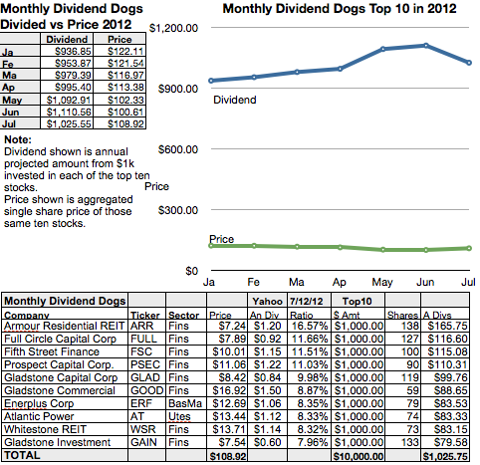 Between January and June 2012, aggregate single share price for the top ten declined 17.6%, while projected dividends from those ten invested at $1k each increased 18.54% for that period in classic bearish mode. From June 4 to July 12, however, a bull charged and the list displayed 8.26% rising aggregate share price for the top ten combined with a 7.65% lower dividend amount from $1k invested in each of those ten. Thus a bull market was forecast.
Analysts Forecast July 2013 Net Gains in 10 MoPay Dogs at 23.42%
Top ten dogs for the Mo Pay list were graphed below to show relative strengths by dividend and price as of July 12, 2012 and those projected to July 12, 2013.
Historic prices and actual dividends paid from $1000 invested in the ten highest yielding stocks, and the aggregate single share prices of those ten stocks created the data points for 2012. Projections based on estimated increases in dividend amounts from $1000 invested in the ten highest yielding stocks and aggregate one year analyst mean target prices as reported by Yahoo Finance, created the 2013 data points, green for price and blue for dividends.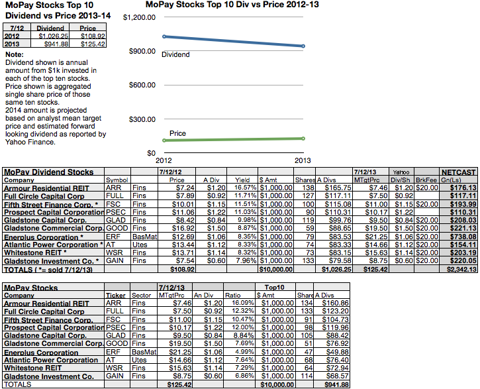 For the coming year, Yahoo Finance projected a 8.23% lower dividend from $1k invested in each stock within this group, while aggregate single share price for the ten was projected by analysts to increase by 15.15%. Probable trades revealed by Yahoo for 2013 were: Enerplus Corporation, netting $738.08, Gladstone Commercial Corp. netting $221.13, Gladstone Investment Corp, netting $220.05, Gladstone Capital, netting $208.03, and Whitestone REIT, netting $203.19 as of next July. The resulting net gain from dividends and swept price gains from those five trades was 21.81% from $10k invested according to analyst estimates.
Following Top 10 MoPay Dividend Dog Tracks July to January
As promised, a semi-annual update was plotted below to reveal whether analyst projected gains are happening so far in 2013.
The charts below were produced by adding accumulated dividends since July 2012 to the stock price each month multiplied by the number of shares purchased for $1k in July to reveal monthly book values for the ten July MoPay dividend dogs.
Analysts Forecast July 2013 Gains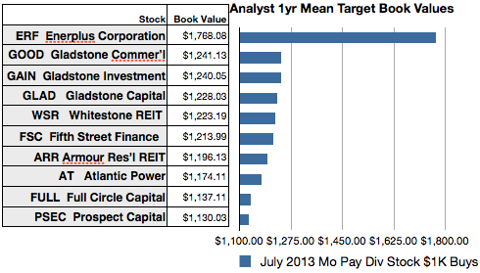 Yahoo Finance reported analyst mean target prices to be highest for Enerplus Corporation with a near 77% gain and lowest for Prospect Capital with an interest only gain of just 13% for the year.
January 2013 Market Book Values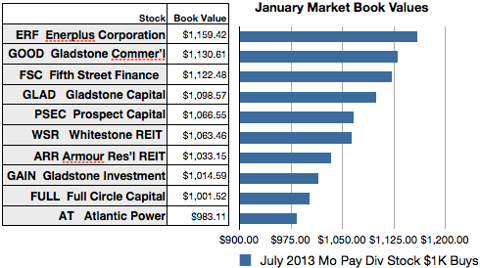 Six moths prior to year-end Yahoo Finance showed Enerplus corporation to be top gainer in book value up nearly 16% and Atlantic Power as the only pure loser of book value down 1.7%. Of the ten MoPay dogs only FSC is within $100 of its analyst annual mean target price.
Monthly Gyrations of MoPay Top 10 Book Values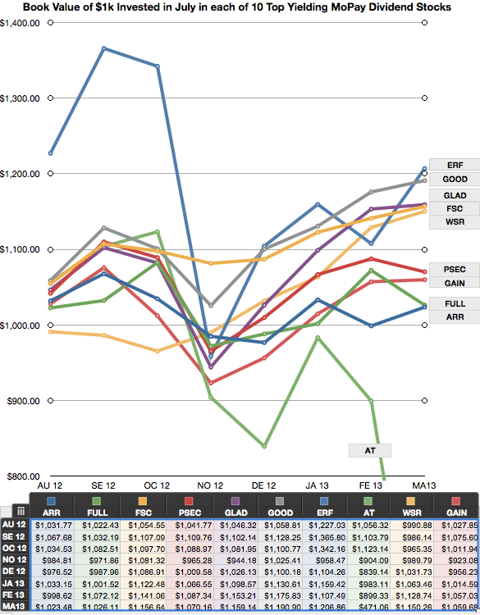 Book value gyrations the top ten MoPay dogs from August 12, 2012 to March 7, 2013 show nine of the ten above their initial $1k purchase cost as of March 7. The one laggard is Atlantic Power, which has sagged nearly 60% in the past eight months, cutting dividend per share from $.09 per month to $.03. Atlantic Power July stockholders are left with the dilemma of selling at a loss or increasing their holdings at a price below book value. Note that in November, eight of the ten MoPay Dogs were underwater with book values below their $1k purchase price. At that time only Fifth Street Finance and Gladstone Commercial retained book values over $1k.
Stay tuned for future MoPay comparisons to other dog lists. Look for a July annual update to show how well or whether projected gains for this pack of dogs occur.
Disclaimer: This article is for informational and educational purposes only and should not be construed to constitute investment advice. Nothing contained herein shall constitute a solicitation, recommendation or endorsement to buy or sell any security. Prices and returns on equities in this article except as noted are listed without consideration of fees, commissions, taxes, penalties, or interest payable due to purchasing, holding, or selling same.
Disclosure: I am long ARR, AT, FSC. I wrote this article myself, and it expresses my own opinions. I am not receiving compensation for it (other than from Seeking Alpha). I have no business relationship with any company whose stock is mentioned in this article.