The Walt Disney Company (NYSE:DIS) is usually associated with its franchises, a legacy fueled by a Mickey Mouse craze with its roots in the Great Depression. What we often forget is that Disney started out as a tech company. The origin of Mickey's fame was not brilliant storytelling, but to two then-cutting edge technologies: animation, and sound effects. Steamboat Willie, Disney's first "talkie" or cartoon film with a synchronized soundtrack, led to international fame for both Mickey Mouse and Walt Disney himself. Technology paved the way for the technological miracle of Disneyland.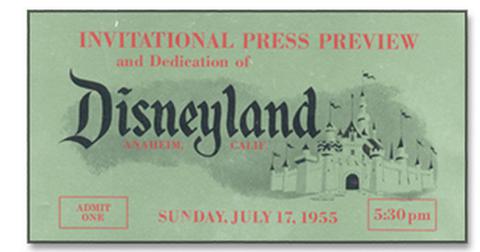 Disney's other defining characteristic is the company's mastery of the serialization model. In a world where even the most successful television shows are senior citizens once they pass their 10th birthday, Disney's franchises are unusually long lived. If you're under 80 years of age, then Disney owns your childhood. It's not inconceivable that one day, a 5-year old will be watching Cinderella while orbiting another star, far, far away from planet Earth.
Or maybe Star Wars.
Disney's acquisition of Lucasfilm entertainment is the most significant event to penetrate mass consciousness since the death of Steve Jobs. To add fuel to the fan boy fire, George Lucas has unofficially confirmed that Mark Hamil, Harrison Ford and Carrie Fischer will be returning to the big screen as Luke, Han and Leia in the soon-to-be box office destroying Star Wars VII in 2015.
How much is Star Wars worth? Let's do the math.
Franchise
The most widely cited estimate is $33 billion, as broken down in the figure below.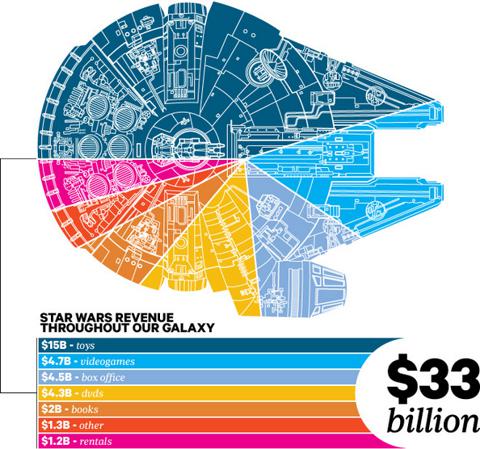 However, this infographic contains a number of glaring flaws, the most obvious of which is that it's limited to past revenues, while stock prices are concerned with future earnings. The categories "rentals" and "DVD's" hardly apply to today's content distribution channels. Nor are the box office receipts adjusted for inflation.
To reasonably forecast future Star Wars revenue - and therefore earnings - we'll have to start from scratch.
Box Office
The first thing we realize when attempting to calculate the inflation adjusted box office for Star Wars is just how slippery the numbers are. The original Star Wars was released in a stagflationary environment, whereas Jedi was released in a much lower rate environment.
Worse, international inflation rates have fluctuated dramatically over the past 40 years, making any precise calculation of foreign box office sales prohibitive. Adding to the confusion is the fact that the first trilogy was later re-released in theaters.
Hollywood attempts to adjust for these variables by ignoring CPI, focusing instead on the relative price of a movie ticket. By splitting the difference, we arrive at a conservative Worldwide Box Office estimate of $2.2-$2.4 billion for A New Hope, around $1.5 billion apiece for Empire and Jedi, $1.39 billion for Phantom Menace, $840 million for Attack of the Clones, and $1 billion for Revenge of the Sith.
By jettisoning the highest and lowest grossing films, we arrive at an adjusted average gross of $1.35 billion per film. Absent a re-appearance of Jar Jar Binks, it's a reasonable enough estimate.
It's reasonable to assume that Disney plans to get at least 6 movies. If the first movie is released on schedule in 2015, then Disney should be able to generate $8.1 billion in worldwide ticket sales by 2025.
Spin-offs
I'm going to throw some names at you to test your inner geek: Mara Jade. Exar Kun. Grand Admiral Thrawn. Boba Fett. Darth Krayt. Mos Eisley. Aayla Secura. Ben Skywalker. Jaina and Jacen Solo. HK-47. Cad Bane. Starkiller. Kyle Kartarn. Darth Revan.
Don't know who these characters are? You will.
At the core of Star Wars is the Star Wars Universe, filled with 17,000 characters spanning a 20,000 year fictional timeline. Disney's CEO Bob Iger confirmed that Lucasfilm had plans to have stand-alone Star Wars movies with Lawrence Kasdan and Simon Kinberg lined up to develop the movies that would be released some time during the six-year period of the next sequel trilogy.
What Disney doesn't develop, it's likely to license to other studios. Sony (NYSE:SNE) owns the rights to Spider Man, and X-Men has been licensed to 20th Century Fox (NASDAQ:NWS). Spin-offs could easily yield an additional $6 billion in revenue for Disney, if video games are included. The games to movies ratio for Star Wars is 130:6.
Toys/Action Figures
Between 1978 and 1985, Kenner released 90 different Star Wars action figures, for a total of 300 million units. Action figures cost a good deal more than they used to - the running average on Spider Man figures is currently $12-$15 at Wal-Mart, but we'll low ball it: $3.6 billion per trilogy.
Our figure stacks up pretty well against the estimates below from Statisticsbrain, who puts it at $3.85 billion.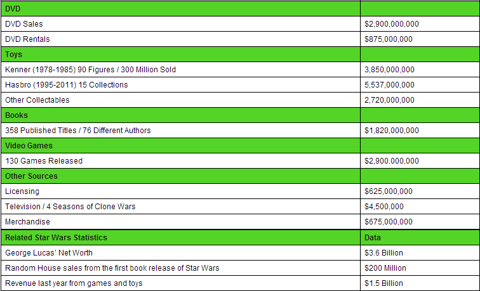 (Source: Statisticsbrain)
Toys tend to hang out on shelves up to a year after a movie release, so let's call it $3.6 billion per trilogy x 2 trilogies = $7.2 billion in total Star Wars action figure revenue by 2026. "Other collectibles" ($2.72 billion), "Licensing" ($625 million) and (miscellaneous) "Merchandise" ($675 million).
Keep in mind, though, that Wal-Mart (NYSE:WMT), and Hasbro (NASDAQ:HAS) will both take a significant bite. With wholesale toy prices averaging 50% of sticker and Hasbro's usual cut of 18%, Disney's profit margin will be considerably squeezed. Star Wars toys: $4.3 billion.
DVDs & Books
More troubling due to online piracy is the DVDs division. Even with favorable streaming agreements, it's difficult to see how Netflix (NASDAQ:NFLX) would bring in more revenue than video rentals. As the scale of Star Wars piracy is likely to equal that of Game of Thrones, Disney takes about a $2.4 billion hit here. Anniversary re-releases will be of little assistance.
Disney is in the same boat with books, but the damage here is more likely to be contained. Assuming rentals at par: $3.1 billion by 2025.
Bloody pirates!
Lucasfilm
Lucasfilm generates $200 million per year through Industrial Light & Magic, Skywalker Sound, and Lucas Books. (THX was spun off in 2001.) Lucasfilm value added (by 2025): $2.4 billion.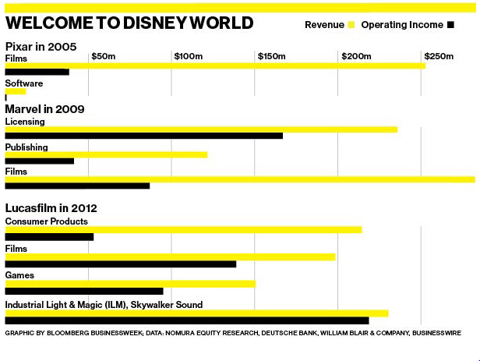 Anniversary Re-Releases
20th Century Fox, the distributors of the first six Star Wars films, still retain the distribution rights to the original two Star Wars trilogies, owning permanent distribution rights for the original film Star Wars Episode IV: A New Hope, while holding the distribution to Episodes I-III, V and VI until May 2020.
Theme Parks
Below are Disney's Park and Resort revenues for Q4 2012. If new Star Wars attractions increase Disney's resort traffic and customer spend by only 5.5%, it will generate an additional $175 million per year after expenses, depreciation and amortization.

This is the low ball estimate. That's assuming that Disney doesn't create a Star Wars themed "world," as the company is already developing for its Marvel characters. Value added 2012-2025: $2.1 billion.
TOTAL
Our back of the envelope calculation is somewhat smaller than the $33 billion figure being bandied around in the news: $26 billion.
Sharp-eyed readers will note that advertising revenue has been backed out of our calculation. Our theme park estimate applies only to relatively minimal additions; a dedicated Star Wars "world" would bring in even more revenue. Synergies between Lucasfilm/ILM, Pixar and Disney Studios are left unexplored.
However, we equally left out park development costs, movie production budgets, marketing costs, programming overhead and the like, which will almost certainly outpace any advertising profits or synergies Disney can hope to realize.
Conclusion
I believe $18-20 billion over the next 12 years is probably close to the real "take home" for Disney investors. This should not by any means be interpreted as a negative. In a single transaction, Disney has purchased a multigenerational audience that Lucas built one film at a time.
Considering its rapidly falling share count and unparalleled management of intellectual property, I believe Disney is poised to outperform in 2013. However, I would advise investors to be prudent at these levels and adopt a dollar cost averaging strategy rather than chase the stock higher.
Disclosure: I am long DIS. I wrote this article myself, and it expresses my own opinions. I am not receiving compensation for it (other than from Seeking Alpha). I have no business relationship with any company whose stock is mentioned in this article.