In its recent March 7, 2013 press release, KannaLife Sciences, Inc announced its entry into a $1.5M Series-A financing agreement with CannaVest Corp (FCLS.OB) and Medical Marijuana, Inc (OTCPK:MJNA) which is collaborating on the transaction. This article will focus on the value of the transaction to help investors better understand the importance of this strategic business arrangement.
Overview
MJNA has recently experienced exponential growth and with its focus on the alignment of its business structure to safeguard investor interests through its licensing strategy. I have written about this in the articles below:
These initiatives have paved the way for a breakout year in 2013. And now with the investment in KannaLife, the company is further adding stability to its operations by focusing on standardizing product packaging, testing and identification with the company's superior product lines. What this translates into is a qualitative initiative to ensure the efficacy of its products. Efficacy refers to the ability of a product to produce the desired effect, but even more so, from a pharmacological perspective, to maximize the desired response from a particular drug or compound. The company is also improving its brand recognition which will create trust for all its product lines.
Strategic Value
Because KannaLife specializes in the research and development of pharmacological products derived from plants, they are uniquely suited to help Medical Marijuana achieve its goals. In July of 2012, KannaLife announced that it had signed an exclusive license agreement with the "National Institutes of Health - Office of Technology Transfer ("NIH-OTT") for the Commercialization of U.S. Patent 6,630,507, "Cannabinoids as Antioxidants and Neuroprotectants" (the "'507 Patent")." KannaLife plans to use Patent 6,630,507 to focus on Hepatic Encephalopathy which is associated with reduced brain function due to various forms of liver toxicity.
The NIH-OTT has oversight and management of intellectual property for the NIH, Department of Health and Human Services [HSS] and the Food and Drug Administration [FDA]. The OTT states on their website that they "are committed to seeing that the public has ongoing access to newer and more effective health care products and procedures."
The granting of the license to Patent 6,630,507 by the NIH-OTT demonstrates the confidence in the capability that KannaLife can successfully develop the intellectual property into successful treatments for disease. So what you, as an investor, now have with the investment with MJNA and CannaVest is a collaborative framework that can acquire and produce raw cannabinoid products, develop them into pharmacological substances while ensuring efficacy and safely packaging them for distribution. These are very complimentary businesses that fit strategically together into a value chain that is recognizable.
The Transaction
The investment transaction is outlined in CannaVEST's March 8, 2013 8-K Filing. As noted in the press release, the company entered into a Series-A Financing for a total of $1.5M. Series-A Financing is usually the first round of financing after the initial start-up capital and is usually derived from venture capital funds. If additional capital is needed in the future, a company can issue Series-B, Series-C and so on with each preceding issue having priority over the following others in regards to claims to future profits.
The total share count was listed as 1,019,813 of Series-A Preferred issued and outstanding and 5,205,000 of Common Stock issued and outstanding. The share breakout is listed below:

The payments are outlined in the table below: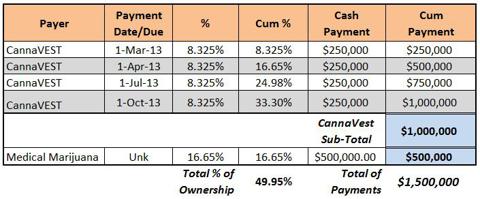 As mentioned in the 8-K Filing, they are contemplating four closings (payments) for a cumulative total of 33.3% that would put CannaVEST's and Medical Marijuana's total ownership at 49.95%. So KannaLife will retain ownership with 50.5% of the issued and outstanding stock.
The CannaVEST 8-K also notes that Medical Marijuana holds an 80% interest in PhytoPHERE. For those who haven't read my previous article on the CannaVEST's purchase of the PhytoPHERE assets for $35M in cash or stock, Medical Marijuana could and most likely will, have enough shares when all payments are made, to have a controlling interest in CannaVEST through the PhytoSPHERE subsidiary.
The 8-K also discloses that the funds for the investment were secured through the issuance of a Promissory Note (the "Note") to Roen Ventures, LLC. The transaction is labeled as "Creation of a Direct Financial Obligation or an Obligation under an Off-Balance Sheet Arrangement of Registrant". Don't be alarmed when you read the words "Off-Balance Sheet Arrangements", the Securities and Exchange Commission allows these and only requires disclosure.
The Note accrues interest at 5% and is due and payable in 2 years. The 8-K further lists Michael Mona, Jr. who is also the President of CannaVEST, as Roen Ventures' sole member of the Board of Directors holding a 50% interest in the company. Mr. Michael Llamas who was one of the chief executives of Medical Marijuana was previously associated with Roen and may also still hold an interest in the entity. Michael Llamas has since been disassociated with any leadership roles in the company and is not listed on the 8-K
This industry is in its infancy and the entrepreneurs that have pioneered it development have complex business arrangements to invest capital and diversify business interest. If you're confused about your investments, seek professional analysis and don't rely on message board chatter. These types of transactions can be difficult to understand and when combined with the volatility of investing in small-caps, can create extreme market reactions.
Conclusion
The marijuana industry is in the "Perfect Storm" for a legislative change. Many states have already passed medical marijuana statutes and others have already adapted or are contemplating recreational use. The federal government is faced with either confronting the state laws that conflict with federal laws on decreasing budgets which have been brought on by the sequestration. The budget issues highlight the cost of enforcement and incarceration. Something will have to give soon.
Medical Marijuana is a profitable portfolio company that has a significant foothold in the evolving legal marijuana industry. Investors should follow this market closely and be prepared when strategic consolidation occurs.
A point to remember; in my opinion, is that the two biggest beneficiaries of the criminalization of marijuana are law enforcement and drug traffickers. And, the two biggest beneficiaries of legalization will be healthcare and agriculture. You may want to adjust your portfolios accordingly if you agree with this hypothesis.
Disclosure: I am long OTCPK:MJNA. I wrote this article myself, and it expresses my own opinions. I am not receiving compensation for it (other than from Seeking Alpha). I have no business relationship with any company whose stock is mentioned in this article.