Last week fellow Seeking Alpha writer David Van Knapp and I were both quick to defend dividends from a ridiculous article that was meant to derail the all important dividends paid by real estate investment trusts (REITs). As any "semi-intelligent" investor knows, REITs distribute (by law) at least 90 percent of their taxable income to shareholders annually in the form of dividends and that is what makes the 53-year-old asset sector so special.
Accordingly, any company that qualifies as a REIT is permitted to deduct dividends paid to its shareholders from its corporate taxable income. But more often, most REITs remit at least 100 percent of their taxable income to their shareholders and therefore owe no corporate tax.
In a previous Seeking Alpha article I explained the value proposition (for REITs):
It's not hard to see why investors are attracted to the idea of high-dividend-paying stocks. On the surface, these investments seem to offer the best of both worlds: the potential for long-term capital appreciation and a steady income stream. But this perception rests on a fundamental misunderstanding of how dividends work.

Dividends come from profits that a company distributes to shareholders. Companies can reinvest the surplus into business projects, repurchase stock, or pay it out to shareholders in the form of dividends. Alternatively, paying out dividends means that a company will have less capital to fund new or existing opportunities (assuming it doesn't raise capital by issuing additional equity).
Now what I found humorous in the slanted article (published last week) was that the author was not even considering the power of the REIT dividend - the secret sauce (or "holy grail") that makes them so attractive. Instead, the anonymous author seemed to behold to the silly notion that REITs are dilutive since they pay out "high" dividends. Here are some of the remarks:
…Often the reason for the high dividend yield is because it's fake value. REITs, by their structure to save on taxes, have to pay out their net incomes in the form of dividends to shareholders. But then the same REITs turn around and raise capital at the expense of the very shareholders they are paying a dividend to, but an amount equal to or even greater than the dividend itself! The end is a wash, and no value is created for shareholders….The reality usually becomes that the dilution experienced has reduced shareholder value in a similar amount to the dividend.
How absurd is this? David Van Knapp agrees with me. He wrote:
Indeed, some of the most efficient, growing, and profitable companies on Earth pay dividends.
More importantly, REITs and REIT investors thrive because the income producing business model serves as a disciplined strategy whereby dividend policies (for REITs) are reliable and predictable. Unlike MLPs and Mortgage REITs (both more volatile alternatives), Equity REITs provide a more durable income stream making for an attractively stable and reliable dividend yield - a must for a retiree's portfolio. David Van Knapp argued that point well:
In any event, REITs have no choice. To draw a one-to-one correspondence between new capital and dividends, and then to conclude that the dividends are therefore a mirage, strikes me as silly.
The Power of Compounding
One of the most important attributes that was not even mentioned in the article was the fact that REIT dividends - what he considered to be "a huge bonus" - are in fact, more than a "bonus" but instead: the strongest sources of differentiation in the universe. Here is his explanation:
What appears to be a bonus, a huge bonus, is that many of these REITs are flashing what looks like exceptionally high dividend yields.
No. No. No. REIT Dividends are NOT a bonus. They are the CORE. Remember, on average, REITs pay out around two-thirds of their total return in the form of dividends. The other one-third is capital appreciation. So clearly dividends are not paid out as a "bonus" but instead they "anchor" the total return composition and that is why they are so attractive.
Accordingly, REITs provide investors with a powerfully unique income strategy in which the dividend-anchored total returns are also the essence of the repeatable value proposition. Unlike most other fixed-income alternatives, REITs perform a highly valuable task by turning the sources of (rental) income into powerfully consistent and reliable dividends (not just a "bonus").
It's the attraction to repeatability - the strongest sources of differentiation - that makes REITs one of the most sustainable income alternatives. Most successful REITs have built their remarkable record of dividend performance on consistency, not just high returns.
Speaking of consistency, REITs offer one of the absolute best re-investment options today. Remember, when you re-invest dividends you are benefiting from the power of compounding or what Albert Einstein said:
Compound interest is man's greatest invention.
Why did he say that? Perhaps Einstein meant to say that the "great invention" was more like a "free share" machine in which investors who re-invest their dividend are actually getting more stock. Better yet, if the same investor was to own a "sound" stock that also increases (dividends) every year, they are essentially "super-sizing" their portfolio for the long-run and compounding much, much faster.
Also, Einstein recognized that compounding could reduce risk. How? By re-investing dividends an investor could dollar cost average and spread the purchase over a period of time. (Note: inadequate diversification could also add risk and that's why it's important to monitor your purchases continuously).
Intelligent investors should hold a diversified dividend portfolio so that they can weather the storms and re-investing dividends (or compounding) could provide exponential growth. That's why Einstein also said:
Compound interest is the most powerful force in the universe.
REITs that DRiP Are Really Hip
One of my favorite Seeking Alpha writers is David Fish and one of my first encounters with the "dividend dynamo" was while I was reading his DRiP Resource Center. As most of you know, Fish writes Seeking Alpha articles regularly that are categorized by historical dividend results and I often use his research to filter-out the champions, contenders, and the challengers. An explanation of DRiP investing is contained on directinvesting.com's website:
DRIP investing is very different -- because it provides a means for you to add to your investment over an extended period of time. Of course, you can still sell whenever you wish. But the beauty of DRIPs is that you get more value for your investment dollar. You eliminate the broker and buy your shares directly from the company.

You pay a modest one-time fee to get enrolled, and for many fine companies you will not pay another dime ever again when you buy stock in that company. No fees...no commissions...nothing. In other words, every dollar you invest goes directly into your investment, which doesn't get diluted by extra charges.
The website puts forth this "all important" value proposition:
A "Direct investment plan" lets you cut out the middle-man, and this is particularly important if you are a small investor. After all, if you were making small, regular investments in several different companies through a broker, the commissions might cost more than the stock itself. A poor way to save!

How many companies offer direct investment plans? About 1,300 companies (among them the finest companies in America). Plans vary by company, but they make investing very easy.
Some REITs that offer dividend reinvestment programs include Duke Realty (NYSE:DRE), National Retail Properties (NYSE:NNN), Ventas Inc. (NYSE:VTR), Educational Realty Trust (NYSE:EDR), Realty Income (NYSE:O), EPR Properties (NYSE:EPR), Monmouth REIT (NYSE:MNR) and Inland Retail Corp. (NYSE:IRC).

Some of these REITs pay monthly dividends (MNR, O, EPR, and IRC) and some offer discounts (NNN, VTR, and MNR). Of course, you must remember that in order to participate in the DRiP programs you must already have purchased at least one share of the company stock.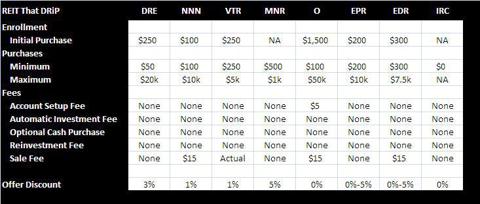 The REITs mentioned above were sourced by the author and the information is subject to change.
Consistency is the Key
REITs that offer reinvestment programs are great and I plan to open an account this year for all of my kids. There's no question that the power of compounding is an amazing way to create wealth while "sleeping well at night". Of course, avoiding fees simply for reinvestment can be foolish if one doesn't consider the safety of the REIT(s) and the dividend fundamentals in question.
That's precisely why I research and write about REITs. It's my goal to point you in the right direction and provide you with a starting point to begin due diligence. That is, my goal is to provide in-depth quantitative analysis to assist you with filtering out speculative securities from the outset.
While nobody can eliminate all investment risk, the most successful investors have been able to combine rigorous margin-of-safety analysis along with some measure of diversification. That's why REITs should be part of your portfolio.
I recently read a book (The Little Book that Still Saves Your Assets: What The Rich Contunie to Do to Stay Wealthy in Up and Down Markets) by David M. Darst and in it the author explained:
One of the most important, and yet underappreciated, aspects of asset allocation and investing relates to the role that compounding plays in building wealth. In its most elemental form, compounding involves allowing wealth to accumulate over time…Another important feature of compounding involves the longevity and the latter years of the overall holding period. For example, for an asset that compounds at an annual rate of 8 percent for 20 years, 41 percent of the total gain is earned in the final years (the final 25 percent) of the holding period.
In addition to the above-referenced REITs, some of other REITs that are likely to provide powerful long-term compounding results include American Realty Capital Properties (ARCP), WP. Carey (NYSE:WPC), Digital Realty (NYSE:DLR), Omega Healthcare Investors (NYSE:OHI), Medical Properties Trust (NYSE:MPW), HCP, Inc. (NYSE:HCP), Weingarten Realty Investors (NYSE:WRI), Whitestone REIT (NYSEMKT:WSR), Retail Opportunity Investment Corp. (NASDAQ:ROIC), Campus Crest (NYSE:CCG), CapLease, Inc. (NYSE:LSE), Tanger Factory Outlets (NYSE:SKT), and Kimco Realty (NYSE:KIM).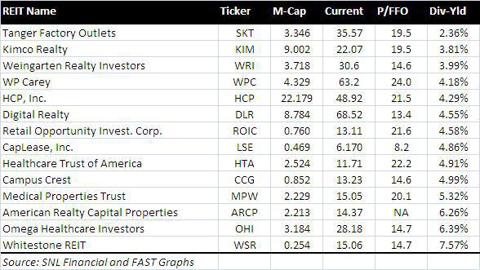 Warren Buffett, a huge proponent of compounding, has often explained his powerful platform of repeatability:
"Life is like a snowball, all you need is wet snow and a really long hill."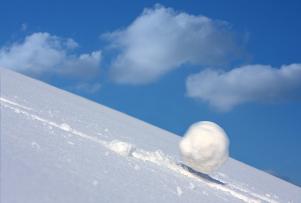 The "Magic of Rising Dividends" (a.k.a., the snowball effect) can be best explained in this excerpt from Realty Income's website:
There are additional benefits from investing long-term in a company that regularly increases its dividend. The longer you hold your shares, the higher the yield you will receive on your original investment and the greater the impact of the cumulative dividend effect.

The Shareholder Yield on Cost table below illustrates these benefits. For example: if you purchased your Realty Income shares on 10/18/94, your yield on the original price of your shares would have risen to 22.8%. This means that if you were to sell your shares today, you would have to find an investment that yielded 22.8% to receive comparable income.

The cumulative dividend effect is similar in that the longer you own shares, the less remaining original principal you have invested in the company. You can see from the table below, that if you purchased your Realty Income shares 11 years ago, you would have received back over 100% of your original dollars invested via dividend payments. These combined benefits are only available with companies that pay reliable dividends that are regularly increased over time.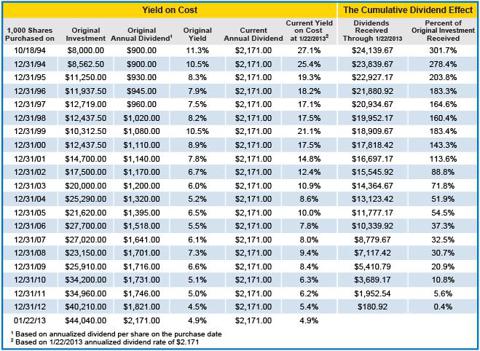 Source: SNL Financial, FAST Graph.
Disclosure: I have no positions in any stocks mentioned, and no plans to initiate any positions within the next 72 hours. I wrote this article myself, and it expresses my own opinions. I am not receiving compensation for it (other than from Seeking Alpha). I have no business relationship with any company whose stock is mentioned in this article.