Last week's impressive market action took all of our major market trend indicators into positive territory for the first time since mid-January and triggered our "Green Flag Flying" status, indicating the expectation of higher prices ahead.
Of course, this comes with the caveat that volatility will continue and there is likely to be some back filling before prices make a sustained attempt at going higher.
However, the market and most ETFs are coming off such extreme lows that a long position should be a relatively low risk proposition here.
Here are some of the numbers:

20% of NYSE stocks are above their 50 Day Moving Average

10.3% are above their 150 Day Moving Average

6.7% are above their 200 Day Moving Average
Generally when the markets come off such extreme lows, there is high potential for significant gains.
But make no mistake, if this rally develops, it must be considered a bear market rally and there is significant resistance ahead.
In the chart below, you can see the resistance between Friday's close up to 775 and then very little resistance until the 800 level. Support now rests at 715-720, approximately 5.4% below Friday's close.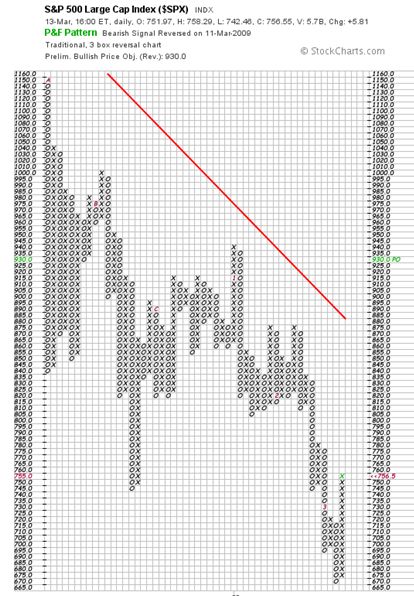 Source: Chart of the Day
The View from 35,000 Feet
This coming Friday is Quadruple Witching day and so we can expect more volatility in the week ahead. As though we haven't had enough volatility already with 35% of the trading days so far this year logging greater than 1% up or down one day moves.
Last week's rally added 9.7% to the Dow, 11% to the S&P 500 and 11% to the NASDQ.
Financials led the way, posting greater than 30% gains, and very interestingly, they were the only domestic sector to outperform the best performing index, the Russell 2000, which logged 11.9% gains.
Bear market rallies can be dramatic and dangerous, and looking back to comparable times, we find that after the Nikkei bust twenty years ago, there followed four rallies of greater than 40% over twenty years.
And following The Crash of 1929, there were six rallies of greater than 10% between 1929 and 1931, ranging from 12% in 1930 to 72% in the summer of 1932.
So, clearly, there could be opportunity here, along with significant danger.
The Week Ahead
A relatively quiet week ahead for economic reports. OPEC met in Vienna on Sunday and left their production quotas unchanged which hurt the price of oil today.

Monday: March Empire State Index, February Industrial Production, March Homebuilders Index

Tuesday: February Producer Price Index, February Housing Starts

Wednesday: February Consumer Price Index
Thursday: Weekly Jobless Claims, February Leading Economic Indicators, March Philly Fed Report
Sector Spotlight
Weekly Leaders: Financials (NYSEARCA:XLF), Regional Banks (NYSEARCA:IAT) Homebuilders (NYSEARCA:XHB)
Weekly Laggards: ProShares Short Financial (NYSEARCA:SEF), ProShares Short Russell 2000 (NYSEARCA:RWM), ProShares Short MidCap 400 (NYSEARCA:MYY) .
This weekend my young son competed at the US Swimming Western Sectional Senior Championships which draws the top kids from the 7 Western states. He made finals and swam best times and so is learning what we all need to continually remember; persistence and hard work are the real keys to success in life and in investing, particularly in difficult markets like we face today.

Wishing you a great week wherever you may be.