A few commonalities stand out when you look at successful chains like Chipotle (NYSE:CMG), Starbucks (NASDAQ:SBUX) and Subway. For one, they are a variation of something that existed before that took on a different attitude. The concepts are: scalable, differentiated, adaptable to different markets, and cater to a defined consumer base. The concepts were also tested on a small scale, adopted a culturally identity, became operationally efficient and then expanded to capture market share. Pizza Inn Inc. (PZZI) has developed an award winning concept that meets the criteria above. It has been tested on a small scale and looks ready to scale out in an industry estimated at $32B. With that said, Pizza Inn Inc. is a growth and not necessarily a value stock despite its stock price. This is a long term position that will require a bit of patience and currently provides a great entry opportunity. It is about 33% off its 52 week high even though it is in a much better position that it was when it peaked.
The Company
Pizza Inn Inc. operates and franchises four restaurant concepts nationally and internationally under 2 brands: buffet, delivery/carry-out and express under the Pizza Inn brand and fast casual under the Pie Five brand. The Pie Five concept, which will be the focus for this article, won the Nation's Restaurant News 2012 hot concept and provides the greatest opportunity for Pizza Inn Inc. as a company. The concept emphasizes streamlined ordering, made-to-order preparation, fast service, and nimbleness. It is a fast and upscale concept, a la Chipotle, that gives customers the option to order customized individual pizzas that are baked and ready to eat in less than five minutes.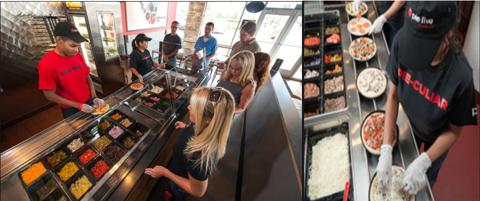 Progress Report:
The Pie Five concept grew to 8 corporately owned stores by the end of 2012. The average weekly sales for 8 stores were $11,408 per store on 101 store weeks as opposed to $11,553 for 7 stores on 183 weeks at the end of December 2012. The company announced two multi-unit franchising agreements with rights to build up to 8 locations in Utah and 10 in Charlotte, NC with the first franchise stores scheduled to open in 2013. If 8 out of the total of 18 approved stores open in 2013 that will be a 100% increase from the current count. Franchise stores will be the catalyst for revenue growth and future expansion as the models gain traction and also because incremental franchise growth will not translate to proportionate incremental cost for Pizza Inn Inc.
Operationally, Pizza Inn Inc. ranks second in revenue per employee (RPE) for companies in the food distribution industry with an RPE of $2.5M. Quarterly revenue growth has been relatively steady with a more than 100% increase from Q1, 2013 to Q2, 2013. The cost of revenue, which is critical for a franchising business, has stayed flat and decreasing despite the growth in overall revenue indicating that as the company scales up the cost to incur additional revenue will not rise with new revenue. The chart below shows quarterly revenue growth versus the growth in cost of sales. A projection into the future with this trend and continuous expansion of franchise stores should provide a quick path to profitability and a boost the stock price.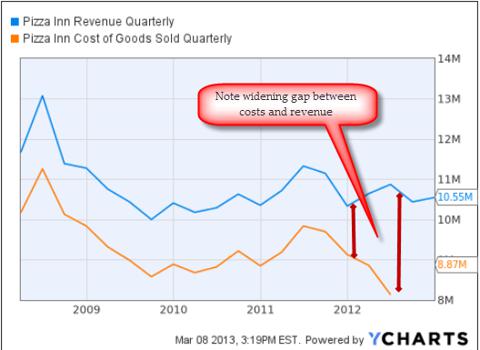 Pizza Inn Inc., for now, is still predominantly weighted towards its Pizza Inn restaurants which compete directly against Domino's Pizza (NYSE:DPZ) and Papa John's (NASDAQ:PZZA) in a crowded but homogeneous Pizza industry. Margins are very tight and even tighter for the loss making Pizza Inn which has to hold down prices and costs to drive sales. A review of some variables costs below indicate that without pre-opening expenses, better management of bad debt and franchise expenses the company would have turned a profit for the 3 months ending December 23, 2012.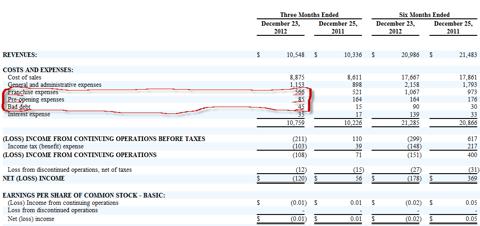 Source: Pizza Inn Inc. 10Q
With the initial indication that this is a growth and not a value proposition, margins and net income should not be too much of a focus. The focus should be on how growth affects the mechanics of the opportunity through its financials for the company. I will also point you to the P/E ratio below to indicate the room for potential movement in the stock price. For balance, I will provide a quick comparative margin reference below. Even though margins are strained they are compatible to peers and industry in different measures.
Source: Scottrade
Competitive Landscape:
Pizza is easy to make and there are endless combinations of making pizzas. From mom & pop pizzerias to the industry juggernauts of Pizza Hut, Dominos and Papa John's the pizza industry is very competitive from the low to the high end. There are currently 4 big areas of focus: sit-down dining, delivery, carry out and take n' bake. These areas have worked hard to be versatile and customizable to customer preferences without anyone of them being built for versatility and customization. The highlight, at least for the Pie Five concept, is that the concept is built exactly for that opportunity. It is also built to cater to the increased desirability of lower priced, smaller and customizable pizza meals. If you add the industry trend to the award winning Pie Five concept and the ability to go from dough to ready-to-eat meals in less than 5 minutes there is a real opportunity for the concept to differentiate and capture market share quickly.
The 8 currently opened corporately owned stores should have allowed the parent company to smooth out the operational and scalability issues that might arise from rapid expansion. Evidence of progress in smoothing out the concept is the addition of menu items that are unique and cater to specific markets to drive traffic.
Subtle Signs:
Insider Purchases - insiders have purchased 23K shares in the last 6 months and hold a total of 3.11M shares. In this same period institutional positions have changes 2023.82% (Source: Yahoo Finance). Scottrade does not show any insider sales in the last 5 years with an average purchase rate of 360K shares a year for the last 5 years. Also noteworthy are insider purchases from Dec 2011 to Feb 2012, prior to Pie Five concept, in the range of $4.80 -$5.50.
Stock Price Movements - The stock is currently trading below its 50 ($3.43) and 200 ($3.70) day moving averages. It is also trading comfortably under is 52 week high of $5.08. It has moved very erratically and I don't think has factored in impending expansion of franchise stores and overall direction of the Pizza industry to match trends and economic changes. I think the fact that the stock is trading below the above two averages provides a good entry opportunity as charted below.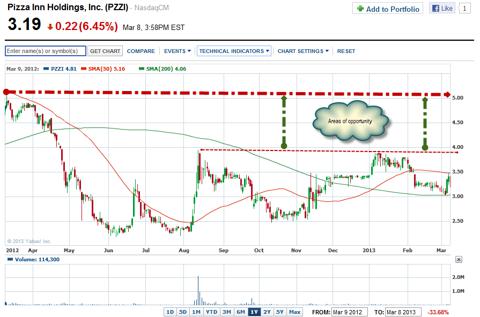 Leadership - The recently appointed CEO, Randy Gier, comes with previous experience as the chief marketing officer at Yum! Restaurants International, Pizza Hut and KFC divisions, as well as at Dr Pepper/Snapple Group and Borden Dairy Company. His initial statement, "Pizza Inn is an iconic brand with considerable growth potential and Pie Five is an exciting new brand poised to lead the fast-casual pizza segment", is indicative of a willingness to expand the franchise agreements which is key to market share gain and revenue growth
Consolidation - The Pizza industry is very fragmented even though there are clear and established leaders. With the recent wave of acquisitions, success of similar formats in other areas and a market cap of $26M Pizza Inn Inc. can be an attractive takeover target. Especially for a company that is willing to buy it in whole and divest the Pizza Inn division to recoup most of its acquisition cost.
Short interest- short shares held declined from $238.8K to 231.7K
The Growth Path:
Pizza Inn Inc.'s growth path is bound to:
Be cyclical by the nature of its business
Be bumpy to accommodate the time lags it takes to find good locations, identify good franchise partners and open up new locations
Attract new competition if it enjoys initial success in current markets
Get mixed operational efficiency metrics as the company expands in new markets that it does not currently serve with any of its restaurants
Affect the number of employees, overhead and other resources needed to effectively manage a larger store base to drive positive sales and customer ID's
The Verdict:
Growth stocks are usually hard to predict because analytical emphasis is equally weighted on macro as on micro factors. The potential in all small caps, however, need to be supported by:
Insider ownership which in this case stands at 39% and has mostly been on the buy side
Institutional/Mutual Fund ownership which is at 21% of total float and includes Morgan Stanley, Bank of American and Vanguard
A leadership team that has walked the walk and is able to convert the opportunity
Innovation and an ability to be different from competition in a space where the end product might not always be very different
The most glaring challenge for Pizza Inn Inc. at this time is growing same store sales, tight margins and rising commodity prices. My estimated DCF fair value puts the price at about $3.50 which is close to but below market value. The P/E excluding extraordinary items is also low against peers and industry. I want to add a caveat that my growth estimation and some variable operational costs were adjusted based on expansion with franchise as opposed to corporate stores. This is not a stock with a quick hit story line that allows for quick entry and exit unless you plan to trade it actively and around major announcement. It is a stock with potential to at least get back close to its 52 week high which will be a higher than 30% yield.
Disclosure: I am long PZZI. I wrote this article myself, and it expresses my own opinions. I am not receiving compensation for it (other than from Seeking Alpha). I have no business relationship with any company whose stock is mentioned in this article.