Clearly last week's reversal changed the short-term trend from down to up. The million dollar question is, "was March 9, 2009 the low?" Judging from the charts, the near-term answer is yes! However, we wouldn't be at all surprised to see the low tested some time again around late June to early July.
We believe it possible to see the November low to March low cycle repeat itself; an initial burst up followed by sideways action and then a revisit to the March lows during the summer doldrums.
As for the days immediately ahead, short-term momentum is through the roof. There is not much room for it to head higher. We should see some air let out for the balloon and we expect a moderate selloff during the week. That doesn't surprise as we wrote twice last week to expect the indexes to find resistance at these levels.
As you see on the chart below, our Technical Analysis leads us to believe the indexes could rise to the next level or two of resistance, taking the S&P 500 as high as 875, maybe 900 by mid April. From there, if history does repeat itself, the indexes trade sideways until late May and then head back to lows sometime in late June to early July. Just in time for 2nd quarter earnings releases.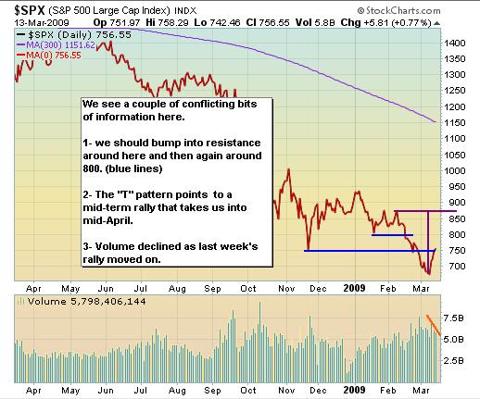 Click to enlarge