INTRODUCTION
In our last article, we concluded the near-term dividend of Frontier Communications (NYSE:FTR) is easily sustainable given the cushion between FCF (free cash flow) and the dividend payout. Early signs gleaned from customer revenue metrics were encouraging. Frontier Communications' major challenge is to stop the continuous bleed in revenue.
FTR announced their 2012 fourth quarter and full-year results on February 21; however, questions still persist. Are long-term revenue trends improving? Is the dividend safe for the foreseeable future? How long does management have to stem the decline in revenues before the safety of the dividend becomes questionable? In an attempt to find answers, this discussion includes:
Performance
Trends
FCF Estimates
Conclusion
PERFORMANCE
Average monthly revenue per customer has been rising: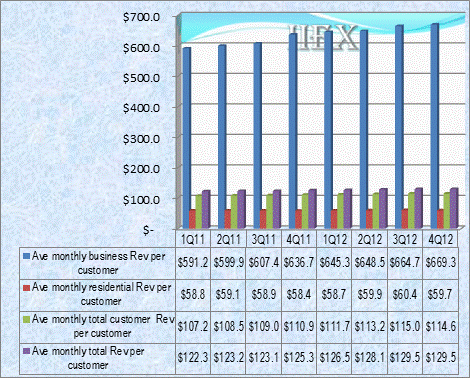 Monthly averages are calculated from reported totals without any adjustments. FTR is doing a good job at expanding business products resulting in higher business revenue trends per customer. Residential revenue per customer has remained stable or flat. The overall increases have failed to keep up with customer losses resulting in continued revenue losses: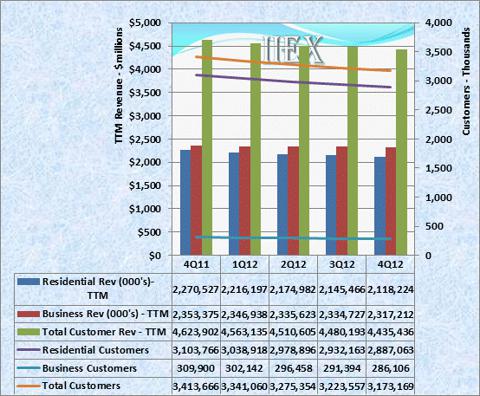 This view brings together the performance issues challenging management. Customer attrition needs to be slowed, so increases in per customer metrics can start to bend the overall revenue curve upward or at a minimum remain flat. While total revenue per customer is encouraging, total revenue declines still need to be addressed.
TRENDS:
The Frontier Verizon deal closed in 3Q-2010. We'll look at the revenue data and measure management's performance from the closing date using a regression analysis. The curve reflects management's efforts going forward based on improvements over the last 2.5 years: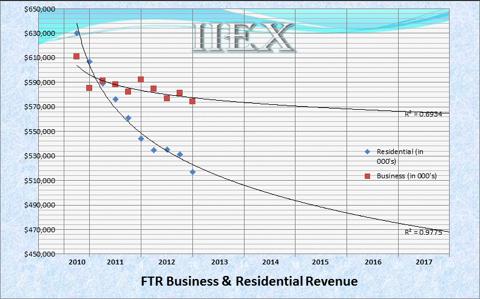 Management highlighted the improving trends on the conference call. However, a quick scan reveals that while they are bending the curve, it's not enough. Now that the integration is behind them, it's reasonable to expect their performance to improve but how that will influence revenue performance beyond the current trend is yet to be known. One quarter is not going to produce drastic changes but as each quarter is announced, a measure of success or failure will be whether the curve is nudged up or down.
A note on R squared (R2) shown in the data to put the trends in context. R2 is a number between zero and one whose main purpose is the prediction of future outcomes on the basis of other related information. It describes how well a regression line fits a set of data:
R2 <.30 are considered to have no correlation and behavior is explained by chance
R2 of .30 to .499 are considered to be a mild relationship
R2 of .50 to .699% are considered to be a moderate relationship
R2 of .70 to 1.0 are considered to be a strong relationship
FCF ESTIMATES:
The falling trend is one reason why the yield is extremely high. This raises the question of how much time does management have to bend the curves upward before the dividend becomes endangered?
Using the above data we can forecast the sustainability of the dividend. We can then monitor and update the progress with each quarterly result.
The following, including 2013 guidance, was used to aim for conservative targets:
2013 FCF: $825m - $925m
2012 Capex: Used the high end of guidance ($675m) with no reductions going forward
Targeted 2013 gross cost savings: net $100m
No reduction in network expenses going forward
Tax rate: 35%
40% of FCF goes toward debt reduction.
No reduction in "Other operating expenses" after 2013
Acquisition & integration costs completed in 2012
No benefit from Pension/OPEB to cash flows from operating activities as in past years
Dilution of 4 million shares per year
2013 FCF payout ratio in a range of 40-50% (per management)
Developing an income statement summary using annual revenue from the regression curves, the last two years' results and the targets listed above yields: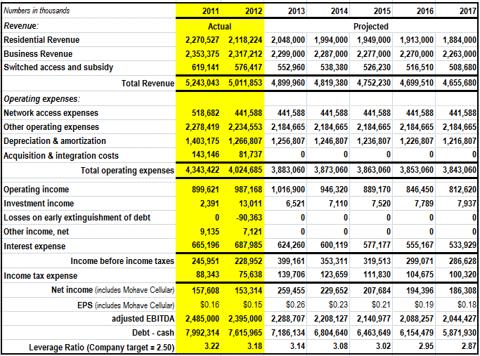 Management noted on the conference call their goal was to maintain operating margins at 47-48%. Given the revenue declines, the projections target operating margins dropping to 44% without stronger improvements going forward.
The following compares longer term EPS trends with the consensus data provided at nasdq.com.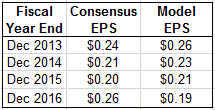 Reading the tea leaves on the consensus EPS points to an abrupt reversal in 2016 but doesn't answer the question, if the dividend policy will need to be revisited before then. Forging ahead to find answers, the next step is the FCF analysis incorporating data from the income statement: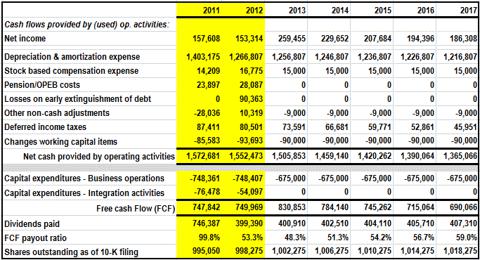 CONCLUSION:
The FCF payout ratio does not exceed 60% over the next five years if FTR continues along its current path. Given the debt combined with other risks beyond their control such as future storm impacts and/or pension returns, any ratio above 55% before they hit their targeted leverage ratio of 2.5 would be cause for concern. When the dividend was cut to $0.40, many including this author thought it was excessive. Maybe that was the intent, i.e., management could concentrate on integration and once complete have some leeway to focus on revenue without worrying about revisiting the dividend policy anytime soon. Maggie Wilderotter - Chairman and Chief Executive Officer talked about some of the initiatives to drive revenue growth on the Q4 conference call:
on the commercial side… We're launching a cloud offer in April [in] all of our footprints. We also have our voice broadband bundle that we called Tandem launched in 14 states. And we've mentioned Ethernet GigE and MetroE as key products on the commercial side that we've been not only gaining traction on, but it's been a big driver of revenue per customer growth… We have fiber product sales that we are also planning on leveraging along the backhaul route from the projects that we've done bringing fiber to the sell-side, and we are working on five or six specific vertical offers for small business… we are very bullish on what we've seen in the first part of this year in net sales for broadband… we also have a number of upgrade plans to drive revenue.

We have targeted increasing the 20 meg speed to 50% of our footprint by the end of 2013…. During 2013, we will extend our footprint to meet our commitments to the Federal Communications Commission and certain State Regulatory Commissions and began to reach 92,000 additional households in unserved markets using the $72 million of Cap 1 funding we have received.
The company reorganized the business going forward by decentralizing sales and marketing functions. This allows local managers to make decisions about how to market the product and to respond quickly to competitors. Time will tell how much fruit these initiatives will bear.
No one has a crystal ball as to what to look for. In the near-term, it's less important where the final end point falls on the regression curves, but which direction the curve moves. The next few quarters are not expected to produce drastic changes but they need to nudge the curve up over time.
The existing trend will result in a lower leverage ratio and slower revenue declines which no doubt management will highlight each quarter as they have been. Unfortunately, the current trend leads to an increasing FCF payout ratio starting in 2014. The drop in the FCF payout ratio in 2013 is a result of savings from acquisition and integration costs combined with a lower capex and other cost savings.
The good news is FTR has a few years to stem the revenue decline before the dividend becomes an issue. The bad news being, until that day arrives the dividend policy will always be questioned.
We'll keep track of the data and make adjustments here. This link also provides the data reflected in this article.
Disclosure: I am long FTR. I wrote this article myself, and it expresses my own opinions. I am not receiving compensation for it (other than from Seeking Alpha). I have no business relationship with any company whose stock is mentioned in this article.