Morgan Stanley (NYSE:MS) has four Trust Preferred Securities (TruPS) that will trade Ex-Div in the coming weeks. On Wednesday, March 13, the 6.25% Morgan Stanley Capital Trust IV (Ticker: MWG) will begin trading Ex-Div. For the triskaidekaphobics out there (or for those who are interested but want a little more time to act), the 6.45% Morgan Stanley Capital Trust VIII (Ticker: MSK), the 6.60% Morgan Stanley Capital Trust VII (Ticker: MSZ), and the 5.75% Morgan Stanley Capital Trust V (Ticker: MWO) all trade Ex-Div on Tuesday, March 26.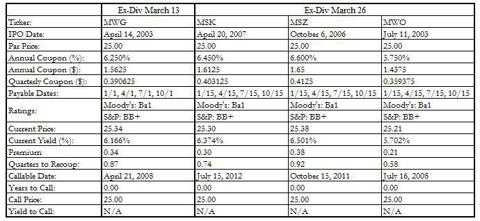 Ratings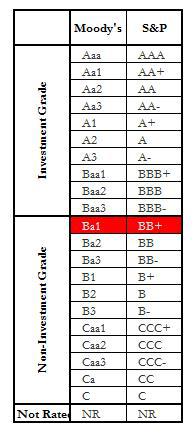 All four positions share the same ratings: Ba1 (Moody's) and BB+ (S&P). Both of these ratings are non-investment grade.
Price History
During the first half of 2012 there was some price discrepancy between these four positions. Since September 2012, however, these four have traded much more in line with one another.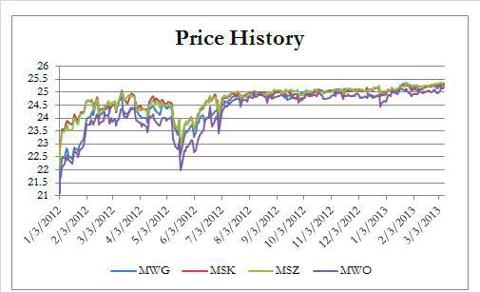 When the chart begins in September 2012 it is much easier to see how much in line the four positions trade. MWO has the lowest coupon and therefore trades below the other three positions.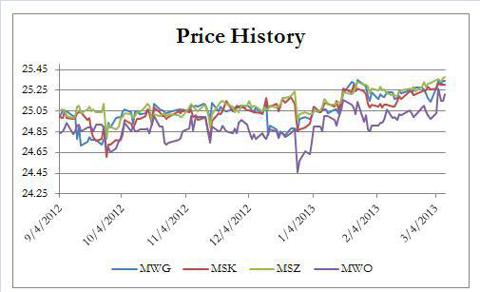 Current Yield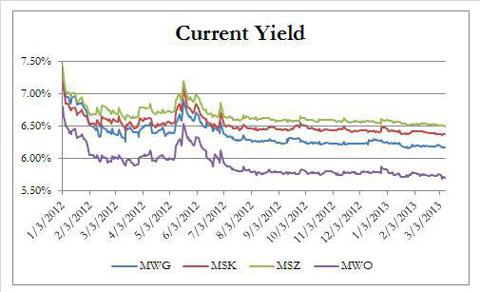 MSZ has the highest current yield of 6.501% while MWO has the lowest at 5.702%. MSK has the second highest with 6.374% and MWG rounds out the lot with a current yield of 6.166%.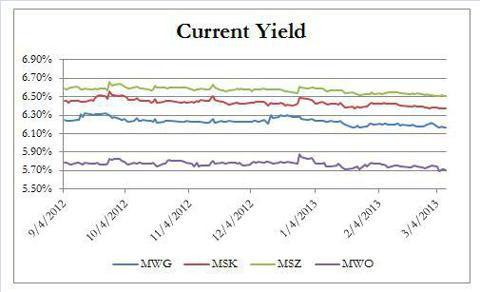 Premium
All four positions are currently trading at slight premiums, meaning any premium paid would be recovered in the upcoming dividend payment. MWG, which trades ex-div on March 13, is trading at a $0.34 premium as of Friday, March 8, and pays a quarterly dividend of $0.390625. MSK is trading at a $0.30 premium and pays $0.403125, MSZ is trading at a $0.38 premium and pays a $0.4125 dividend, and MWO is trading at a premium of $0.21 and pays $0.359375.
Callable
All four of these positions are past their call dates, which is why the above point about premium is so important. Since these four positions can be called at any time, it's important that you do not have any premium on the table when that occurs. These four positions are also all TruPS, so even if their call dates had not passed, the issue of premium would still be there because of the changes in capital treatment of Trust Preferreds.
Liquidity
All four positions are fairly liquid and should provide enough liquidity for the individual investor. MWG's 10-day average volume is 36,401, MSK's is 24,586, MSZ's is 39,698, and MWO's is 35,034.
Tax Treatment
As Trust Preferred Securities, none of these four positions are subject to the favorable 15% dividend tax treatment.
Final Thoughts
Due to the change in capital treatment and the lack of favorable tax treatment, Trust Preferreds have largely been avoided by individual investors recently. By purchasing these TruPS prior to their ex-div dates, investors are able to effectively own these securities below par and take in dividend payments while waiting for them to be called at a future date. One of the risks with traditional fixed rate preferreds is that they will never be called and the value of your coupon will diminish over time. With the increased likelihood that these TruPS will be called relatively soon, the risk of perpetuity is diminished.
Disclosure: I am long MS. I wrote this article myself, and it expresses my own opinions. I am not receiving compensation for it (other than from Seeking Alpha). I have no business relationship with any company whose stock is mentioned in this article.
Additional disclosure: This article is for informational purposes only, it is not a recommendation to buy or sell any security and is strictly the opinion of the author. Investors are strongly encouraged to do their own research and discuss potential investments with an investment professional.