In the world of biotech investing, there are many companies to choose from. There are so many possibilities that several entities just get lost in the shuffle. With so many clinical trials and new products, trying to keep it categorized and up to date is a challenge. This is why many investors might struggle as they try to identify these innovative companies. That being the case, here are three companies that have potentially cutting edge products, but have yet to be fully discovered by many investors.
Galena Biopharma, Inc. (NASDAQ:GALE)
Galena Biopharma is our first biopharmaceutical company that seems to be flying under the radar. GALE was originally incorporated on April 3, 2006 with the name Argonaut Pharmaceuticals. The name was then changed to RXi Pharmaceuticals Corporation on November 28, 2006. Then on September 26, 2011, RXi Pharmaceuticals changed their name to Galena Biopharma. In conjunction with the final name change the company separated into of two entities. Galena was designated to operate as an oncology drug development company, and RXi Pharmaceuticals (NASDAQ:RXII) would develop RNA-based therapies. RXi was later spun off of Galena Biopharma and shareholders were issued a stock dividend in the now independent RXi.
A closer look at GALE shows that the company is focused on developing the next-generation of cancer immunotherapies in the form of vaccines. Cancer vaccines are an innovative new technology in the world of biotech. In this arena, GALE is putting all its efforts into a product known as NeuVax, a vaccine targeting breast cancer. This innovative new product was acquired on April 13, 2011 through a merger acquisition.
How NeuVax works is very complicated and a bit beyond the purview of most investors. To make it simpler, the NeuVax product's approach to cancer treatment is to focus on the "minimal residual disease". NeuVax is not a therapy to be used with all breast cancer patients. The focus is on the disease that may remain in a cancer survivor. The plan is to prevent the recurrence in early stage patient who may harbor residual cancer cells that are not detectable by current technology. Without such a treatment, many individuals will relapse in significant numbers over time. Below is a chart that shows the company's current status of the NeuVax studies in the pipeline.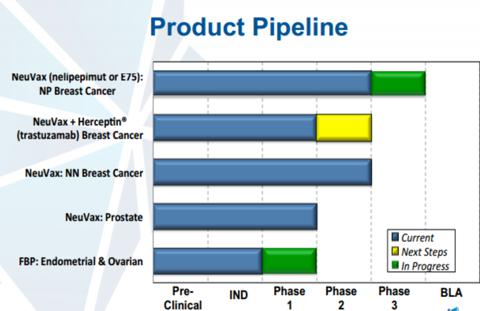 If NeuVax gets approved for commercial use its financial impact could be dramatic. This is shown by the interest in the product from larger pharmaceutical companies. For example, in December of 2012, Teva Pharmaceutical (NYSE:TEVA) agreed to develop and market NeuVax in Israel. Teva will handle the development and regulatory process in Israel and conduct at least four clinical trials of NeuVax in the country. GALE will receive royalty payments on sales of NeuVax if Israeli regulators approve it. If GALE is successful with NeuVax, the company could easily broker several larger agreements for commercial distribution of the product.
While investors wait for the results of NeuVax's trials, they can turn their attention to GALE's financial status. GALE does not generate any revenue, so investors must focus on the company's cash reserves. To bolster these reserves GALE decided to sell more shares. In December 2012 the company priced a public offering of 15,156,250 units at a price of $1.60 per unit. The total gross proceeds were $24 million. Each unit sold consists of one share of common stock, and a warrant to purchase 0.5 share of the common stock at an exercise price of $1.90 per share. As a result of the stock offering, GALE has a cash balance of $40 million and no debt. The cash burn rate is reported to be $5-6 million per quarter, and the number of shares outstanding sits at 82.1 million.
As Galena makes its way through its trials, it still seems to be unnoticed by many investors. The company's recent public offering also seems to have held the stock price in check. The question is, what will make GALE appear on investors' radar screen again? One possibility is the company's SEC 10K report, which stated that the target market for NeuVax is approximately 35,000-40,000 patients annually. These will be the patients that are not eligible for the Roche-Genentech's Herceptin breast cancer treatment option. Now consider that Roche-Genentech's Herceptin treatment brought in roughly $4.5 billion in 2011 U.S. sales. If investors will do the math, then they should see the potential in an investment in GALE at its current level.
Antares Pharma Inc. (NASDAQ:ATRS)
Antares is yet another biotech that seems to be unnoticed by today's investor. ATRS is an emerging pharmaceutical company that focuses on self-injection pharmaceutical products/technologies and topical gel-based products. This could possibly be one of the reasons why the company still remains hidden in the shadows. ATRS does not have the cutting edge drugs that are battling high profile conditions such as cancer or diabetes. It seems that injectors and topical gel products do not generate the same amount of excitement in the financial community. A closer look at ATRS and its products/pipeline can show its hidden potential. Below is a chart of the pipeline for the company: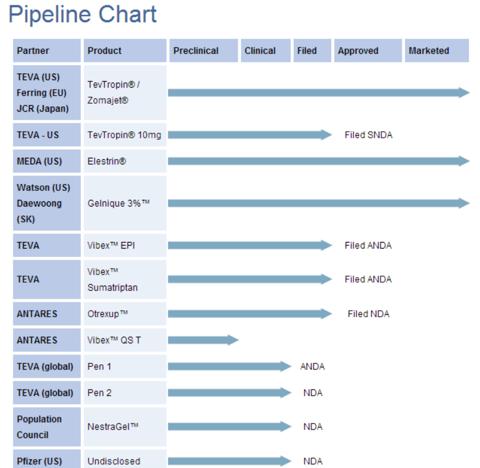 In the injector area, ATRS has licensed its reusable needle-free injection device for use with human growth hormone to Teva Pharmaceutical Industries. ATRS has also licensed both the disposable auto and pen injection devices to Teva for use in certain fields and territories, while engaging in product development activities for Teva utilizing these devices. Other companies using the technology include Ferring Pharmaceuticals and JCR Pharmaceuticals. It should be mentioned that Teva and Ferring are the primary customers at this point in time. TEVA markets the needle-free injection device with the name Tjet® injector system in the U.S. ATRS' needle-free injection device is marketed by Ferring in Europe and Asia.
Next, let's look at the gel-based products. ATRS has two products that are currently be marketed. The first is Gelnique 3% which is a topical oxybutynin gel product for the treatment of overactive bladder. The FDA approved this product in December 2011, and since then ATRS has entered into a licensing agreement with Watson Pharmaceuticals. Under the agreement Watson will commercialize Gelnique 3% in the U.S. and Canada. Under a separate licensing agreement, Daewoong Pharmaceuticals will commercialize the product in South Korea once it is approved. The other gel product is called Elestrin, used to treat moderate-to-severe vasomotor symptoms associated with menopause. Meda Pharma in the U.S currently markets this product.
The question becomes: What are investors not seeing in ATRS? One potential catalyst is the mysterious licensing agreement with Pfizer (NYSE:PFE). In December 2011, ATRS licensed to Pfizer one of its drug delivery technologies to develop an undisclosed product on an exclusive basis for North America. Pfizer assumed full cost and responsibility for all clinical development, manufacturing, and commercialization of the product in the licensed territory. ATRS has received an upfront payment, and will receive development milestones and sales-based milestones, as well as royalties on net sales for three years post launch in the U.S.
Another aspect that investors might be missing on this company is related to the financial reporting. As of September 2013, ATRS has $33.2 million in cash and investments and no debt. It should also be noted that the company raised $53 million in October 2012. When looking at the company's revenue base, it is easy to see the growth potential. For example, in 2008 the total revenues were $4.6 million. In 2009 those revenues grew to $8.3 million, and then in 2010 it grew to $12.8 million. Finally, the 2011 revenues were recorded at $16.5 million, and the 2012 total were projected to grow 30% to 50% from that level. What investors can see is a healthy increase in year-over-year revenues numbers.
With new drugs and medical equipment products being set to launch from now until 2017, ATRS seems to be ready for further growth. The question is, how long it will take investors to fully comprehend ATRS and all the potential it holds?
NeoStem, Inc. (NBS)
Our last undiscovered company with huge potential is NeoStem. NBS is a biopharmaceutical company that engages in the development of proprietary cellular therapies for use in cardiovascular disease, immunology, and regenerative medicine. NBS is also involved in collecting, storing, manufacturing, therapeutic developing, and transporting cells for cell-based medicine and regenerative science. This includes adult stem cells, which are at the forefront of today's healthcare technology. Finally, NBS is also involved in the collecting and storing of cord blood cells of newborns.
NeoStem has a complex business model that can easily confuse investors. Below is a chart that is a good visual representation of how the company is structured.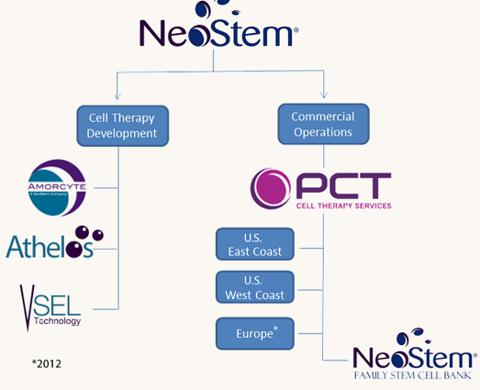 Currently, NBS is broken out into two distinct sections. The first is the commercial operations side where the company does its clinical service, reimbursable, and process and storage business. Although small, the company is showing some growth in its revenue figures. For example, in its latest SEC 10Q the company reported for the three months ended September 30, 2012, total revenues were approximately $4.4 million compared to $2.2 million for the three months ended September 30, 2011. For the nine months ended September 30, 2012, total revenues were approximately $11.6 million compared to $5.8 million for the nine months ended September 30, 2011, representing an increase of $5.7 million or 98%.
On the other side of the fence is the cell therapy development wing. Here NBS is developing an active portfolio of product candidate based on a diverse array of technology platforms. These platforms are broken out in three distinct sections, which include Amorcyte, Athelos, and VSEL™ Technology. Each program has some exciting projects, but it is the Amorcyte side of the house that currently has the most promise. It is best categorized as a method of autologous bone marrow-derived adult stem cells targeting the substantial market of cardiovascular treatment. This aspect of the company is 100% owned by NBS. The lead product is known as AMR-001. It is a stem cell treatment that is derived via bone marrow, and it is designed to prevent major adverse cardiac events following acute myocardial infarction.
In January 2012, Amorcyte commenced patient enrollment for its PreSERVE Phase 2 trial to investigate AMR-001's ability to preserve heart function. In more recent news, the company reported that it had received approval to continue the PreSERVE Phase 2 clinical trial following its second interim data and safety review by the Data Safety Monitoring Board [DSMB]. The study is currently designed to treat 160 patients and is approved by the FDA to enroll up to 180 patients. Obviously this is more good news for the company. If AMR-001 could become a standard of care for the prevention of major adverse cardiac events, its return on investment would be huge for investors.
Like all biotech, the process to bring a product like AMR-001 to the commercial market is expensive. While the company does have a revenue stream, it is not enough to cover the cost of development. The trial began enrollment in January 2012, and at that time it was expected to cost approximately $16 million over the first two years. After that it was anticipated to cost up to approximately $21 million over a five-year period, which was also inclusive of manufacturing costs. To address the company's needs, it raised approximately $18 million through an underwritten public offering of common stock and warrants, private placements, and warrant exercises for the nine months ended September 30, 2012. Looking back further, NBS had an influx of $1.78 million from the Department of Defense [DOD] Peer Reviewed Medical Research Program. The issue was that this funding was to be applied to NeoStem's VSEL Technology, so it was unavailable for AMR-001 development.
The company's cash used in operating activities in the nine months ended September 30, 2012 totaled approximately $16.4 million. The question will be whether or not NBS can generate enough cash to develop their business plan of expanding into Europe while advancing new clinical products. The company has stated that it will continue to seek grants for scientific and clinical studies from the National Institutes of Health, Department of Defense, and other governmental agencies and foundations.
The hope for investors is that NBS can keep growing its revenue stream and get AMR-001 commercialized. If successful the stock price for NBS will be substantially higher as the company moves forward in the healthcare sector.
In conclusion, these three undiscovered healthcare companies have an extreme amount of potential. Investors have yet to realize the value, but this will change in time as each entity moves its agenda forward. Once discovered, the share price for each could easily trade much higher than their current values.
Disclosure: I am long ATRS, NBS, GALE. I wrote this article myself, and it expresses my own opinions. I am not receiving compensation for it. I have no business relationship with any company whose stock is mentioned in this article.