I put Yahoo (NASDAQ:YHOO) back on the radar earlier this year when I heard someone was shaking things up in Sunnyvale, CA. Since then, the stock has seen a consistent uptrend. Along with reporting improving financial results last quarter, it seems the overall market perception has improved as well. With the stock up nearly 36% over the last 12 months, some feel the stock is slowing or approaching a pullback, but I disagree and believe there are several major catalysts in the near future that can push the stock to new highs this year.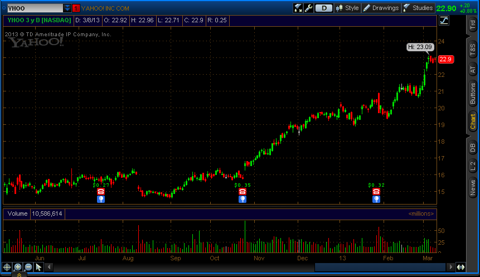 When Yahoo reported Q4 2012 and year end results in late January, the fundamental improvements laid strong ground work for the company to ramp up growth and enter it's next stage of evolution. In 2012 Yahoo saw total revenues grow for the first time in five years of decline. Although it was only a slight increase over 2011, it was the first sign of improvement signaling that revenue declines may be at an end. Also notice in the chart below that they have considerably decreased COGS in the past five years. While there was a very slight increase in 2012 it remained constant relative to revenue signaling increased profitability.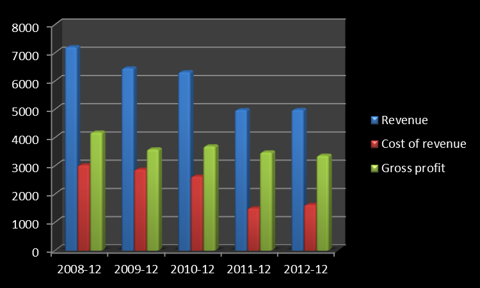 In 2012 Yahoo finished with a net Profit Margin of 79.12%, a 58% increase over one year prior, showing that it executes well on its competitive strategies and has a good control over its expenditures. Because the improvement was such a wide margin, the company now has the foundation and room they need to move forward with their plans for the future. As the company sits on about $6 per share in cash, primarily thanks to the continued liquidation of its stake in Alibaba.com, it is in a great position to really turn things around and I believe we will see several events occur throughout the year that will push this historically dormant company to the next level.
There are three key drivers to look for. Pay close attention to management, acquisition, and stock buy back announcements.
Management News that Marissa Mayer, Yahoo's new CEO, has been shaking things up lately is widely covered so I will not go into to many details. However, its very important to watch for management announcements coming out of Yahoo. Management has been a top issue that has plagued this company for quite some time. With five different CEOs over five years, it seemed that no one was able to get a handle on Yahoo and its board of directors. We found a great visual of that courtesy of Glassdoor.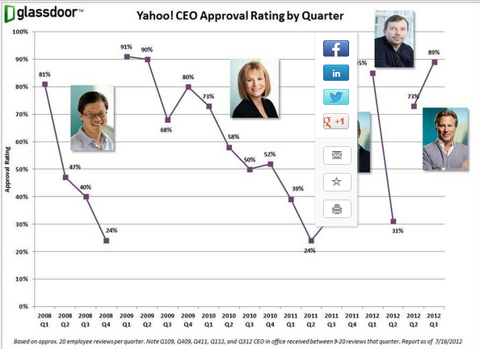 Marissa currently sits with an 87% approval rating according to Glassdoor and has only been at the company as long as the previous CEO. The key difference is, the market seems to react very well to her decisions and announcements. In my opinion, some of the controversial changes she has implemented at the company are long overdue and will if nothing else, be of great benefit to shareholders. Continuing this trend, I would look for the market to react to future announcements in the same fashion which can continue pushing the stock higher.
Acquisitions By now, it's no secret that Yahoo is on the hunt for an acquisition or two. I believe it will first look to make an acquisition that will help it improve content delivery to keep boosting its display ad revenue. An acquisition target that will help increase content delivery and user engagement is a major catalyst for Yahoo. Here's why that is so important. In 2012 it was able to stem declining revenues generating 43% of the total through display ads and 36% through search ads. As Yahoo continues to grow, it's my firm belief, that the company will evolve towards more of a content driven business model, as apposed to being a search engine. Content is where Yahoo really has the ability to gain market share. With Google (NASDAQ:GOOG) dominating search by such a wide margin, an effort to recapture that in a traditional fashion may be a great waste of resources.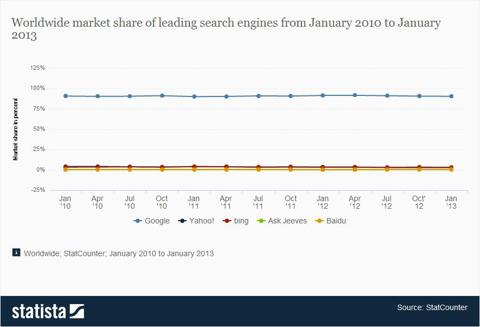 So how will Yahoo compete? The answer is content, which will continue to increase display ad revenue along with user engagement. Several recent developments that have not been widely discussed signal this is just what Yahoo plans to do. Yahoo has several intriguing patents in the works and a few recent approvals that all pertain to segmented content delivery based on user preference as well as content delivery targeting based on social signals. In conjunction, an article published on allthingsd.com suggests Yahoo may be in acquisition talks with Grab Media, which according to the article:
makes its money by taking video from professional content makers like Reuters, NBC Universal and Hearst, and getting it embedded on thousands of other small sites. It's very similar to 5Min, which AOL purchased in 2010, and has done very well with since then.
This could be huge and the company's first major step in evolving its distribution pipeline. The company is well positioned to execute this transformation as it's already moved towards partnering with its big brothers instead of fighting them. A great example: users that prefer Google or Facebook (NASDAQ:FB) as their primary gateway do not have to join Yahoo's core user base to access many of its products and service. Take Yahoo's re-launch of Flickr. Yahoo now can expose its content to a sub-group of users that prefer a competitors portal but enjoy Yahoo's service.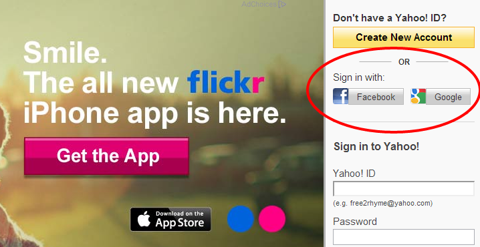 So now that the company is on the right track, an acquisition like Grab Media is just what they need to continue boosting revenue. Search will always be important, but content gets users engaged which is what keeps them coming back. Watch closely for M&A activity involving Yahoo this year as it could be another major boost to the stock. With solid fundamentals, good management, and acquisitions on the horizon, we look to the next and perhaps most important catalyst we could see out for the company this year.
BuyBack Plans Yahoo was able to liquidate $7.6 billion in 2012 through the sale of a stake in Alibaba.com. After paying taxes the company was able to net around $4.3 billion from the sale and committed to returning roughly 85% or $3.65 billion to shareholders. So far the company has repurchased about $2.1 billion of its stock. Depending on what acquisitions the company decides to make, we could see additional buybacks of another $1.2 to $1.55 billion announced this year. The continued commitment from management to return value to shareholders via stock buybacks is a major event and by my calculations, would put the stocks fair value closer to $30 per share, assuming they complete the entire $3.65 billion in repurchases.
Conclusion In summary, I recommend Yahoo a buy at current levels. This is supported by the company's improving fundamentals and plans for future growth. There are challenges ahead as they move away from search and into content as the competitive landscape is much broader and capital intensity increases. Despite those challenges, I see a company uniquely positioned to gain an edge over their competition in the content space. The potential acquisition of Grab Media or a similar target would help launch them ahead of the curve as they already do a fantastic job of co-producing content and remain a top 500 household name. The stock is technically strong and continues to climb at a steady pace. I recommend a buy for long-term value under $25.00 with a stop at $20.50. I believe $30.00-32.00 is a realistic target price by year's end, however the three major catalysts analyzed in this article could send the stock beyond those levels as we approach 2014. Pay close attention to announcements from management, intentions for acquisitions, and additional stock repurchase events to push the stock higher.
Disclosure: I am long YHOO. I wrote this article myself, and it expresses my own opinions. I am not receiving compensation for it (other than from Seeking Alpha). I have no business relationship with any company whose stock is mentioned in this article.