Since I last wrote about Apple (NASDAQ:AAPL), the Investor Meeting came and went without any investor news whatsoever, while the stock has dropped 3.8%. None of my "Early Christmas Gift" requests came to fruition and that is actually fine with me because Apple rarely mentions anything at these types of meetings. But having done and said nothing at the meeting doesn't mean that AAPL is sitting on its laurels either. I agree with Chicago John and what he said about how the company should not be revealing what they are working on during the meeting, but only if that product was not ready. I was merely looking at either a product release or some rhetoric to the extent of, "We have several products in the pipeline that are near release." Enough about the investor meeting; in this article, I'm going to evaluate the stock and try to find out where it's going.
Valuation
On a pure valuation basis, AAPL is trading like a value stock as opposed to a growth stock with a trailing twelve-month P/E ratio of 9.79 while its peer Microsoft (NASDAQ:MSFT) is trading at 15.38. The forward-looking P/E ratio is what I like to pay attention to because I like to purchase a stock based on where the company is expected to go in the future as opposed to what it has done in the past. The forward-looking P/E shows that AAPL is also still inexpensive, but when compared to its peer Hewlett-Packard (NYSE:HPQ), it is relatively expensive, 45% more expensive based on 1-yr projected earnings, but this wouldn't make me shy away from purchasing AAPL right now. All information is accurate as of 08 March 2013.
| | | |
| --- | --- | --- |
| Ticker | P/E | Fwd P/E |
| AAPL | 9.79 | 8.55 |
| HPQ | * | 5.9 |
| MSFT | 15.38 | 8.89 |
* - HPQ does not have a positive P/E ratio because it lost money in the last 4 quarters.
Financials
All three competitors pay pretty decent dividends, but of the three HPQ might have a bit of trouble trying to maintain its dividend if it continues to lose money as it has in the past. With a return on equity value of 38.41%, AAPL beats both MSFT and HPQ. With a negative ROE on HPQ, it should make any investor shy away from throwing any money at it until it can show a turnaround in its fundamentals. The return on equity is an important financial metric for purposes of comparing the profitability which is generated with the money shareholders have invested in the company to that of other companies in the same industry. All information is accurate as of 08 March 2013.
| | | |
| --- | --- | --- |
| Ticker | Div Yield (%) | ROE (%) |
| AAPL | 2.46 | 38.41 |
| HPQ | 2.52 | -41.53 |
| MSFT | 3.29 | 12.83 |
Technicals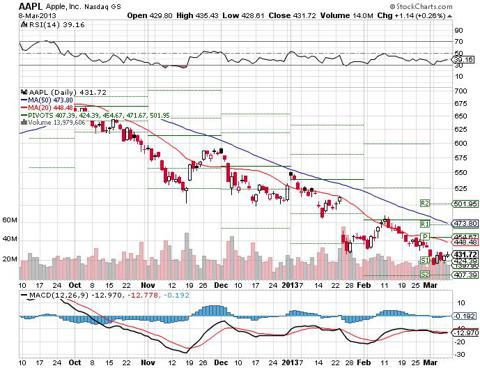 Click to enlarge
(Click to enlarge)
From the looks of this chart, it seems the stock has bounced off its first floor of support at $424.39 and is making a move up. The move up is supported by the fact that the relative strength index shows that the stock touched an oversold value of 30 and has moved up ever since then to a current value of 39.16. Because it trades below its 20 and 50-day simple moving averages, I'd look for the 20-day SMA to act as the first ceiling of resistance for the near future. The moving average convergence-divergence graph shows that there may be a move up in the stock if the black line can cross over the red line. The current technicals give me reason to believe that it would be a good time to make a purchase in the stock.
Recent News
Since the investor meeting on 27 Feb. 2013, five different analysts came out and reiterated their rating on the stock without moving their price targets, which shows these analysts still have faith in AAPL and are willing to stick with it with at least a "neutral" rating.
An analyst at Berenberg downgraded the stock from "Buy" to "Sell" on 06 March 2013 citing "The smartphone investment of the past three years is now a smartphone trade. This is very similar to what happened in the handset industry a decade ago, when volumes topped out in developed markets and were led by growth in emerging markets." I would tend to agree with the analyst only on the smartphone side of things which is why I believe AAPL is a value trade, but as long as AAPL can come up with something innovative in the near future it will become an "investment" growth stock once again.
Barclays reduced its price target from $575 to $530.
Citigroup upped its price target from $530 to $575.
The company adjusted iPad and iPad Mini shipments for 2013 to a total of 88M units as opposed to an original plan of 100M total units. This adjustment can't be good for analyst revenue estimates, so I wouldn't be too surprised to see further downgrades or price target reductions on the news.
Google (NASDAQ:GOOG) has passed AAPL as the biggest holding among the top 50 actively managed mutual funds. Back in February, AAPL was dethroned by AIG (NYSE:AIG) as the most widely-held stock by hedge funds. This can actually bode well for the stock if they can just report good numbers and a good forecast next quarter because "nobody" is currently holding the stock that can actually move the stock price, but if good numbers are reported people will be buying it up. On the flip side, this can be bad for GOOG or AIG as you ask yourself who else is there left to even buy these stocks to make them go higher?
Conclusion
At current levels, AAPL seems to me like it is a value play based on the valuation analysis I provided above with the technicals supporting that the stock is making a move higher right now. However, based on bullet point 5 in the recent news section, I'd be wary if any additional analysts come out to downgrade the stock, especially if it is a big brokerage firm; if that happens then the stock could turn from value play to value trap. At these levels, I'm only adding 7% of the total amount I have allotted myself for the stock, bringing my total position to 81% of what I'm allowing it to be.
Disclaimer: Please remember these are only my opinions and that you should do your own homework. Only you are responsible for your own actions.
Disclosure: I am long AAPL, GOOG. I wrote this article myself, and it expresses my own opinions. I am not receiving compensation for it (other than from Seeking Alpha). I have no business relationship with any company whose stock is mentioned in this article.