For the bears who are short this market it must be extremely trying times, for we do not have all of our cash invested at this time and simply being neutral 20% of our retirement portfolio is trying. The market is saying that we are heading higher and every piece of data we usually use to get a grasp of where the market is shows bullishness picking up. It is hard to say a top has formed as there is so much capital yet to have been deployed from the sideline and we all know that there is liquidity out there that has vanished since the Fed pushed it out the door...when that re-emerges one certainly will not be able to be short this market and being neutral will be that much more difficult.
Unfortunately we have no chart for this data, so we are going to have to give it to you as simply raw numbers as it is quite important and quite impressive. On Friday there were:
529 New 52-week highs, with 5 New 52-week lows;
187 New all-time highs, with 0 New all-time lows.
We have no economic news due out today, but shall have the Treasury Budget tomorrow. By Wednesday of this week, the economic news flow will pick back up.
Asian markets finished mixed today:
All Ordinaries - up 0.72%
Shanghai Composite - down 0.35%
Nikkei 225 - up 0.53%
NZSE 50 - up 0.29%
Seoul Composite - down 0.13%
In Europe markets are trading lower this morning:
CAC 40 - down 0.51%
DAX - down 0.31%
FTSE 100 - up 0.02%
OSE - down 0.25%
Manufacturing
One name which we have discussed numerous times in our morning commentary is Whirlpool (NYSE:WHR) as it is one of our plays on the housing rebound here in the US. The stock has performed very well and it has been one of the brightest spots for those who we know have purchased it for their retirement accounts. The yield has been diminished with the rise in the stock, but in theory they are still earning the rate at which they bought. We do not like to look at it like that, but rather the current yield as that is based on how much capital you have at risk and we have come to the conclusion that once this one rises above the $120/share level we will need to revisit it and decide whether it still belongs in the retirement accounts or whether there are better plays out there. Readers will remember that $120/share is a price we have been calling for as our initial price target, so this was to be expected.
Shares in Wilbros (NYSE:WG) exploded higher on Friday after an analyst at Johnson Rice upgraded the company's shares from 'Equal Weight' to 'Overweight'. The conference call was held Thursday (see transcript here) and the quarter that they reported beat on every level. One of our long-time friends who is in the industry has been talking up the company and actually has a position in the shares at a much lower price than today's. Their guesstimate is that the thing gets into the double digits. He has been right thus far on the direction here and been pretty spot on about their business prospects so we are inclined to stick with his recommendation here and would not be walking away from the trade at this point. In our opinion we think that much of the rise on Friday was simply a delayed reaction which the analyst comments just touched off. The shares closed at $8.72/share after having risen $1.59 (22.30%) during Friday's session.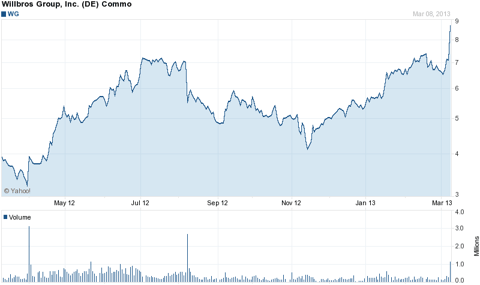 Chart courtesy of Yahoo Finance.
Biotechnology
For our readers who are traders there is not a whole lot not to like about Celgene (NASDAQ:CELG) right now. The company is one of the, if not the, best managed in the industry and they seem to be running full throttle right now. The stock has done the classic walk-up taking out important levels like steps and with the recent rise above $110/share we now can look towards the $115 and $120/share levels. This is not one to sit there and day trade with, but back when we used to do our trading we would structure a portfolio with momentum stocks and have a few big names in the portfolio to add stability to the returns and Celgene very much reminds us of one of those types which we would use as a "pillar" of our portfolio so to speak.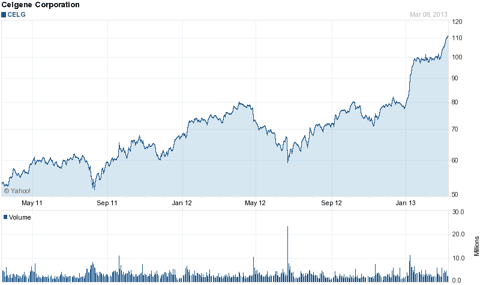 Chart courtesy of Yahoo Finance.
Retail
It is becoming more and more apparent to us as we listen to the conference calls, and read the transcripts of the ones we are unable to listen to, that many retailers believe that this next year is going to be quite difficult and the 1st quarter is going to be unkind. There are a few bright spots and we expect those companies to continue to outperform, but with Best Buy (NYSE:BBY) we are left to wonder. The price match is something which had to be done to thwart the online retailers who can beat them on price due to lower overhead costs but our question is how this will affect the company's margins. Selling items at a lower cost and realizing less of a profit will drive down both the top line and the bottom line, with (as economists like to say) all things being equal. If the argument here is going to be that they will make up the difference on volume we might have to simply shake our heads at that one. Over the next few quarters we will be watching to see if first Best Buy is able to convert some of these 'showroomers' to actual customers but also to see if their current customer base begins to use those showrooming apps in store to see what the best price is among the online retailers Best Buy has promised to price match and begins to use them. That was not what the program was intended for, but we see it as a highly likely possibility that those who would not have used it before begin to use it simply to save a few dollars now. That could spell bad news for investors, however right now the good news just keeps coming and Friday the shares closed over $20/share, which is a big plus.
Insurers
All financial stocks had a good day on Friday as the stress tests turned out alright for everyone and it now appears that the banks and others will now be able to return capital to shareholders via share buybacks or dividends. Either way we see it as a positive for the economy in general as the financial institutions have been building up reserves across the board and have been reluctant to invest in their core businesses or increasing their loan portfolios dramatically. These buybacks and dividends shall lead to that capital finding its way into the hands of others looking to redeploy that into far better uses for the economy. One of the better performing subsectors on Friday happened to be the insurers and MetLife (NYSE:MET) was one of the more heavily traded names. Shares rose $1.82 (4.89%) to close at $39.03/share on volume of 19.5 million. The company had two announcements on Friday with the first being that they would be relocating 2,600 jobs to North Carolina and the second was that Carolos M. Gutierrez was named to the company's Board of Directors.
Disclosure: I have no positions in any stocks mentioned, and no plans to initiate any positions within the next 72 hours. I wrote this article myself, and it expresses my own opinions. I am not receiving compensation for it (other than from Seeking Alpha). I have no business relationship with any company whose stock is mentioned in this article.